USGA
Kiara Romero's 36th-hole par save gives her a 1-up victory in the U.S. Girls' Junior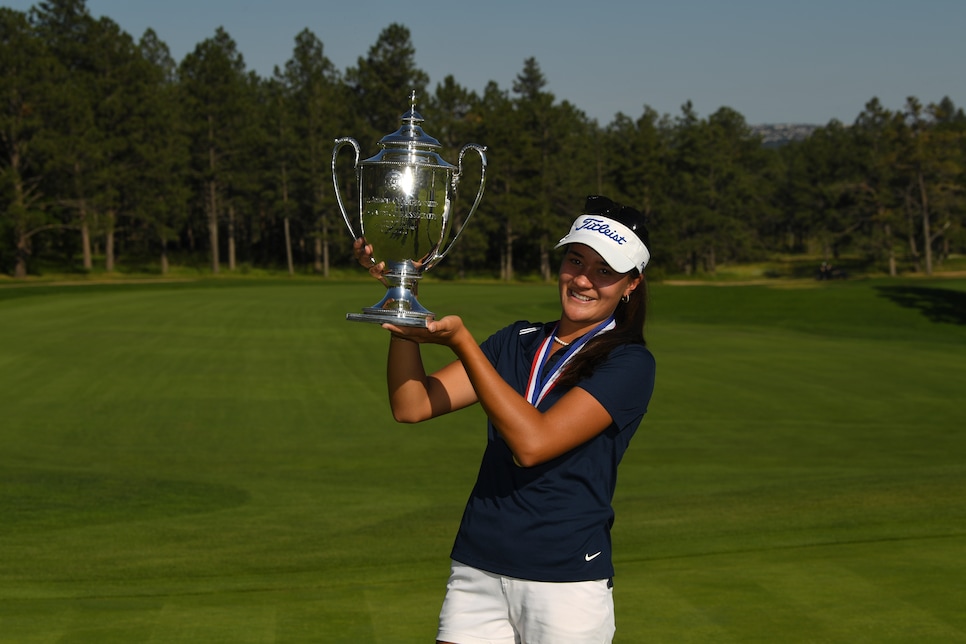 COLORADO SPRINGS — On a renowned site dedicated to flight, Kiara Romero committed the worst kind of faux pas, overshooting the runway on her approach. It is never a good time to do so, but it was especially egregious on the 36th hole of a national championship, the outcome hanging in the balance.
Romero kept her poise, however, and nervously salvaged a par to win the U.S. Girls' Junior Championship, 1 up, over Rianne Malixi of the Philippines at the Eisenhower Golf Club at the Air Force Academy. It was the first USGA championship held at an active military base.
"I'm just so excited and super tired," Romero said in the immediate aftermath. "I mean, it's been a long day and I'm really glad I got it done. But I don't think it's really sunk in yet."
Romero, 17 and an incoming freshman at Oregon, had not won a tournament in three years, and on the threshold of victory she was nearly undermined by adrenaline and nerves. Clinging to a 1-up lead on the 36th hole, she powered her second shot over the green, leaving her with a delicate downhill chip.
After Malixi was unable to make a birdie putt to tie the match, Romero's chip rolled seven feet past the hole, then made the par putt for the victory.
"I was shaking so much," Romero said. "That approach shot, my adrenaline was so up. I didn't expect to hit it that far. It was 155, uphill, so it played like 160. I took a 9-iron, which is my 135 club back at home. So here that's like 150. So when I hit it I knew it would be a little long but I didn't think it would be that long. I didn't really catch it that clean, so I thought it would be short. But I guess the adrenaline was pumping pretty hard."
Malixi, 16, held a 1-up lead through the first 18 holes. Romero pulled even on the 22nd hole and won the 31st hole with a par to take the lead, then hung on for the victory.
"It was totally a grind," Malixi said. "I didn't really have my A game today. Right before the afternoon match I really had a bad acid reflux. So it was better throughout the match, but then golf wasn't nice to me today. Still I put up a big fight today."
Both players are exempt into the U.S. Women's Amateur at Bel-Air Country Club in Los Angeles next month. With the victory, Romero earned an exemption into the 2024 U.S. Women's Open and the 2024 Augusta National Women's Amateur.
"This is definitely one of my biggest accomplishments," Romero said. "I've come very close to winning a lot of tournaments, a lot of top-fives and a lot of top-10s. So I have been getting a little frustrated that I keep coming a little short. But I just kept grinding and kept going with what I was doing and I'm glad to get it done this time."