Decisions, decisions
Could Kevin Na steal a Ryder Cup pick? He's making one hell of a case to captain Steve Stricker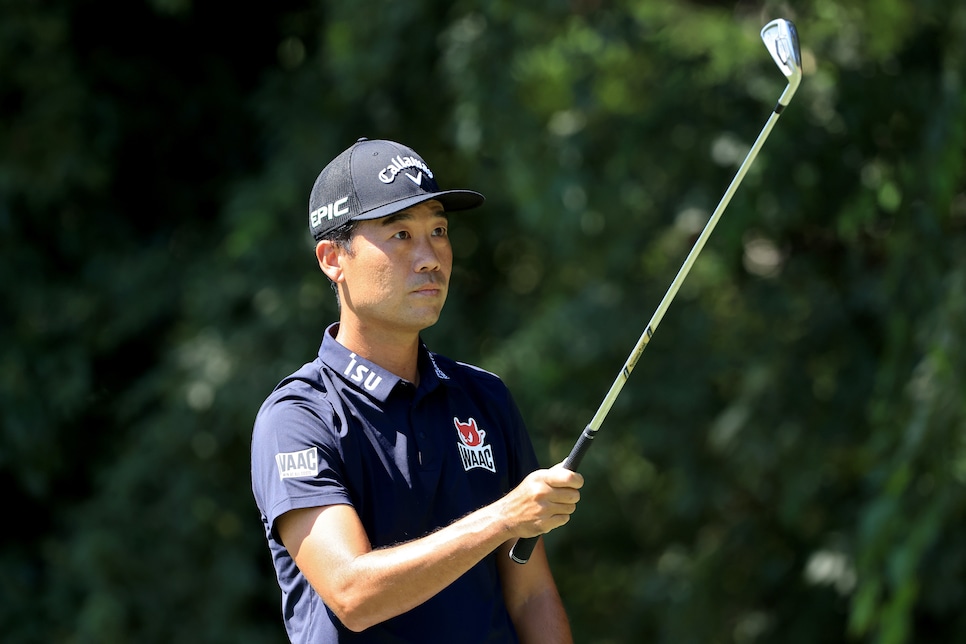 Kevin Na lines up a shot from the second tee during the third round of the Tour Championship.
Sam Greenwood
ATLANTA — Just as you don't pick a wife based on who looked best at last night's party, you don't make a Ryder Cup decision based on one tournament. Playing well at this week's Tour Championship certainly cannot hurt the cause, but U.S. captain Steve Stricker will take a wider lens; he'll consider a player's body of work over the last year, how his game fits the course, whether he can handle Ryder Cup pressure, whom he might partner with. Resisting the urge to act on impulse or recency bias is part of any decision-maker's job description.
In that sense, Kevin Na is making Stricker's job a helluva lot harder—with each putt he walks in comically early, with his ridiculous and yet routine up-and-downs, and with a run of terrific play that has continued this week at East Lake. Na posted a four-under 66 on Saturday, his second consecutive bogey-free round on a layout that, unlike the prior two playoff venues, is showing some fight. He's 11 under gross for the week would put him in a tie for second if this tournament had normal scoring. (It doesn't, so he's in solo fourth, seven shots behind Patrick Cantlay). This comes after a T-17 at the BMW Championship, which came after a T-8 at the Northern Trust, and he also has two second places in the past two months.
"I haven't really been petitioning myself for a pick," Na said. "I feel like I'm in a good position to get the captain's interest. I've been playing very well the last third of the season, two runner-up finishes. Good playing the last couple weeks. I feel like I'm hot in these playoffs … Captain Stricker, I don't know, what do you think?"
Surely he's at least thinking about the 37-year-old now. There's a general consensus that four of Stricker's six picks are essentially spoken for: Xander Schauffele, Jordan Spieth, Tony Finau and Harris English. On Friday, Daniel Berger gave the impression that he'll be getting a call as well. That leaves one spot for a number of candidates: Na, Patrick Reed, Sam Burns, Webb Simpson, Jason Kokrak and Billy Horschel. Na's recent play stacks up favorable to any of the others, but it's his intangibles that make his candidacy particularly intriguing.
There are plenty of tour players that put on breathtaking displays on the driving range. Na is not one of them. He is not tall like Dustin Johnson, ripped like Brooks Koepka or blessed with rhythm like Louis Oosthuizen. He does not bomb it like Bryson DeChambeau or wear you down with consistency. like Cantlay. He hasn't held a finish in Rory McIlroy-like fashion since he turned pro as a 17-year-old in 2001. He recoils on nearly every driver swing. There's a lot of leaning involved.
And yet he has a gift for getting the ball in the hole in very few strokes, optics be damned. Any golfer who's lost a match to someone with a funky-looking game understands the unique frustration of that experience.
"Kevin Na is like a three-handicapper who has a career round on the PGA Tour," said one PGA Tour radio host this week.
He's not a three handicap you want to play against. Na has four PGA Tour wins in the last 38 months, thanks largely to a gritty attitude and a short game that is the envy of his peers. He leads the PGA Tour in strokes gained around the green for the season, and while he ranks 94th in strokes gained putting, he's third on tour in that stat over his last 24 rounds.
"He can get up-and-down from a trash can," is how Billy Horschel put it. "One thing that gets overlooked in match play is making putts. Guys that can make putts, who aren't afraid to make it when it's on the line. It might be a six-footer in the middle of the match, or to win the match, putting is so huge in match play. It can be such a detriment to your opponents if you're consistently making putts. It beats the other opponents down, and they get frustrated by it."
On paper, Na's game wouldn't seem a perfect fit for Whistling Straits, which will play extremely long. Most expect the rough to be negligible to exacerbate the Americans' distance advantage. It calls for bombers, not grinders. When asked about his course fit at the Northern Trust, Na smiled.
"The way I'm putting right now, it doesn't matter where I play," he said.
There's another non-bombing grinder who's had a decent run at Ryder Cups: Ian Poulter. As far as partners go, Na frequently plays practice rounds with DeChambeau. The two would be a natural pairing, taking one tricky task—finding someone to play with Bryson—off Stricker's mind.
Na said he has not reached out to Stricker, that he's not the type to lobby for a pick. On Saturday, after beating playing partner Finau by seven despite giving up some 30 yards off the tee, Na kinda-sorta lobbied for a pick.
"Two-eighty in the fairway is good enough for me," he said. "I'm a good long-iron player, and I've hit a lot of 5-irons and 4-irons stiff this week and making plenty of birdies.
"I think I can get on the European team's nerves walking in a bunch of putts and getting up-and-down from everywhere."