Travelers Championship
Kevin Kisner's 'very weird' week at the Travelers was relatable—except for his closing 63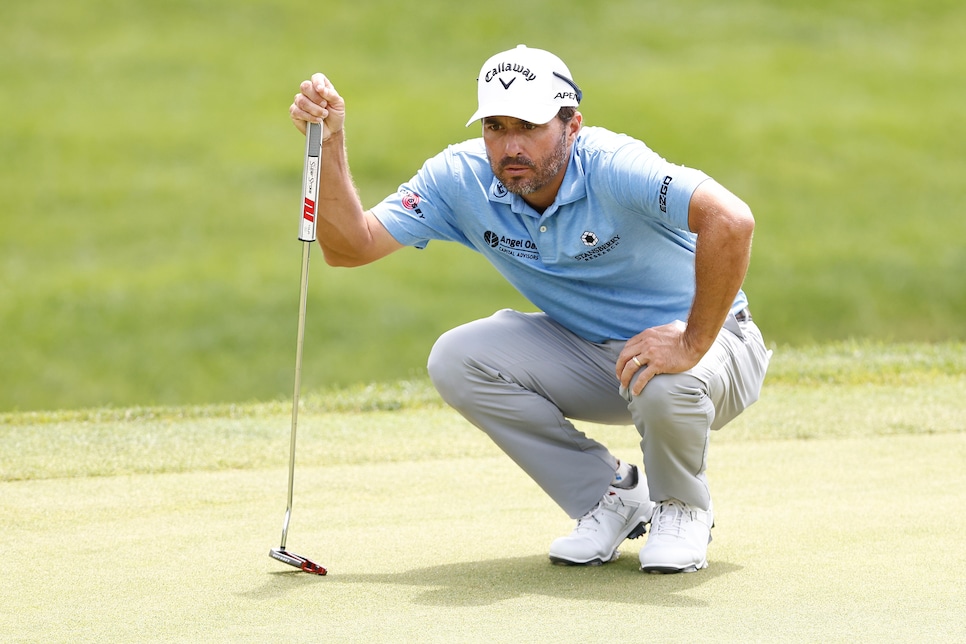 CROMWELL, Conn. — An 18-hole round of golf often plays out like a five-act saga. You start slow, catch fire, hit a wall, swear you're taking up tennis, then finish with a flushed iron shot that has you counting down the minutes until your next round.
A 72-hole stroke-play tournament, then, ventures toward three-volume epic, Lord-of-the-Rings territory. We submit Kevin Kisner's roller-coaster ride at the Travelers Championship as evidence.
Kisner trudged through a joyless T-55 at last week's U.S. Open. He's been refreshingly honest about his plight at the majors—essentially, he feels he simply doesn't hit it far enough to contend unless he plays perfect—and managed just one birdie on Sunday and seven for the week at Torrey Pines. Upon arriving in Connecticut, he told his caddie, Duane Bock, that he was looking forward to making a birdie this week at TPC River Highlands.
Naturally, he made 18 pars in his opening round, running up his birdie-less streak that started at Torrey to 34 holes. On Friday, he ended that on the first hole and added five more along with an eagle in shooting seven-under 63. Things were looking up … until they weren't. Come Saturday, Kisner made five bogeys on his back nine of his third round to come home in 40, which seemingly took him out of contention … until he found his way again on Sunday. In his final round, he birdied six of his last eight holes for a back-nine 29 and a 63 that had him tied for the lead at 10 under when he finished his round, roughly an hour before the leaders teed off.
"Yeah, very weird," Kisner said of the week. "First day, 18 pars, didn't feel great, didn't make anything. Felt like I made everything on Friday. Couldn't get anything to go together on Saturday. Then, get hot there on the last eight holes. Today was a lot of fun."
Kisner likened the herky-jerky tempo of his Travelers week to his up-and-down season—but in reality, his year's been more crawl than a coaster. Coming into this week, Kisner had missed the cut in seven of his last nine stroke-play starts and last month dipped outside the top 50 in the World Ranking for the first time since December 2016.
The culprit? Kisner is something of a dying breed on the PGA Tour; he's 178th in driving distance with a 287.7-yard average and, despite ranking 16th in fairway percentage, he's 153rd in strokes gained/off the tee. He fights an uphill battle every week, for distance is an advantage everywhere, but especially so on the most important weeks in the sport.
"We played five majors so far this [wraparound season], and then six if you count the Players Championship, where distances is a huge advantage. To go to these big, long golf courses every other week or every three weeks, it's difficult not trying to hit it further. And then to be able to come to a place like Hartford, where distance is not the ultimate goal, can kind of go back to your roots."
Speaking of roots. Kisner calls Palmetto Golf Club home, an old-school track in Aiken, S.C., that measures less than 6,700 yards from the tips. He's at his best when he's not hitting 4-irons into greens, when he can rely on his lights-out putting. Kisner has ranked 30th or better in strokes gained/putting every season since 2015-16, which has allowed him to hang among the game's elite despite being a tour-average ball striker for the majority of his career.
On Sunday, he holed more than 152 feet of putts and gained more than five shots on the field with his work on the greens. The late flourish will almost certainly be good enough for just his second top-10 on the season and his first since the RSM Classic last November.
"We always like to give the rules official that set up the back nine, when we shoot in the 20s, a signed ball and tell him he's terrible at setting it up," Kisner joked in his signature deadpan style. "So that'll be my gift for the day."
His torrid back nine was a gift to himself—while Kisner was certain his 10-under total would not hold up and vowed to head off to Detroit, the 63 ensured he did not waste one of the few weeks where the bombers' advantage is somewhat neutralized.
"There are only a few of those left on tour, so you got to enjoy those when they come around."