News
Kevin Kisner, Scott Brown lead by one heading into final round of the Zurich Classic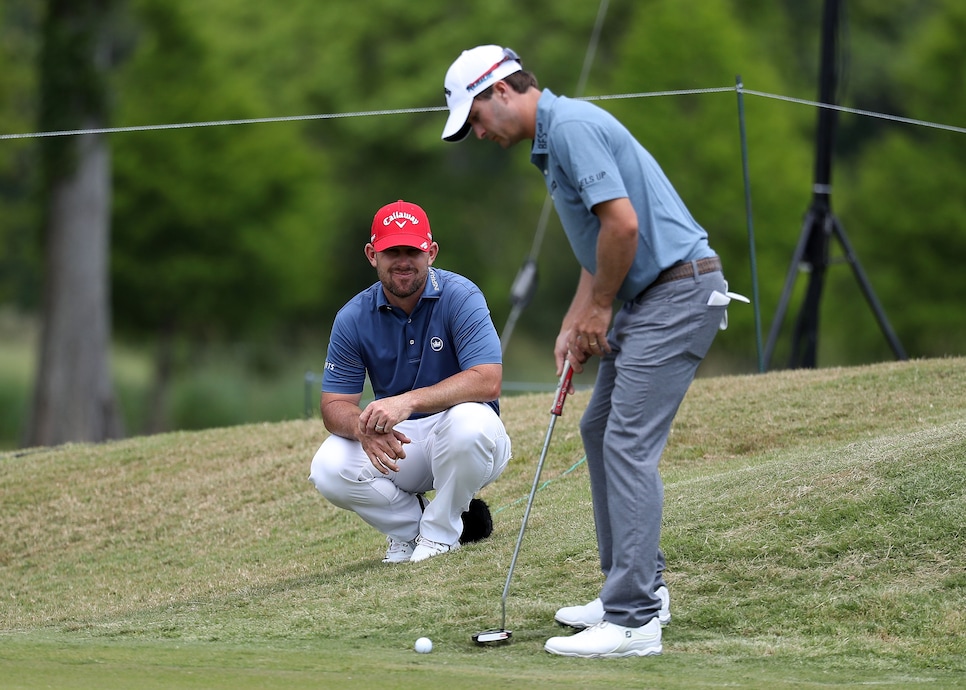 We're only in year two of the team format at the Zurich Classic, but it's starting to feel like Kevin Kisner and Scott Brown have been doing this for a long time. The duo from South Carolina, who lost the title in a playoff in 2017, backed up their strong first- and second-round performance with an eight-under 64 in Saturday's best-ball format, giving them a one-stroke lead heading into Sunday's final round.
On Friday, Kisner said it would take something low to stay in the mix, predicting Saturday would be "kind of a shootout day." He was right, as 12 of the remaining 36 teams shot 64 or lower, including three 61s. Kisner and Brown were on pace to be one of those 61s early, making birdies on five of their first seven holes and turning in five-under 31. But it wasn't nearly as clean on the back nine, where they made five more birdies and three bogeys to finish with a 64, putting them at 20-under 196.
One off the lead at 19-under 197 is the team of Tony Finau and Daniel Summerhays, who fired a nine-under 63 that included four birdies on their final five holes.
"We had four birdies in a row I feel like on some of the tougher holes on the golf course," Finau said. "We just ham-and-egged it really nicely. You know, I birdied 14, he birdied 15, I birdied 16, 17."
While their finish was clutch, the shift in momentum came at the 10th hole, where Summerhays saved the day after Finau hit his drive out of play.
"The momentum-changing part about our round was on 10. I hit it out of play and [Summerhays] made a clutch birdie. That kept the momentum going for us when we really needed it. Kept me in it for a couple of holes that I didn't have my best stuff," Finau said. "So, the great thing about this format is it's a team format, and we've been picking each other up nicely throughout these last three days. We're going to need that tomorrow."
This is the second season the two Utah natives have teamed together—Summerhays brother, Boyd, is also Finau's swing coach—and last year they missed the cut. Summerhays believes a little more trust in each other's abilities has propelled them to the top of the leader board in their second try at the Zurich.
"I think, you know, it's been interesting this week. Last year we were kind of all up in each other's space. Hey, come read this putt. Let's read together. What do you think here? This year we've just completely backed off everything. I called Tony in to read one putt yesterday and that's basically it," Summerhays said.
"In three rounds. I think it's the underlying trust, right? So it's, Hey, I'm trying my 100 percent best. So at the end of day it's not like, Oh, how could he have done that, put me there?
"He's trying his darnedest to get me in a good spot. I think that's the great thing about having a close friend. We've played so much golf together. There isn't any of that judgment," he said.
Also at 19 under are 36-hole leaders Michael Kim and Andrew Putnam, thanks to a six-under 66 in the best-ball format. After carding one of the better alternate-shot rounds on Friday, a three-under 69, Putnam and Kim can't be overlooked on Sunday at TPC Louisiana.
Chesson Hadley and Brice Garnett, who carded an 11-under 61, are two back at 18-under 198. Three teams are tied at 17-under 199, including Billy Horschel and Scott Piercy and Jason Dufner and Pat Perez, who each also posted 61s.