The Loop
Kevin Durant donates $3 million to Texas. Texas responds with a dreadfully-renamed complex for Golden State star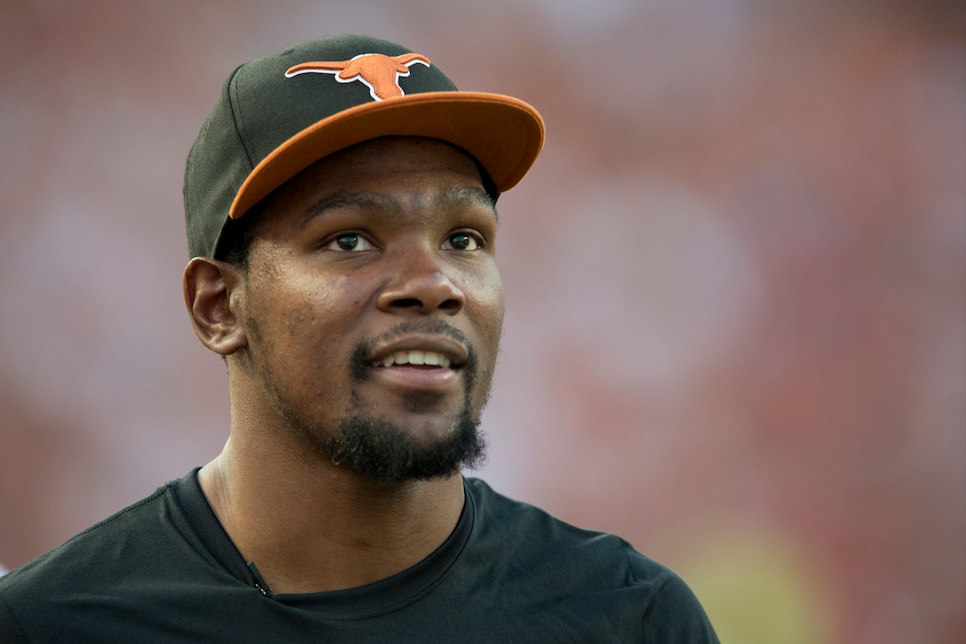 Kevin Durant earned his share of scorn for departing the Oklahoma City Thunder two summers ago, but the 6'11 scoring machine is genuinely one of the good guys of the NBA. His charity helps build courts in at-risk neighborhoods, he's a spokesperson for a group advocating for after-school music programs and, after devastating tornados hit Oklahoma, Durant donated $1 million to the state's relief fund. (Plus, you'd leave OKC too if Russell Westbrook was your teammate.)
Durant continued his philanthropic efforts on Thursday, donating $3 million to the University of Texas, his alma matter.
"My time as a Longhorn helped build the foundation for who I am today as a player and a person, and the UT team will always be my family," Durant said in a statement. "It's important to me to continue to give back to the university and ensure that future student-athletes have all the opportunities they need to succeed. It's an honor to have such a close and unique relationship with Texas basketball, and I'm grateful to be able to contribute."
And how did Texas show its gratitude? By renaming one of its complexes in woeful fashion: The Kevin Durant Basketball Facility for Men. Sounds like an 1800s sanitarium, with shades of Derek Zoolander's "Derek Zoolander School for Kids Who Can't Read Good and Want to Do Other Stuff Good Too" mixed in.
Listen Longhorns, we know basketball ain't your thing. But it's bad enough you let D. J. Augustin and Rick Barnes maim the talents of one of the best 20 players of all-time. Do the man right by naming it "The Durant Center," and go back to doing what you do best, which is losing to Oklahoma and falling miles short of your unrealistic aspirations.