News
Kelly Kraft holds first career 36-hole lead following second-round 63 at The Greenbrier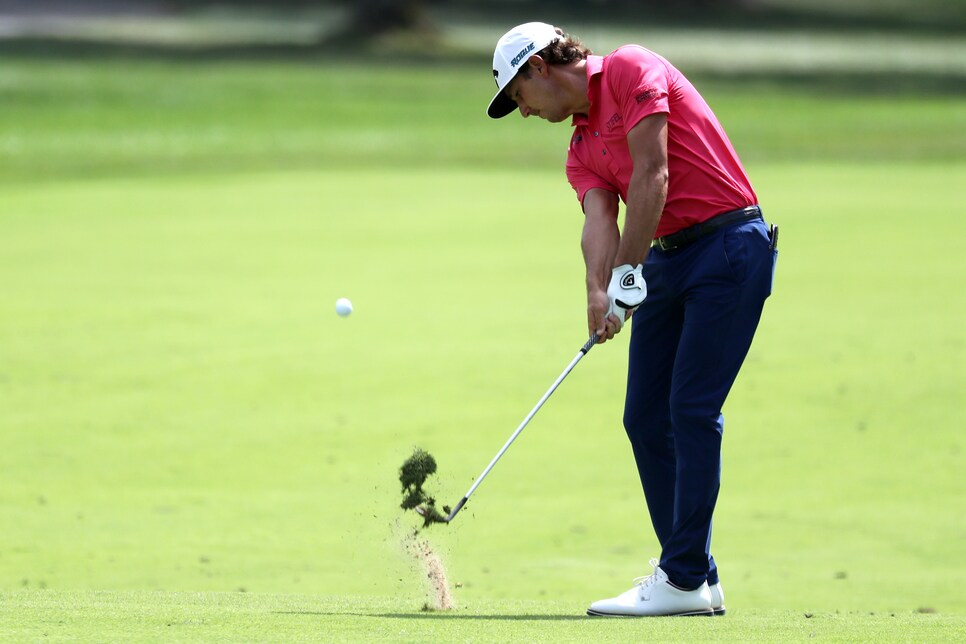 Since the tournament's inception in 2010, A Military Tribute at The Greenbrier has been home to four first-time PGA Tour winners, including last year's champion Xander Schauffele. Kelly Kraft, a former college star at SMU, is hoping to become the latest member of that group as he takes his first career 36-hole lead following a second-round 63 on the Old White TPC.
Kraft, who won the 2011 U.S. Amateur, defeating Patrick Cantlay in the final match 2-up, has had trouble finding his way on tour, though he's had his chances at a breakthrough victory in recent years. In 2017 he finished in solo second at the AT&T Pebble Beach Pro-Am, then finished T-5 in this event five months later, his first appearance at The Greenbrier. This year has been more of a struggle, especially of late, but a change in his mental approach may have lead to this strong start in West Virginia.
"I've kind of changed my attitude, starting with last week," said Kraft, who has missed seven of his last 10 cuts, including last week at Quicken Loans. "I felt like I played good last week, it was just a couple breaks here and there. Missing a cut is easy to do out here. But I've changed a couple things in my attitude and I just feel like I'm ready to keep playing good."
If he does keep it rolling, he could put an end to an odd jinx in this tournament, as no one who has led after any round has won A Military Tribute at The Greenbrier, though that will likely be the last thing on his mind. Kraft, 29, is just hoping to finally prove he can compete with the best.
"It's great confidence," he said of leading the tournament through two rounds. "Any time you're leading a PGA Tour event it goes to show -- these are the best players in the world out here. I've been up there before and I know I can play out here, and I'm just looking for two more low ones."
Just one back at 12-under 128 are Webb Simpson and Anirban Lahiri, who matched Simpson for the low round of the tournament with a nine-under 61 on Friday. Simpson followed his career-low with a three-under 67 that included a double bogey on his third hole of the day, the par-5 12th, the same hole he eagled on Thursday.
"It was not the start I was looking for," said Simpson. "But I hit an errant tee shot on 12, and honestly, we probably hit the wrong shot. You need to hit a cut there, because my shot on the cut shot probably isn't out of bounds.
"But, yeah, I hung in there. I weathered that storm and made some birdies there on the front nine to keep it under par and give myself a chance for the weekend."
Simpson has an opportunity to win for the second time this season and the sixth time in his career, while Lahiri, who has not made a bogey this week, is still in search of his first PGA Tour win.
"I've been feeling good over the last two weeks," Lahiri said. "I've seen the improvement on the golf course and I've tried to plug the gaps that I've found over the last two weeks, and I'm happy that more than anything else I haven't dropped a shot. But I'm not thinking about that. The focus is just to put myself in the best position that I can, and that's a big positive for me."
Jason Kokrak is in solo fourth at 11-under 129, while Whee Kim and Harold Varner III are tied for fifth at 10-under 130. Sam Saunders is alone in seventh after carding a seven-under 63 to get to nine-under 131.