The Loop
Keegan Bradley living out his dreams on and off the course
NORTON, Mass. -- There is that cliche about being able to take the boy out of the country but not being able to take the country out of the boy. Well, the same can be said about Keegan Bradley when it comes to New England. And it can also be said about that chip he has on his shoulder that even the Wanamaker Trophy can't knock off.
Bradley, who was born and raised in Woodstock, Vt., and played on a state championship high school team in Hopkinton, Mass., is having a homecoming of sorts this week at the Deutsche Bank Championship, the second leg of the FedEx Cup Playoffs. Tuesday night he threw out the first pitch at the Red Sox-Yankees game and on Wednesday he fielded questions about whether he could be the PGA Tour Player of the Year.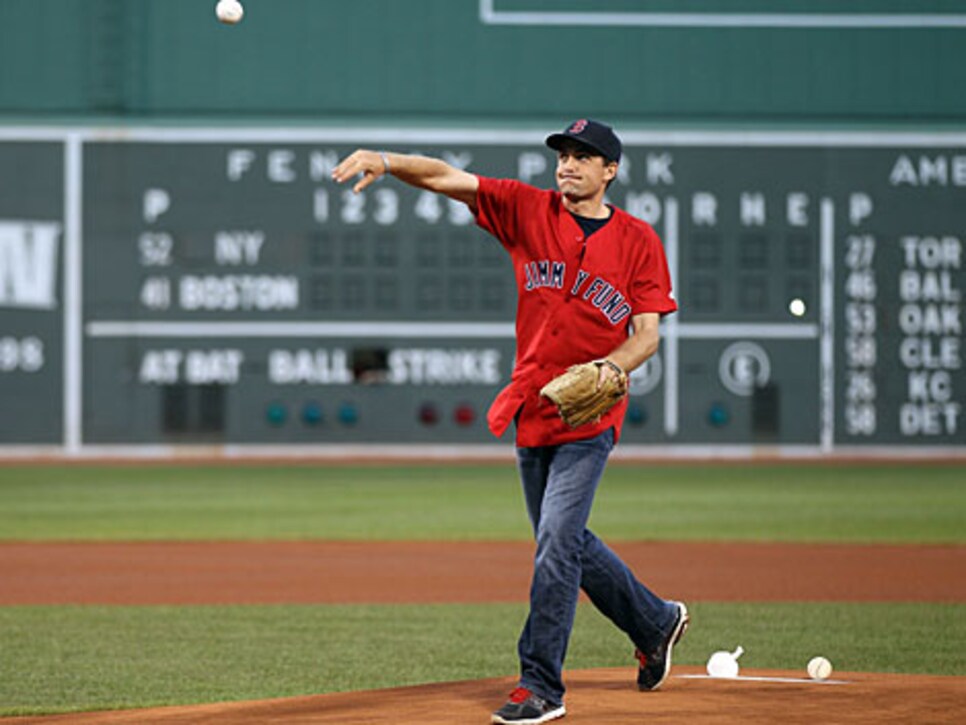 Photo by Elsa/Getty Images
"That was one of my dreams," Bradley said about climbing the pitching mound at Fenway Park. "I got to realize that dream last night." Then, in talking about the reaction he got from people at the ballpark, he added: "They know I'm New England. It's fun to come back home." As for being Player of the Year: "That's every player's dream," he said.
No one has captured more tour titles than Bradley this year who, along with Nick Watney, Steve Stricker, Mark Wilson and Bubba Watson, has won twice. But unlike any of the other four, Keegan has won a major championship, taking the PGA, where he picked up that Wanamaker Trophy he keeps in his bedroom so he can see it first thing every morning. "I still smile when I see it," Bradley says. "I mean, it's the Wanamaker Trophy and it's in my room."
What does knock the smile off Bradley's face right now is when asked about the flood damage in his native Vermont as a result of Hurricane Irene. "Growing up in Vermont is a huge part of who I am and how I play," he says. "I'd really like to get back to Vermont and check in on everyone and see what I can do to help."
Not highly recruited out of high school because coaches at the top colleges don't look to New England for help, Bradley ended up playing college golf at St. John's University in the New York City borough of Queens.
"I guess you can say I have a bit of a chip on my shoulder," Bradley says. "I wouldn't be here today without St. John's." With a smile he adds: "And Queens has a chip on its shoulder."
That chip, a desire to make the U.S. Presidents Cup team, and playing in front of the homefolks will be plenty of motivation this week. If he does need any extra motivation, there is also the chance to be both Rookie of the Year and Player of the Year on the PGA Tour.
"I hope to be there and if I'm not I hope to be on future teams," Bradley said about the Presidents Cup. "I want to earn my way on the team, first and foremost,'" he said. Then, anticipating the question, he added: "Tiger Woods is one of the best ever. He's not a bad choice at all," a reference to Fred Couples already making the former No. 1 a captain's pick.
Seems like in addition to that chip on his shoulder, Bradley also has a little bit of the diplomat in his makeup. That could be a pretty powerful combination moving forward -- one that will lead to a lot of success both on and off the golf course, without compromising any of his New England spirit.