The Loop
Keegan Bradley gets last laugh on Jason Dufner with first-round 60
The ongoing (friendly) battle between Keegan Bradley and Jason Dufner heated up this week, first with some Twitter banter and then with a head-to-head showdown during the first round of the HP Byron Nelson Championship where, as the third man in the group, Matt Kuchar was forced to mediate.
As far as we can tell, the rivalry dates back to the 2011 PGA Championship, when Bradley defeated Dufner in a three-hole aggregate playoff at Atlanta Athletic Club. It gained traction thanks to Dufner's consistent and creative teasing of Bradley's love of Boston sports, and Bradley's success in making the act of Dufnering a national phenomenon. Keegan poked fun at Dufner during Monday night's Bruins game with this tweet, followed by Dufner's dry reply.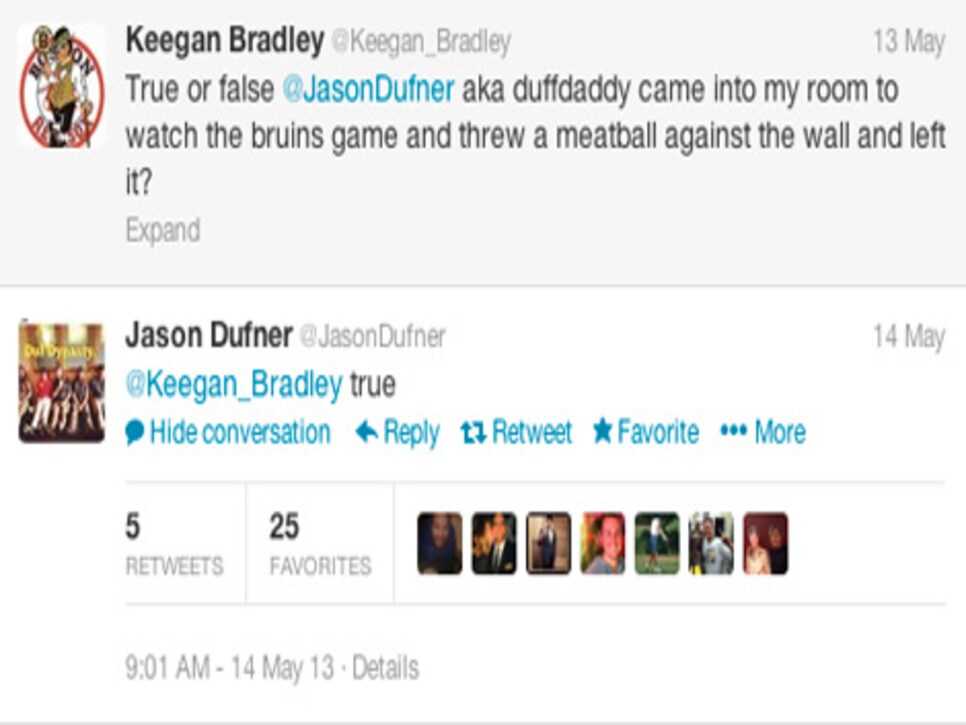 Bradley's record on the PGA Tour certainly trumps that of Dufner, a fact that was reinforced by Bradley's first-round 10-under 60 to Dufner's even-par 70. With that 10-shot whooping, Bradley got Dufner back for this Thursday morning prank that Bradley shared via his Instagram account.
Emptying Keegan's bag? Really, Duf Daddy? You can do better than that.
What makes Bradley's 60 in Dufner's company all the more sweet (at least for Bradley fans) is that he outdrove Duf by an average of 14.9 yards. As most golfers know, the best way to settle a friendly dispute is with a long drive contest. Dufner hit it past Bradley only once (on the 1st hole, their 10th), and proceeded to hole out from 129 yards for eagle, so there's a little consolation for the expressionless one. But Bradley hit it past Dufner by 27 yards on the seventh hole (320 to 293) and 34 yards on the 12th (307 to 273). That hurts. So does the 10-shot beat down. Sorry Dufner fans, chalk another one up for Keegan.