News
Katherine Kirk wins her first LPGA title in seven years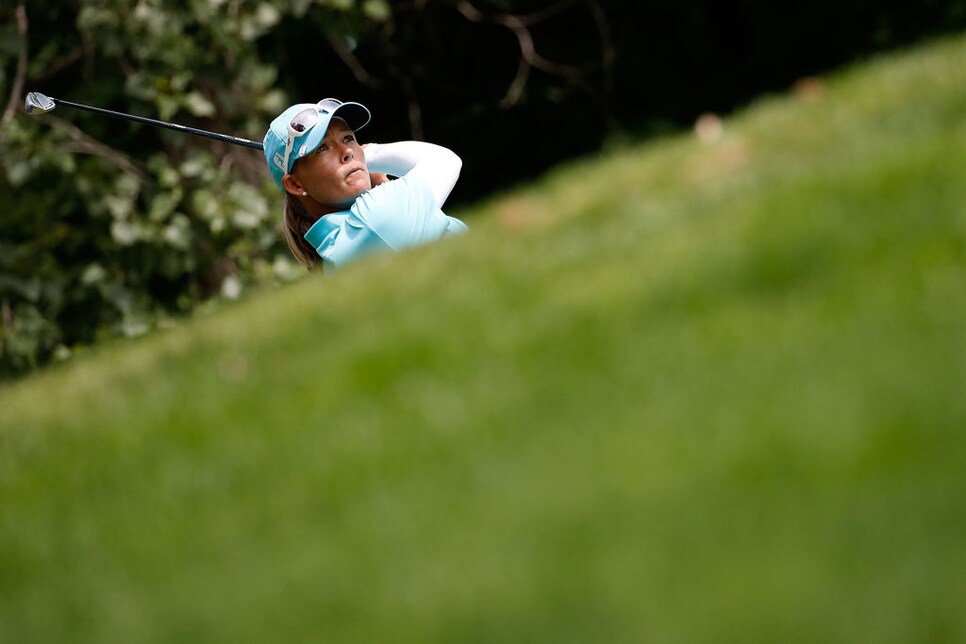 Katherine Kirk was in need of a travel agent on Sunday afternoon. The 35-year-old Australian was not previously in the field for this coming week's U.S. Women's Open at Trump Bedminster Golf Club in New Jersey. But with a closing 70 on Sunday, Kirk won the inaugural Thornberry Creek LPGA Classic in Wisconsin, finishing at 22-under 266 total overall for to earn her third third career LPGA win and a chance to play in the upcoming major.
With her last LPGA title coming in 2010, 152 starts prior, Kirk started Sunday with a four-shot lead, but things got interesting on the back nine—and particularly over the last two holes. Kirk bogeyed Thornberry Creek at Oneida's 17th to go to 21 under. In the group ahead, Sei Young Kim birdied the 18th hole to finish at 20 under. That put Kirk in the position of needing a par or better to avoid a playoff. Ashleigh Buhai was in Kirk's group and also just a stroke back going down 18. Kirk rallied back from the bogey to make birdie on the par-4 home hole. At the same time, Buhai made birdie on 18 as well, to finish alone in second at 21 under.
"It was a pretty fun finish there," said Kirk, who topped the $4 million mark in career earnings with her $401,864 first-place check. "I knew I had to make it."
With the KPMG Women's PGA Championship the week prior and the Women's Open ahead, the new event was missing a handful of marquee players. Still that doesn't make Kirk's rounds of 68-63-65-70 any less impressive. That second-round 63 included a blistering 29 on the back nine.
"Winning out here is hard, and it's gotten a lot harder out here since I first did it, that's for sure," Kirk said. "There is so much talent out here now, and it makes it so much harder to win. I think I'm the 15th-oldest player on Tour, so if you're looking at age it's more in favor of the younger generation these days… but hard work pays off. I'm grateful for the opportunity to still be playing, and I still love it."
One of the more interesting results came a few lines down the leader board: Yani Tseng finished T-11. Tseng spent 109 consecutive weeks as the No. 1 female golfer in the world from 2011 to 2013, but she has struggled over the past several seasons and is now ranked 210th in the world. She's played 14 events this year, and this was just the third cut she has made. Before this event, she's only had three rounds under par this year, which makes her four sub-par rounds in Wisconsin all the more impressive. Her rounds of 69-68-69-67 looked a lot more like the dominant Tseng of a few years ago.