The Loop
Karma wins again: Steelers kicker Josh Scobee mocks Tiger Woods and now is out of a job
A word of warning to professional athletes: Karma, as they say, more or less, is a word that rhymes with twitch.
Once more, a professional athlete has mocked a player from another sport, only to fail spectacularly and similarly. This time it was karma paying back Pittsburgh Steelers kicker Josh Scobee for having taunted Tiger Woods.
Earlier this year, when Woods looked to have the chip yips in missing the cut at the Waste Management Phoenix Open and withdrawing from the Farmers Insurance Open, Scobee, a strong amateur golfer, Tweeted, "Tiger - meet me at San Jose Country Club tomorrow, $100,000 a hole. You get 2 a side."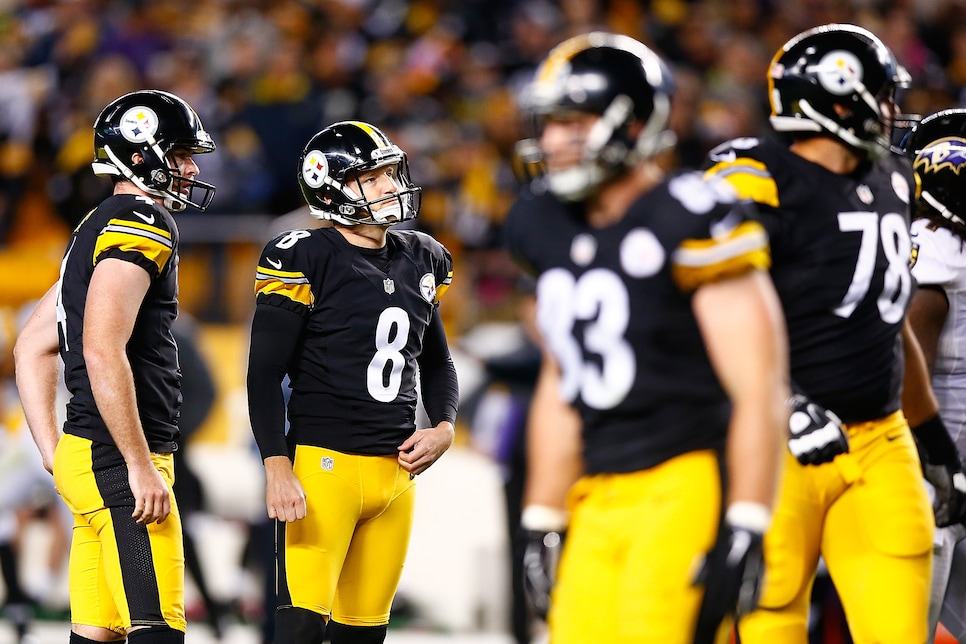 Jump ahead to last Thursday night. Scobee missed two field goal attempts, from 41 and 49 yards, in the fourth quarter. Unwilling to give him an opportunity to miss again in overtime, Steelers coach Mike Tomlin, on a fourth-and-two, chose to leave his offense on the field in an attempt to make a first down. It failed. The Baltimore Ravens took possession of the ball and eventually won with a field goal of their own. Two days later, Scobee was cut.
This brought to mind Jason Dufner in the summer of 2011. "Gotta love that St Louis cardinal bullpen, they are vomit zone every night," he Tweeted in June.
Two months later, Dufner had a four-shot lead in the PGA Championship with four holes to go, bogeyed three in a row and pulled a short birdie putt on the first playoff hole. He lost to Keegan Bradley.
Twitter, where no thought goes un-Tweeted. Alas.