The Loop
Justin Thomas' victory proves he is more than #JSGB (Jordan Spieth's Good Buddy)
Justin Thomas' professional claim to fame to this point has been a Twitter hashtag, #JSGB. It wasn't a slur, but neither was it flattering for its connotation of reflected glory.
Well, Thomas remains Jordan Spieth's Good Buddy, but now he also is a PGA Tour winner. Finally.
An odd word, finally, for one who is only 22 and in his second year on the PGA Tour. Yet the success of Spieth, with whom Thomas was considered an equal not long ago, made it appear that he was overdue.
He wasn't. Inevitably, his performance was going to catch up to his potential, and it happened in the dead of night in the U.S. Thomas won the CIMB Classic in Malaysia on Sunday, and did so with flare. He made four birdies and an eagle on the back nine to offset an untimely double-bogey. He beat Adam Scott by a stroke.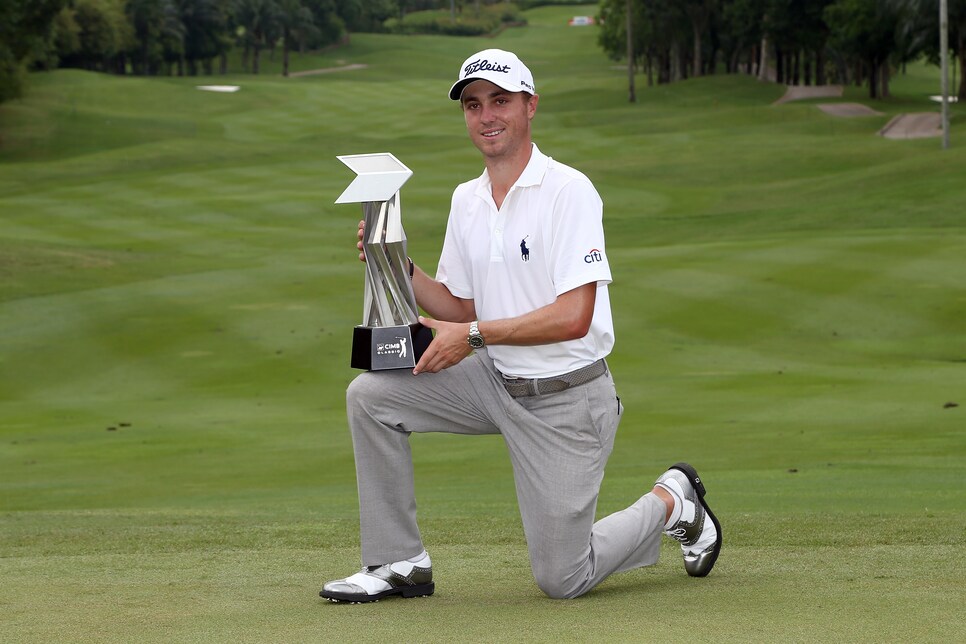 The victory is likely to move him into the top 50 in the World Ranking for the first time on what is expected to be a gradual climb to higher echelons.
"It's awesome," he said. "I still can't believe that that just happened."
That is an overstatement for a player who has been living with the belief that victory was imminent. Thomas won six times at Alabama, and was the Haskins Award winner as the college player of the year in 2012 when Spieth was playing at Texas.
"I expected to win a lot sooner than this, honestly," he said. "I always had high expectations for myself, and I definitely played well enough last year in some events to win."
Thomas appeared headed to an easy victory when he chunked his second shot from 114 yards on the 14th hole, leading to a double-bogey. He came back with three consecutive birdies, then holed a four-foot putt for par at 18 to secure the victory.
"I've been struggling a little bit on those downhill lies the past six months or so," he said. "That was my miss. I've been chunking them. I didn't really think I was going to do so when I had 114 yards. It was a great scoring opportunity, great chance to make a birdie and get another stroke on the lead, but it was unbelievable. I, mean, really the only thing you could do is what I did, just laugh it off."
Among those happiest about his victory was Spieth. "JTTTTTTTT What a bounce back. First of many," Spieth Tweeted on Sunday morning.
Probably so, but it's unlikely that the hashtag will disappear any time soon. But there's more to the story now, as Golf Channel's Phil Blackmar noted in this Tweet:
"congrats to @JustinThomas34 #talent #heart but no longer just #jsgb."