The Loop
Justin Thomas takes over Hawaii, NFL Playoff QBs linked by golf, and DJ/Paulina "Put A Ring On It"
Welcome to another edition of The Grind, where we haven't seen a mainlander have a successful run in Hawaii like Justin Thomas since Magnum, P.I. And unlike Tom Selleck, Justin got rid of his mustache before kicking ass all across the 50th state.
Of course, everything Thomas does has been be working during this dominant stretch. Let's talk about JT and all the other stuff happening in golf right now. But yeah, mostly JT.
Justin Thomas: Where do we start? Thomas followed up the best week of his career with an even better one. He shot 59 in the opening round at the Sony Open and wound up breaking the PGA Tour 36-hole and 72-hole scoring records. Oh yeah, he also beat a pretty good field by SEVEN shots and has jumped up to No. 8 in the Official World Golf Ranking. There are no official superstar rankings, but it appears JT has broken into that category as well.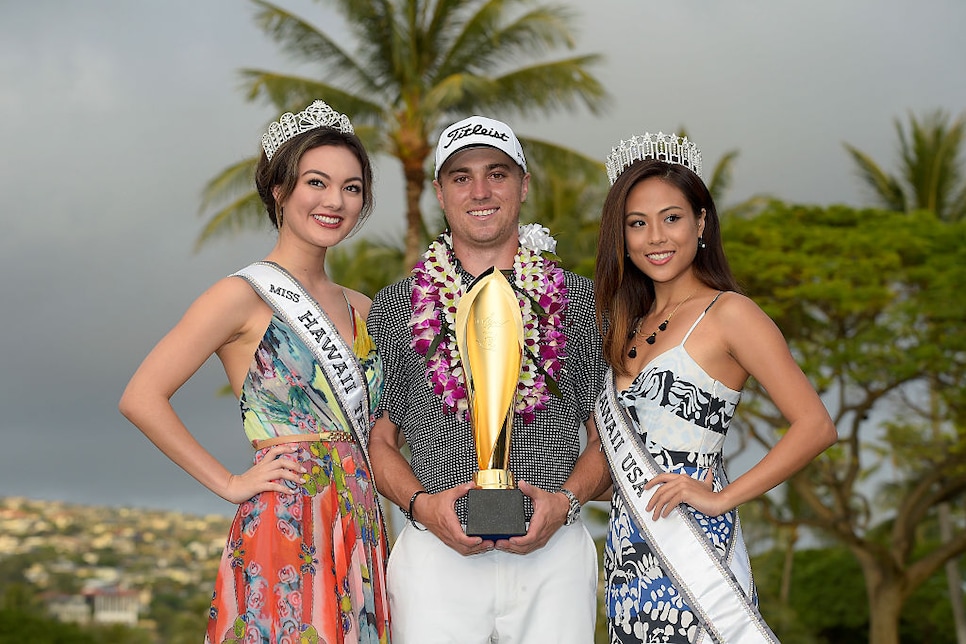 Justin Thomas: He's been so good that he deserves to be bought twice. Thomas became the only player not named Tiger Woods to win three of his first five starts in a PGA Tour season. And we really shouldn't be too surprised. After all, he was practically born with a golf club in his hands thanks to having a PGA professional as a dad, and he was somewhat of a child prodigy, winning more than 100(!) junior golf events. Until recently, though, he was perhaps more famous for being Jordan Spieth's friend. Just look at this headline from The New York Post last week!
Congrats to Jordan's good friend! And Jordan, get ready to answer more questions now about your friend Justin.
Graeme Storm: After thinking he'd lost his European Tour card, the journeyman got a reprieve when Patrick Reed lost his due to not playing in enough events. And boy, did Storm take advantage. The Englishman won the BMW South African Open -- his first Euro Tour title in nearly 10 years -- and he did it in dramatic fashion by downing Rory McIlroy in a playoff. So in a way, Patrick Reed is still haunting Rory. . .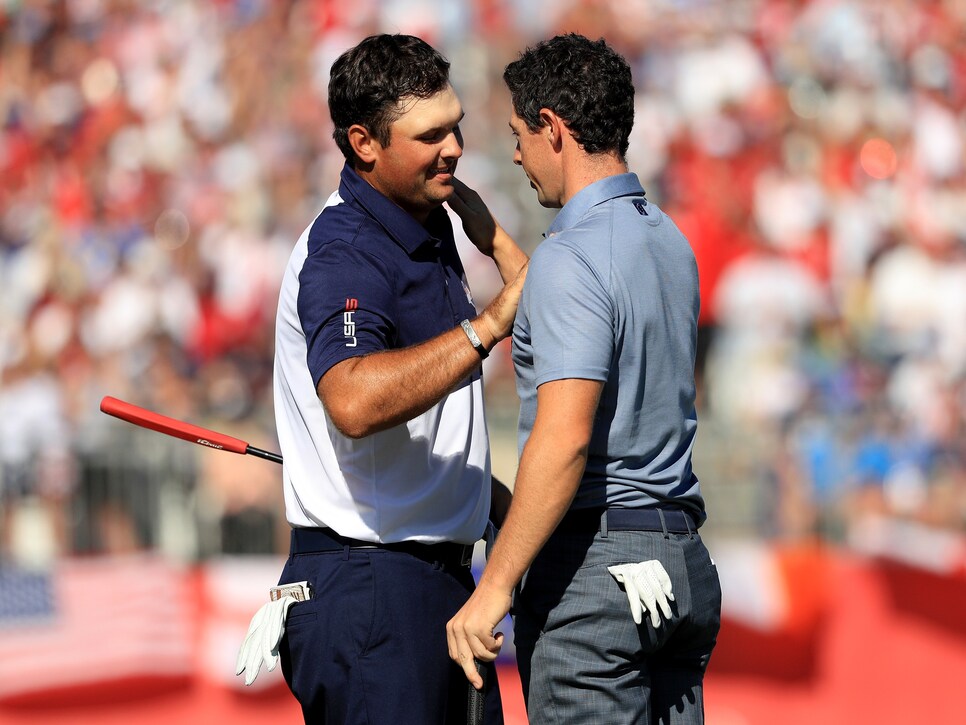 PGA of America via Getty Images
NFL Playoff QBs: There's a common denominator that links the four remaining teams in the NFL Playoffs, and that, of course, is having quarterbacks who are great -- at golf. Matt Ryan, Aaron Rodgers, Ben Roethlisberger and Tom Brady all had handicaps of eight or less in Golf Digest's most recent ranking of pro athletes. Yep, if you're going to try to win a Super Bowl, you need to find a QB who is as good at driving a golf ball as he is driving a team down the field. OK, so this strategy doesn't always work. . .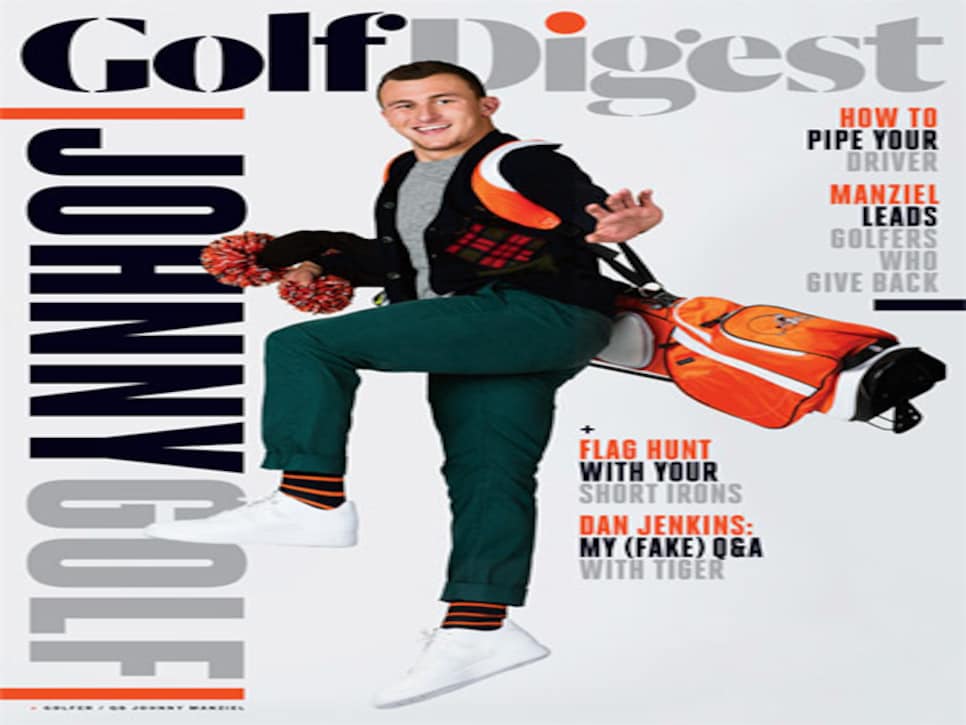 People knocking Jim Furyk being a playing captain: Forget about his (awful) playing record or all the "duties" (Furyk is so committed to Team USA that he said he's even going to try to learn some French before 2018) he'll have as the U.S. Ryder Cup captain, if Furyk earns a spot on Team USA, then he deserves to play. And if he feels he can handle being the first playing captain since Arnold Palmer, we believe him. Besides, last time we checked, all those QBs playing this weekend are playing captains.
The Dunvegan: As in the famed St. Andrews watering hole, was finally sold. We joked last year about going in with some other people, but unfortunately, that never materialized. At least, the coveted property wound up in the hands of a group of "golfing enthusiasts from Canada and the USA." Enjoy it, guys.
Rory's rib: We've been predicting 2017 to be the Year of Rory for sometime now, but the four-time major champ hit a couple of hurdles in his first event. He lost in a playoff to Graeme Storm and then found out he has a rib stress fracture that will keep him out for an indefinite period of time. If there's a (selfish) silver lining, it's that I now might be able to nab him with the third pick in my fantasy draft next week.
The PGA Tour heads from Hawaii to Palm Springs for the CareerBuilder Challenge. Phil Mickelson is the new ambassador for the event, having taken over for President Bill Clinton. That doesn't mean Lefty gets his own secret service detail.
Random tournament fact: Joe Durant shot 36 under in 2001 when the event was still five rounds. The tournament has been reduced to four rounds, but the birdie average hasn't dropped off.
RANDOM PROP BETS OF THE WEEK
-- Jim Furyk will speak fluent French by the 2018 Ryder Cup: 1 MILLION-to-1 odds
-- Justin Thomas will win the Masters: 25-to-1 odds (Actual odds; and they keep dropping.)
-- Barring an injury, Justin Thomas will be on Jim Furyk's squad in 2018: LOCK
PHOTO/INSTAGRAM OF THE WEEK
And yes, there was video of this:
These guys live quite the lives, eh?
Here's Olympics star Maria Verchenova practicing her game in the Russian winter.
Now that's dedication. And here's John Daly doing another cover of Bob Dylan's "Knockin' on Heaven's Door," this time with country-music star Jake Owen:
ARCHIVE VIRAL VIDEO OF THE WEEK
Here's a young Justin Thomas playing golf and pulling off a perfect Tiger Woods twirl as a 10-year-old.
Again, we should have seen this coming.
THIS WEEK IN DUSTIN JOHNSON-PAULINA GRETZKY PUBLIC DISPLAYS OF AFFECTION
The couple released a third music video, this time set to Beyonce's "Single Ladies (Put a Ring On It)." Enjoy:
Two observations: 1. Dustin Johnson can dance; 2. Dustin Johnson is whipped.
"I felt like I was the guy in 'Caddyshack' who is having the round of his life walking straight into the breeze. I never gave up. . . . I just kept grinding and grinding." -- Kyle Thompson on winning/surviving the Web.com Tour's Bahamas Great Exuma Classic as the only player in the field to finish in red numbers.
THIS WEEK IN BELEN MOZO MAKING US FEEL BAD WITH HER TRAINING
One hour and counting? On the rower?! Is that even possible?
Greg Eason claims to have lost 32(!) golf balls during his rounds of 91 and 95 at the Web.com Tour event in the Bahamas. Welcome to our world, Greg. . . . A decade after Tadd Fujikawa made the cut at the Sony Open as a 16-year-old, he Monday qualified for the event and missed the cut. Still, it was nice to see him. . . . And this is future NBA Hall of Famer Ray Allen's golf bag:
Allen finished fourth to Mark Mulder in the celebrity portion of the Diamond Resorts Invitational, but you can't walk away a loser with golf gear like that.
RANDOM QUESTIONS TO PONDER
Where will Justin Thomas be picked in my fantasy draft?
Could I have been a tour pro if my dad was a PGA professional?
Is Magnum, P.I. ever coming back to Netflix?