The Loop
Justin Thomas' prescient goals, Jim Nantz' incredible backyard golf hole, and models playing golf in odd places
Welcome to another edition of The Grind, where we were glad to learn that Justin Thomas also jots down golf goals on his phone. They're juuuuust a little different than mine: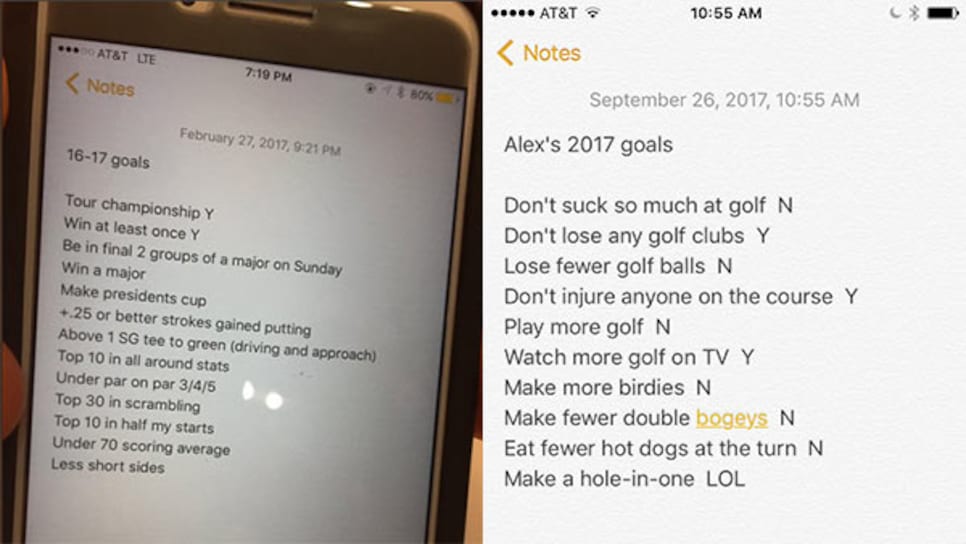 And while Thomas' FedEx Cup title netted him a cool $10 MILLION bonus, the $10 Nassau I lost over the weekend still stings. . . Moving on, there's an important lesson here for the kids: Jot down your goals. Sure, it might help you achieve them (Other than me making a first hole-in-one, of course). But more importantly, if you ever actually accomplish what you set out to do, then you can really impress people by sharing your prescient list. Anyway, here's what else stood out in the world of golf last week.
Justin Thomas: JT didn't win at East Lake, but his runner-up was enough to capture the FedEx Cup and one of the biggest paydays in sports. He also capped a downright historic campaign as he became just the fourth player to win five times and a major in a season before turning 25 since 1960. Afterward, the 24-year-old star celebrated with his parents and had his press conference interrupted by a call from his grandpa: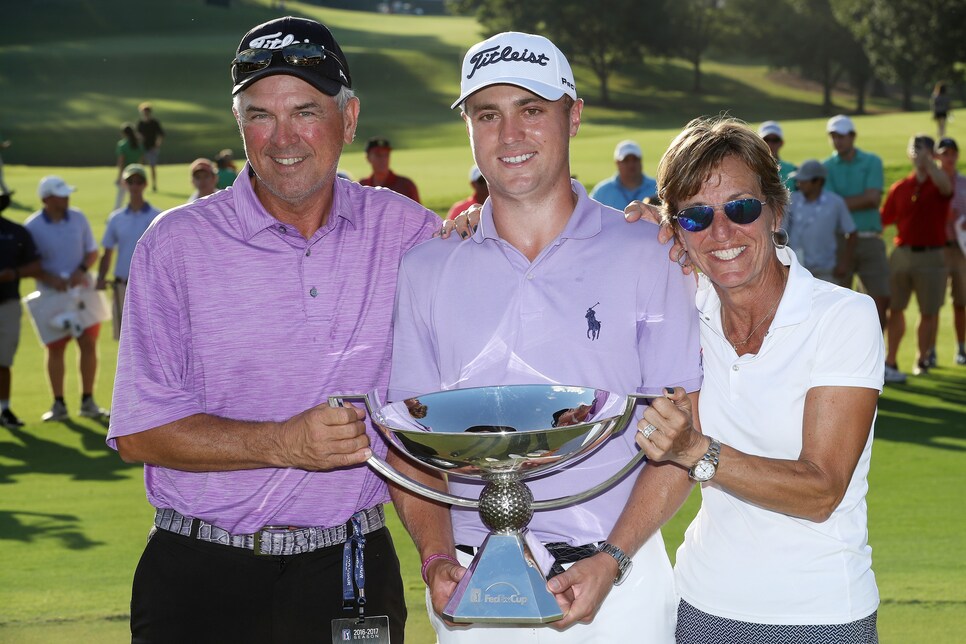 In fact, we're buying the 2016-2017 season for the entire #SB2K17 crew. Thomas and Jordan Spieth combined for eight wins, two majors, and finished 1-2 in the FedEx Cup. Rickie Fowler won once, finished seventh in the FedEx Cup and "found a chick" (Hey, his words). And Smylie Kaufman. . . well, he got engaged. What a year and #SB2K18 promises to be epic -- provided Smylie is still allowed to go.
Xander Schauffele: And how about the winner of the Tour Championship? A few months ago, the mere idea of Xander reaching the season finale wasn't even a thought. But after bursting onto the stage with a T-5 at the U.S. Open and winning the Greenbrier Classic, Schauffele caught fire in the playoffs (really on the back-nine of the BMW Championship) and capped a fantastic first campaign on the PGA Tour by becoming the first rookie to win the Tour Championship. It's too bad there wasn't a last-minute captain's pick for the Presidents Cup like there was for last year's Ryder Cup. . .
Peter Malnati: In a politically charged weekend, one PGA Tour pro took a stand. And it shouldn't come as much of a surprise if you've ever listened to Malnati speak or read his insightful blog. One of the smartest and most thoughtful players on tour, this is what he had to say about the national anthem debate.
Fluke penalties: When we think of "the leaf rule," we think of fall golf and the ability to take a free drop whenever you hit your ball near a pile of leaves. (Note: This is not an actual rule, but it's one commonly upheld in most weekend foursomes.) However, there's another rule involving "any moving or animate outside agency." Like this leaf, which blew into Matthew Southgate's ball as he putt rolled toward the hole:
It turns out, Southgate, who now needs a good tournament this week to lock up his PGA Tour card for next season, was allowed to replay the shot, but since he didn't, he was assessed four penalty strokes after his round (two shots for not replaying the shot and another two for signing an incorrect scorecard). Ouch. On the bright side, now you know about another leaf rule that can bail you out.
Hideki Matsuyama's playoffs: The Japanese star entered the postseason at No. 1 in the FedEx Cup standings, but had a disastrous four-week run with a missed cut, T-23, T-47 and a T-26 (in a 30-man event). It's a good thing there isn't an event this week in which most of the world is counting on him. Oh. Right.
Beef & Boo's 40-yard-dash time: Can it even be called a 40-yard-dash if neither participant completes it in under EIGHT seconds? We clocked Beef, the winner in this race, at a sluggish 8.30. Wow. . .
However, we are buying these Beef & Boo challenges being a regular thing. Other upcoming contests between the two will focus on singing and hula-hooping. Looking forward to it, guys.
The PGA Tour season is officially over (for a week), but 24 of its biggest stars will tee it up in the Presidents Cup at Liberty National, AKA that course built near the Statue of Liberty and over a garbage dump. Our headquarters is just a ferry ride away, so there's an open invitation if anyone wants to tangle on our office putting green.
Random tournament fact: The last time the U.S. lost this biennial event, Tiger Woods was still stuck on one major title. Yeah, it's been awhile for the International Team.
RANDOM PROP BETS OF THE WEEK
-- Patrick Reed, AKA Captain America, will swoop down from the Statue of Liberty to Liberty National's first tee on the wings of a bald eagle: 1 MILLION-to-1 odds
-- Patrick Reed will be Team USA's lead point winner: 13-to-2 odds (Actual odds, decent value)
-- Patrick Reed will be Team USA's most animated player: LOCK
The PGA Tour, meet Ludacris. Ludacris, meet the PGA Tour.
Jim Nantz's backyard in Pebble Beach is the most Jim Nantz thing ever. There's a replica of Pebble's famed 7th hole, a rock that commemorates the lucky people who have aced it like Tony Romo and David Feherty, and Nantz blares the Masters theme song on loop. Check it out:
I want to go to there. Also, it should be noted that Nantz and Faldo, who also shared this fun chat between the two, would make quite the touring comedy duo.
VIRAL VIDEO OF THE WEEK (FAIL DIVISION)
Watch Jhonattan Vegas literally knock a fan out of his seat with a shank:
ARCHIVE VIRAL VIDEO OF THE WEEK
Can you believe it's been eight years since Tiger Woods' dominant Presidents Cup performance, which included the most aggressive club twirl/pose ever:
I could watch that all day. And that's not an exaggeration.
THIS WEEK IN TOUR PROS LIVING THE LIFE
Kevin Kisner shot a third-round 64 at the Tour Championship -- and then boarded a helicopter to go see his Georgia Bulldogs beat Mississippi State:
That's a pretty decent day.
"I didn't even know that until you (NBC's Dan Hicks) just told me. My day just got a little bit better." – Xander Schauffele after being told he'd just won a $2 Million bonus in addition to his $1.5 million winner's check. Welcome to the world of flying to college games in helicopters, Xander!
THIS WEEK IN MODELS PLAYING GOLF
Introducing Katie Kearney, who brings her golf clubs everywhere:
And it's nice to see our friend Hayden Sylte is also always working on her swing:
THIS WEEK IN DUSTIN JOHNSON-PAULINA GRETZKY WAGS PUBLIC DISPLAYS OF AFFECTION SKILL
Congrats to Erin Walker on cleaning up at her latest show jumping competition:
See, we noticed, Erin! And here's another:
Bernhard Langer won for a FIFTH time this season. This guy almost dominates senior citizens as much as Ben Stiller's character in Happy Gilmore. . . . Jason Dufner had to stop plucking his golf ball out of the hole on Friday after ripping his pants:
On the bright side, ripped pants wouldn't keep him from Dufnering. . . . The PGA Tour announced Justin Thomas, Jordan Spieth, Dustin Johnson and Hideki Matsuyama are finalists for Player of the Year. Something tells us JT won't be sweating this vote out. . . . And finally, this is the backyard golf hole(s) of Michael Lehrer, the President and CEO of Home Green Advantage, a company that builds backyard golf holes: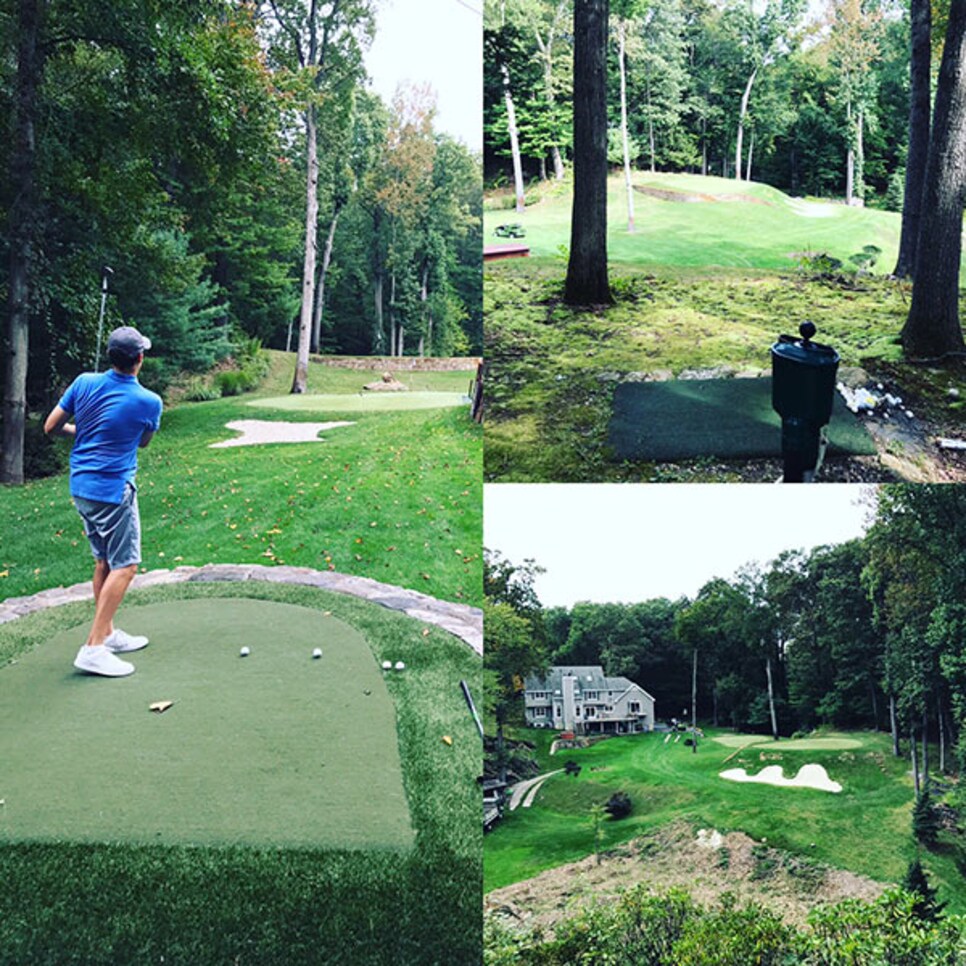 Let me just say his setup does NOT suck.
RANDOM QUESTIONS TO PONDER
What will Justin Thomas' goals look like for 2018?
Will Justin Thomas pay for all of #SB2K18?
Will Justin Thomas pay for me to have a backyard golf hole?