The Loop
Justin Thomas has 'more on resume' now, but looks to bolster it further at WGC-Mexico Championship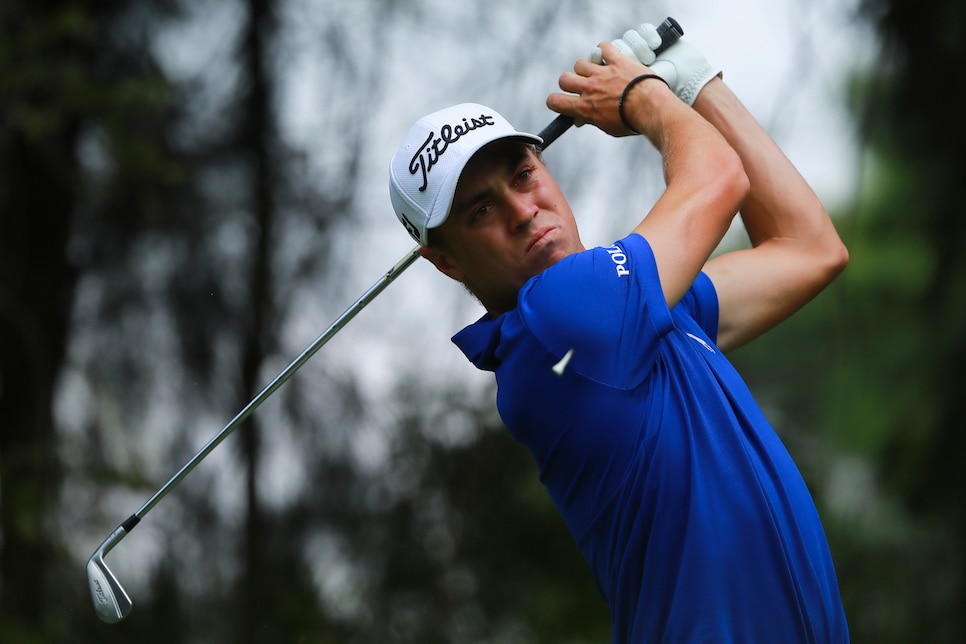 MEXICO CITY -- Eighteen months ago, Justin Thomas might have felt out of place.
He had just one career win and was frustrated with a handful of opportunities that he let get away from him.
Three wins later -- all this season, including two in back-to-back weeks in January -- and he's in position to elevate his stature even further.
After a five-under 66 on Saturday, Thomas leads world No. 1 Dustin Johnson by a stroke and four-time major winner Rory McIlroy and five-time major champ Phil Mickelson by two with one round to go at the WGC-Mexico Championship.
A victory by Thomas at Club de Golf Chapultepec would net the 23-year-old his first WGC title.
"I have more on my resume, I have more experiences to build on," Thomas said. "But it's a little different. I was four back in Malaysia, and I think three shots at Kapalua and Sony, and this is one so different. But I'm excited."
He gave the fans something to be excited about, too, in the tournament's first trip south of the border.
Thomas aced the 232-yard 13th hole. The shot, hit with a 6-iron, vaulted him into a tie for the lead at the time.
"I just tried to put a confident swing on it, and I just absolutely flushed it," he said. "It was cool to see the gallery go nuts up there."
Though he bogeyed the next hole, Thomas bounced back with birdies on each of the next two holes. He finished the day with five birdies, two bogeys and an eagle.
He wasn't the only one to have a wild afternoon.
Johnson opened his round by driving the green at the 322-yard first with a 2-iron before knocking in a 20-footer for eagle.
He followed with a birdie on the second and added three more birdies and a bogey, the latter coming when he drove into the rough and his second shot clipped a tree. Johnson couldn't find the ball, took a drop and knocked his next shot onto the green before rolling in a 14-footer.
"You know what, if it's not the greens, someone playing goalie up by the hole, the trees are catching my ball," Johnson said. "It happens. I mean it's not the first time it's ever happened, but I did make a good five, so I was definitely happy about that."
Less happy was McIlroy, who struggled to get into a rhythm playing alongside Mickelson, who had his own share of struggles with rulings needed on three straight holes to open the back nine.
The 27-year-old Northern Irishman had an up-and-down day with three birdies and three bogeys in a round of 70.
"I was a little bit nervous going out today," McIlroy said. "I've been in position like this before dozens of times, but I don't know, coming off an injury and sort of the first time back in contention for a while, I was a little bit edgy the first few holes. Took me a while to settle into it.
"Hopefully now that I've got that out of my system today and in the final group, hopefully that will be a little bit easier [Sunday]."
The latter shouldn't be hard. With players again going off in threesomes, McIlroy will play alongside Johnson and Thomas, both of whom he is friendly with and lives near in South Florida, in the day's final group.