CHARLOTTE — Justin Suh has just awoken from a mid-afternoon Wednesday slumber.
"Sorry, man—it's been a long week."
That's one way to describe it.
The journey began on Saturday evening, when Suh—a former World No. 1 amateur, but we'll get to that in a minute—was set to travel from Oakland, Calif., to Charlotte to play in the Monday qualifier for the Wells Fargo Championship. The 23-year-old USC grad needs 83 more FedEx Cup points (around an eighth-place finish) to secure Special Temporary status on the PGA Tour, which would allow him to receive unlimited sponsor's invites for the rest of the season. (It's the status Will Zalatoris has at the moment.)
That's important, because he has already used six of the maximum seven sponsor's invites for one season for a non-member. But he didn't have one for the Wells Fargo, so he figured he'd tee it up in the Monday qualifier.
The plan, initially, was rather straightforward: a Saturday afternoon flight from Oakland—where he was visiting his coach, Bill Johnson—to Chicago Midway, then a connection to Charlotte. He'd arrive Saturday evening, play a practice round on Sunday, and give it a run on Monday.
What followed was a distinctly unglamorous version of Around the World in 80 Days.
The first sign of disruption came when Southwest re-routed Suh. Now, he'd have to fly from Oakland to Portland, Portland to Denver, Denver to Charlotte. Not ideal, but not a huge deal.
"So I'm at the baggage claim on Saturday night, and my bags don't show," Suh told Golf Digest. "I'm like, oh, no. I go to the counter and file a claim, and they tell me they should arrive tomorrow."
Suh gets a call on Sunday that his bags have, indeed, arrived. So he heads back to the airport only to learn that only one of his two bags was ready.
"I ask, which one?! She tells me it's the grey one. AKA, not my golf clubs."
Now he has a situation on his hands. The Monday qualifier begins in less than 24 hours, and he has no golf clubs to speak of—and no idea what the course looks like. Luckily, the Cobra equipment team touched down in Charlotte on Sunday evening and was able to begin building a set for Suh to use until his sticks arrived on Monday. (Or, at least, that's what Southwest told him.)
"They did a great job building it, except I use a Nike Method putter that I've had in the bag for nine years. So that Monday was the first time I'd used a different putter since I was 14."
While that's happening, he and his caddie headed to the course to buzz around in a cart to at least see the place. Monday finally arrives, and Suh shoots two-under 68—solid, but two shots back from the magic number. Shortly thereafter, he gets a call from a Wells Fargo tournament official, who tells him that Camilo Villegas withdrew at Quail Hollow, and that Suh would be receiving a last-minute sponsor's invite into the Wells Fargo.
"He asked me if I had any plans for the week. I said, 'I don't even have my golf clubs!' "
He then checks in again on his clubs, only to discover they've gone on a hard-to-believe journey.
"I kid you not, they tell me the bags went from Oakland to Chicago Midway, to Orlando for some reason, then to Baltimore, then back to Orlando, then to St. Louis, back to Orlando, back to St. Louis … and finally to Charlotte."
Suh heads back to the Charlotte airport—for the third time now—to pick up his sticks as soon as they're ready at 2 p.m. Finally, with his tools back in his arsenal, he heads to Quail Hollow for a practice round.
"And just as I'm on the first tee, like, literally heading to the tee, the horn blows," Suh says. "Full thunderstorm. Did not get to hit a single shot on Tuesday."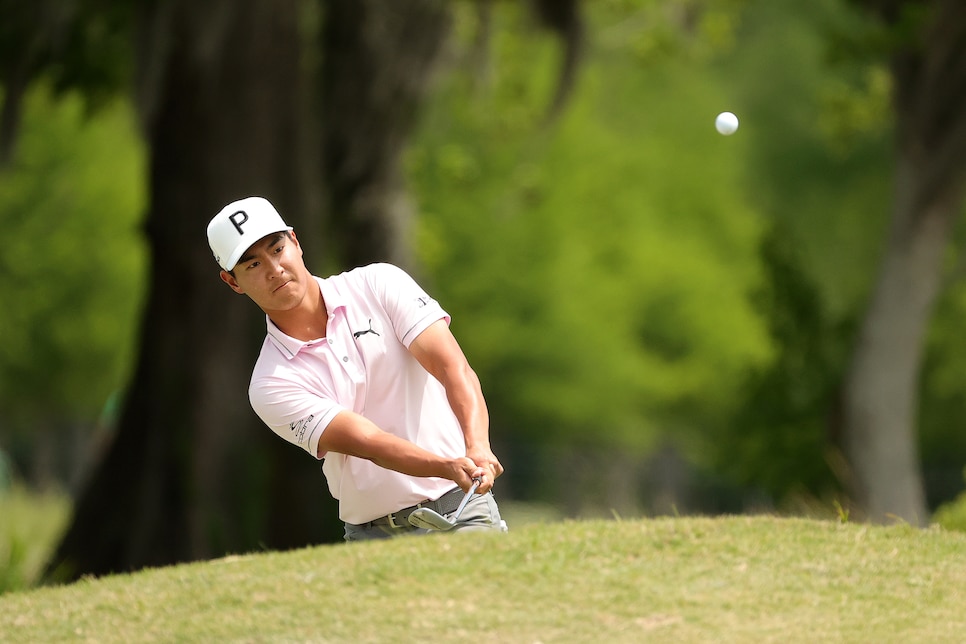 Justin Suh teed it up with Doug Ghim at the Zurich Classic of New Orleans two weeks ago, finishing T-11.
Stacy Revere
We try to steer clear of cliches, but sometimes they're too perfect: When it rains, it pours.
Suh played nine holes at 6:30 a.m. Wednesday to get his first look at Quail Hollow, then walked around the back. Hardly ideal preparation for a PGA Tour event, especially one as potentially vital as this—his final guaranteed start on the PGA Tour this season, though he can still Monday qualify into events.
You may remember Suh as the Class of 2019er who lagged behind. He, Collin Morikawa, Viktor Hovland and Matthew Wolff all turned pro within a month of each other in 2019, and all sat for a press conference together at the Travelers Championship that June. Fast-forward and Morikawa is a major champion and top-five player in the world, Hovland is a two-time PGA Tour winner and Wolff is one of the game's brightest young stars.
Their success, of course, has warped the perception of Suh. He had a nagging wrist injury that began to bother him his senior year at USC, then got worse as he hit "way too many balls" shortly after turning pro. He missed the cut in six of his seven PGA Tour starts in 2019, and 10 of his first 11 overall, just as his peers were soaring.
"It never really bothered me, because we're all great friends," he says. "It was more just motivation. And I knew I had to get my wrist better to have a chance. So that's what I did."
He found his footing in the latter half of 2020, finishing T-14 at the Corales Puntacana Resort & Club Championship then T-8 the following week at the Shriners Hospitals for Children Open. With three more finishes of T-37 or better in 2021, he's now assured himself a spot in the Korn Ferry Tour Final, but he can avoid those should he get those 83 points to get Special Temporary and then accumulate enough points in additional sponsor's invites to gain membership for 2021-22 through non-member points. (Again, this is what Zalatoris has already done).
He's 23 years old, has been a professional for less than two years, and is on the brink of getting his PGA Tour card. Not too shabby—not everyone can be a Morikawa, Hovland or Wolff.