The Loop
'Joy'ful story from women's regionals
In this week's issue of Golf World, I named Virginia freshman Joy Kim as our women's player of the week. It's the first time since I can remember not picking somebody that either won an event individually or propelled his or her team to a tournament victory. Indeed, Kim finished T-7 at the NCAA East Regional, and the Cavaliers finished in fifth place.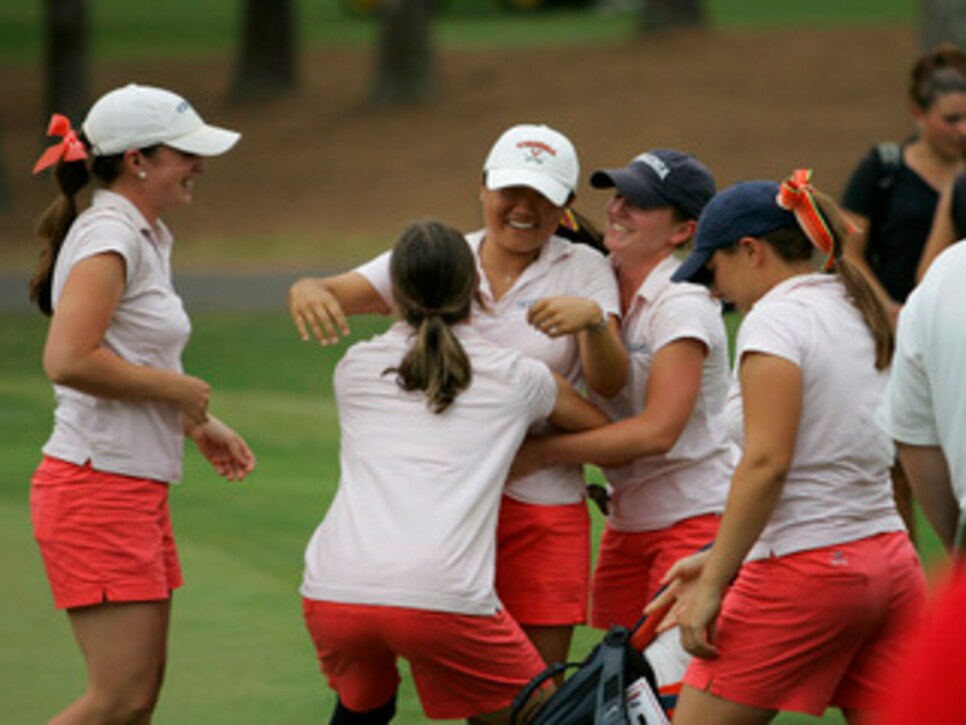 The reason, however, I selected the Duluth, Ga., native is that her performance on the final nine holes of the tournament saved UVa season--and illustrates the amazing rush that is inherent to NCAA regionals.
On the back nine Saturday at the University of Georgia GC in Athens, Kim made five birdies to shoot a four-under 68. When you consider that Virginia finished only three shots out of ninth place, and only the top eight teams advanced to the nationals, you understand how significant Kim's performance was. Had she not got things going, the Cavaliers probably wouldn't be going to Albuquerque after mobbing Kim on the 18th green (see photo).
"She is very disciplined, mentally," first-year Virginia coach Kim Lewellen said after the round. "She really had it going today. You could just see the determination in her eyes. When she got that first birdie, that just got her going. We really needed her today and we got her best. What more could you ask of someone in this setting? I'm just glad we've got her for three more years."
NCAA Division I regionals for both the men and the women offer a unique level of intrigue in so much as they're the only tournaments that schools compete in where winning isn't necessarily the absolute goal, but rather finishing no worse than eighth on the women's side and 10th on the men's and earning a spot at the NCAA Championship.
"She's been such a force on the team," said LSU coach Karen Bahnsen after the tournament, "and when we were sitting around waiting for the playoff, we told her that she needed to do something for us to earn her keep today. Seriously, it is fitting that she be the person to make the decisive shot for us. I am extremely excited for her and of course, for our whole team."