The Loop
Trending: Josh Beckett will spend his 18 off days on the golf course if he wants to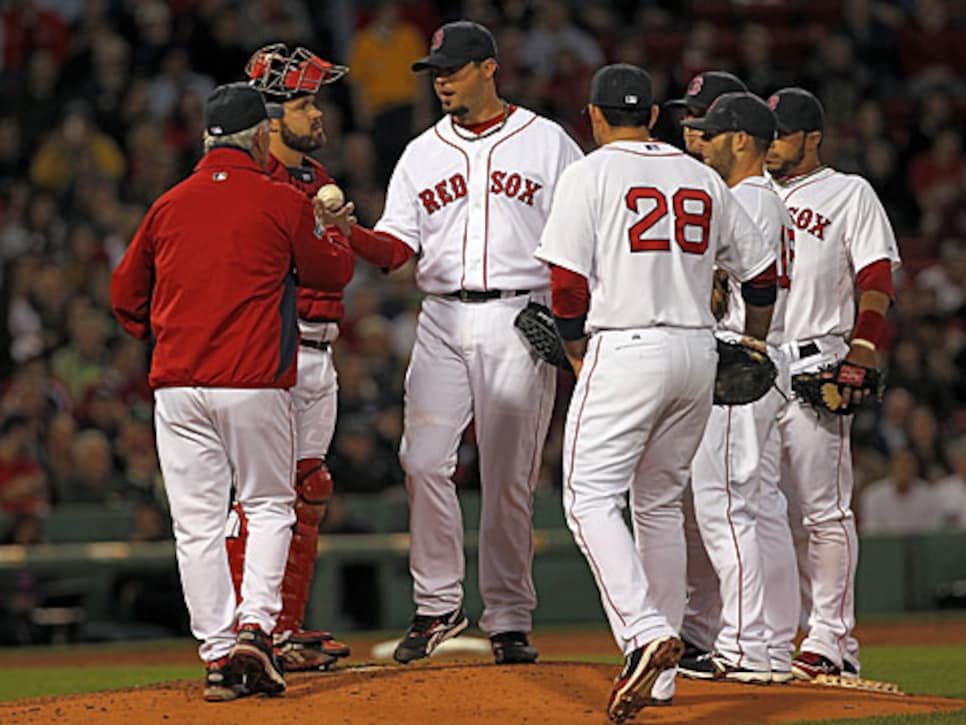 (Josh Beckett being pulled by manager Bobby Valentine. Photo by Jim Rogash/Getty Images Sport.)
When the ESPN headline about your most recent performance reads 'Indians pound embattled Red Sox starter Josh Beckett', you know you're in for some scrutiny. The fact Beckett plays in Boston with a guaranteed contract will only draw more ire from the Fenway faithful.
The reason for his embattlement? Golf.
Beckett's commitment to the Red Sox organization was brought into question after he spent his off-day on the golf course. This is a very normal occurrence for baseball players during the course of their rigorous summer schedule, but frustration started seeping in when it was revealed Beckett played golf the day after skipping a scheduled start due to a sore lat muscle in his back. Tensions boiled over when he returned to the mound and proceeded to give up seven runs in 2 1/3 innings. When pulled by manager Bobby Valentine, a chorus of boos descended down upon the pitcher as he exited.
"We get 18 off days a year. I think we deserve a little bit of time to ourselves."
He does have a point, 18 days off over a 162-game schedule averages out to one every nine days playing. Of course, he is a starting pitcher, which means he only starts every five days and doesn't have to report until roughly two or three in the afternoon on most game days. With his guaranteed $15.75 million contract, which averages out to roughly $463,235 a start -- that's if he makes them all, as Mike Lopresti points out -- fans aren't feeling his laissez faire attitude.
Actually, let's call it what it is: A "F-you!" attitude.
A "You took my beer and fried chicken out of the clubhouse" attitude.
I would be lying if I said seeing Boston fans squirm as their team wallows in last place of the AL East wasn't bringing a bit of a smile to my face (and no, I'm not a Yankees fan), but in this case, they have a right to be upset. And it's not with their coach; it's not with golf; it's with a pitcher who clearly doesn't care about his reputation, his 5.97 ERA, or the fact people are paying a hefty price to come watch him perform.
In a bit of ironic foreshadowing, one fan in the stands yelled "Fore!" when Michael Brantley ripped a liner foul off of Beckett in the third inning. Brantley proceeded to hit a double to left-center. That would be the last batter Josh Beckett would face.
For the record, former Red Sox pitcher Derek Lowe, who beat Beckett on Thursday night for Cleveland, played golf today.