The Loop
The Grind: Jordan's gigantic haul, DJ's new private island, Paige's new clothes, and why Notre Dame football is annoying
Welcome to another edition of The Grind, where we're sorry we ever doubted you, Jordan. Jason Day is the flavor of the month, but you are clearly the player of the year. Up until now, the two greatest golf seasons we've witnessed in our lifetime are Tiger Woods in 2000, and former colleague Luke Kerr-Dineen and I going undefeated as a best-ball team in 2014 -- but what Spieth did this year is certainly in the conversation. Yeah, yeah, Spieth's level of competition was just a tad better, but he didn't constantly have to deal with sandbaggers like Luke and I did. We'll let history judge this debate and simply recognize that what Spieth did in 2015 will be talked about for a long time. In the meantime, here's everything that has us talking.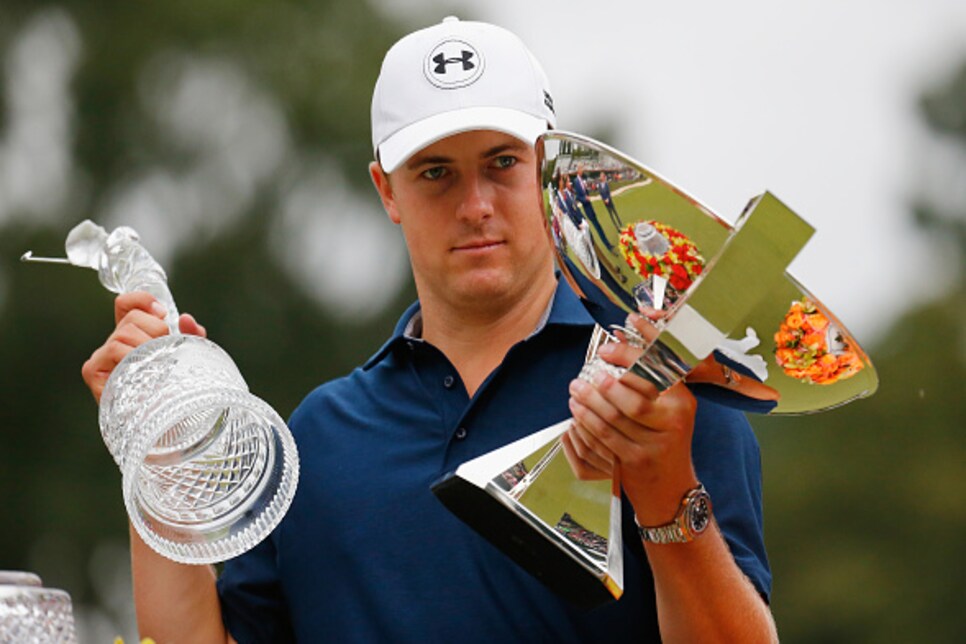 Jordan Spieth: Like Tiger Woods in his prime, when this guy gets himself in the mix, he always seems to pull it out on Sunday. The biggest moment came on the 11th hole when Stenson looked poised to cut into Spieth's lead with a short birdie putt only to see Spieth roll in a 45-foot curler. "Eleven was a dagger," Spieth said after. Well said. The Tour Championship victory gave Spieth five wins, including two majors, in 2015. And with his $10 million haul for winning the FedEx Cup, Spieth wound up earning $23 MILLION in just on-course earnings for the season. How much did you make the year you turned 22?
Henrik Stenson: The Swede is a great player, but there's something that separates guys like Tiger and Jordan from him. For all he's accomplished, Stenson remains stuck on four PGA Tour wins at age 39. Still, it's hard to knock a guy who just finished runner-up in three of the four FedEx Cup Playoff events. Plus, he made this crazy final 57-foot putt for $1 MILLION. Look away, Jason Day.
DJ's new "house": Have you seen this thing? It came with its own private ISLAND: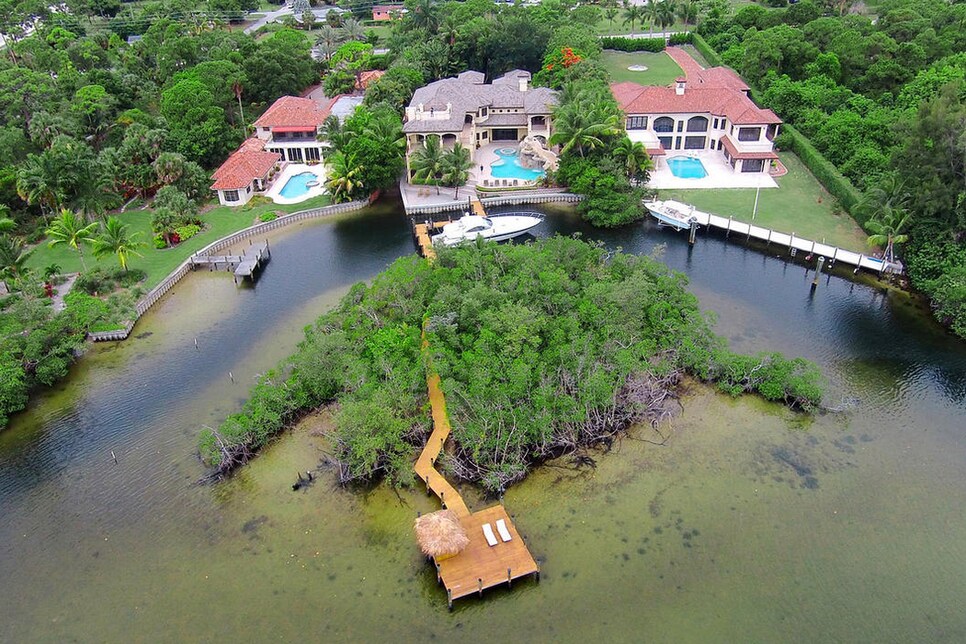 DJ's golf year: He finished in the top 10 in more than 50 percent of his starts and climbed to No. 7 in the Official World Golf Ranking, but we'll remember that 72nd hole at the U.S. Open and his disastrous weekend at St. Andrews the most. DJ has won on tour an incredible eight consecutive years, but he's only won nine career events. At 31, we're still waiting for that monster season we all know he's capable of. On the bright side, his personal life seems to be going better with the birth of his first kid and the purchase of the aforementioned house/island.
Rory's playoffs: After a disappointing season in the majors, we were betting on McIlroy having a huge postseason, especially after seeing his No. 1 ranking taken away by two different players. Instead, Rory could only muster one top 10 in four playoff events. A year ago, his grip on the top spot in the Official World Golf Ranking seemed airtight. Now, he's No. 3.
Jeans at the club: OK, so it turned out these pants Kevin Kisner were wearing during his practice round at East Lake weren't technically jeans: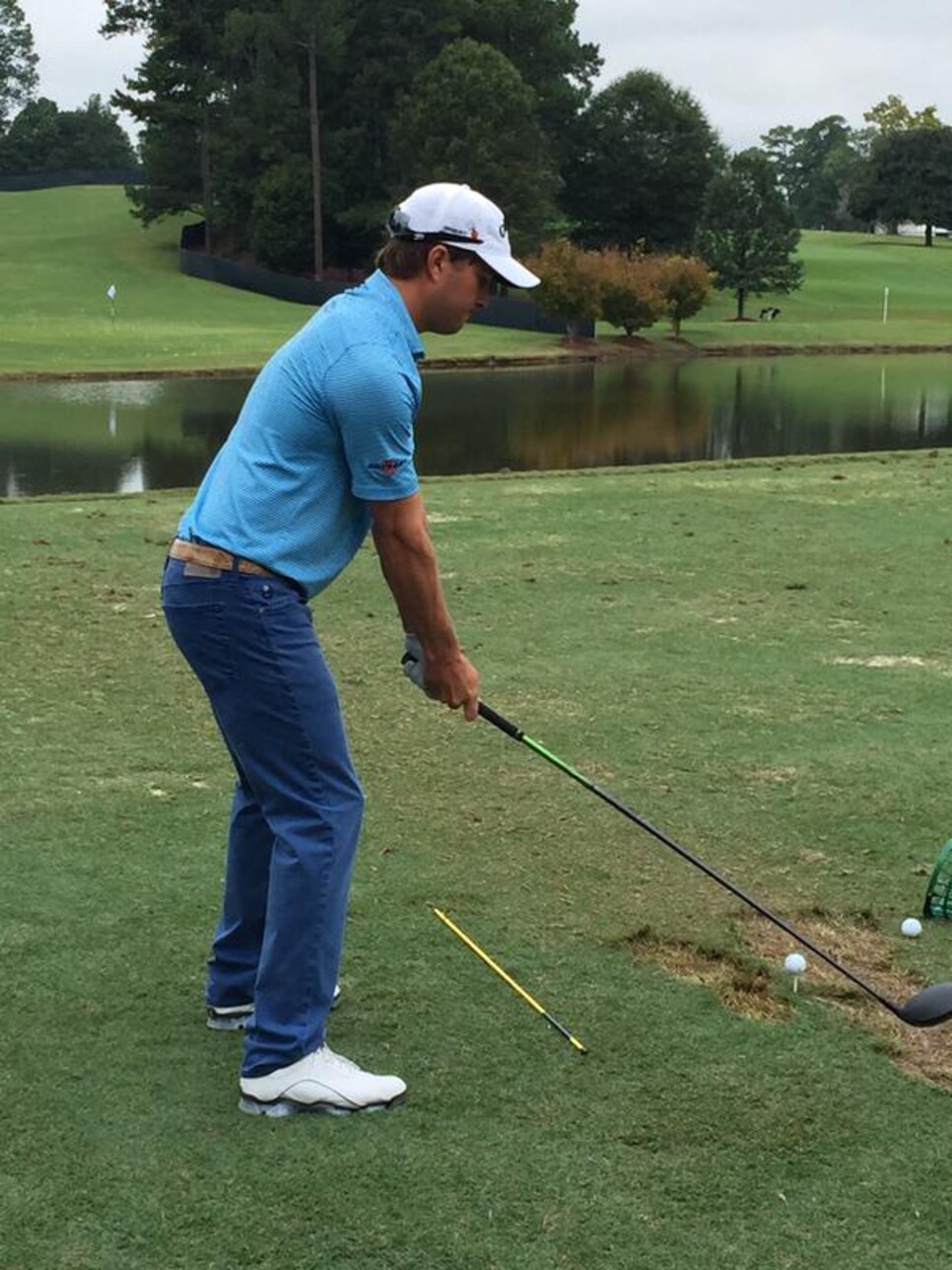 But boy, did they look like it. And apparently, the golf gods didn't care they were made from cotton instead of denim and still deemed them a fashion faux pas. Kisner finished dead last in his first Tour Championship. By four shots.
Notre Dame football: This is still a big thing, huh? It must be since the Fighting Irish's games took precedence over Saturday golf coverage of golf's final two events of the season, causing tee times to be pushed up so NBC could cut away to the Golden Domers at 3:30 -- even when they were taking on mighty UMass. Not exactly the game of the century.
With the conclusion of the 2014-15 season, the PGA Tour will take a whole two weeks off (unless you're involved in next week's Presidents Cup) before the start of the 2015-16 season at the Frys.com Open. Enjoy the big break, folks!
Random tournament fact: Jordan Spieth made $3,623 per shot, $13,908 per hole, and $259,346 per round this season. Um, yeah. . .
RANDOM PROP BETS OF THE WEEK
-- Henrik Stenson knew that last putt was worth $1 MILLION: 1 MILLION-to-1 odds
-- Jordan Spieth won't win Player of the Year: 22 MILLION-to-1 odds
-- Jordan Spieth is treating for dinner at the Presidents Cup: LOCK
In case you can't read the side window, Fowler wrote #FindDannyAGirl, which is in reference to Lee saying he wished he had a girlfriend at his winning press conference at the Greenbrier. Speaking of girlfriends, we haven't seen Rickie's in awhile, either. . .
PHOTO OF THE WEEK (NON-GOLF DIVISION)
Jimmy Walker didn't play like one of the best golfers in the world at East Lake, but he proved he's still one of the best astrophotographers in the world with this shot of the 'super blood moon' eclipse: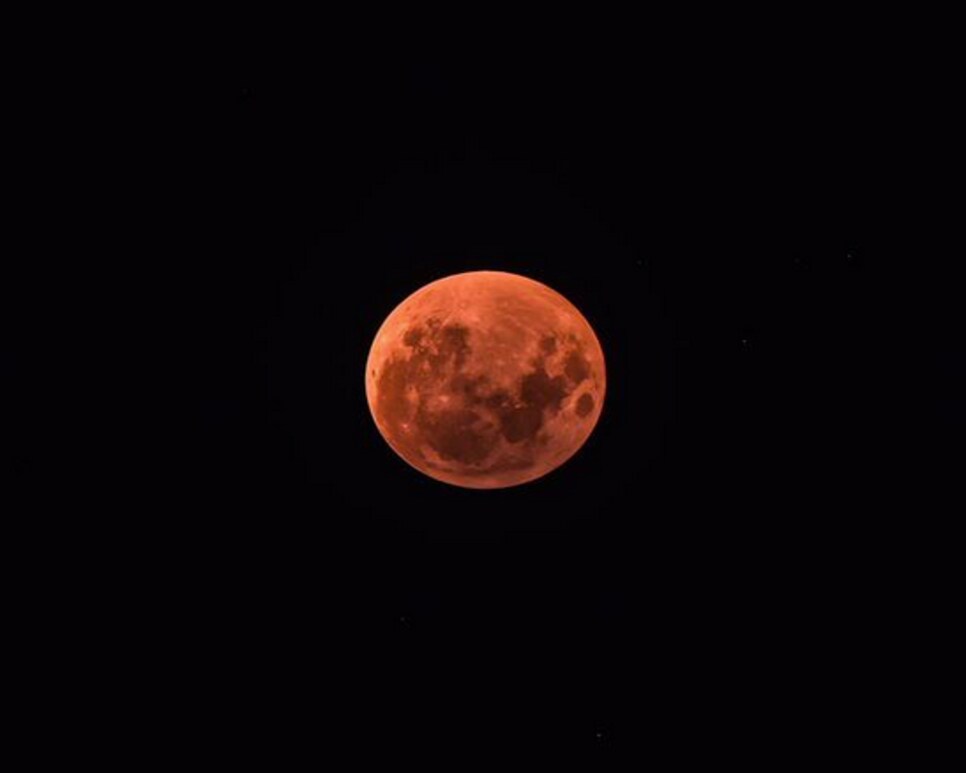 Johnny Miller probably wants this call back. . .
"Luckily, that amount of money doesn't sort of mean much to me anymore. It will go in the bank and if I want to buy something nice, I will. I mean, like, it's nice to think that you could win $10 million this week, but that's not what excites me." -- Rory McIlroy. OK, so maybe we shouldn't have expected a huge FedEx Cup Playoffs out of him.
THIS WEEK IN PAIGE SPIRANAC BEING PAIGE SPIRANAC
First, Paige showed off some body language:
And then Paige showing off the body in some new workout clothes:
THIS WEEK IN DUSTIN JOHNSON-PAULINA GRETZKY PUBLIC DISPLAYS OF AFFECTION
Again, we're only disappointed in DJ's on-course performance.
THIS WEEK IN JORDAN SPIETH-ELLIE SPIETH PUBLIC DISPLAYS OF AFFECTION
Awww. How sweet. And speaking of sweet. . .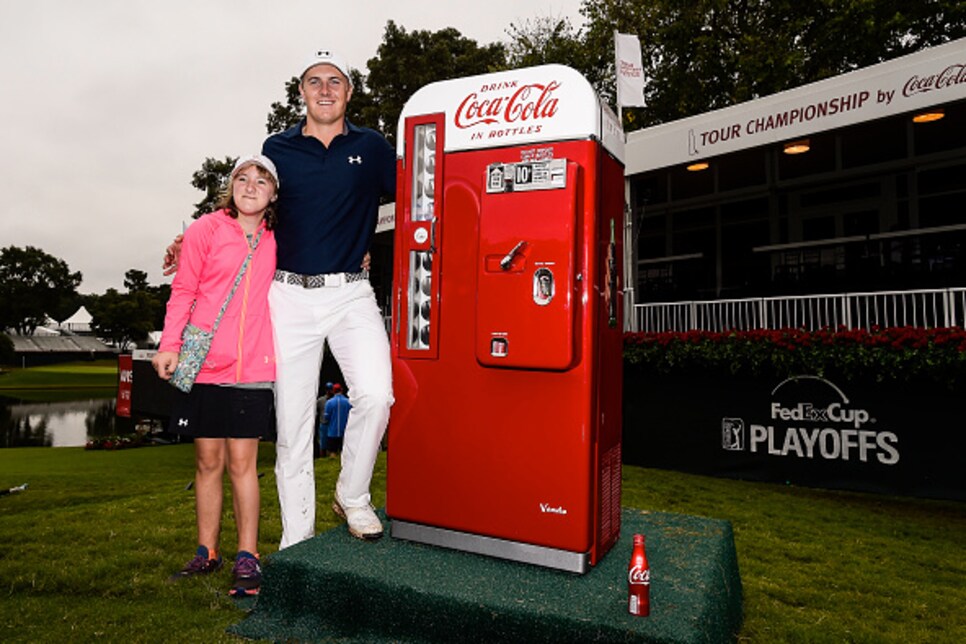 He gets that awesome Coke machine, too?! That doesn't seem fair.
Tom Watson declined to be inducted into the PGA of America's Hall of Fame because of how the organization handled the firing of his buddy, Ted Bishop. Can't you just hear "That's What Friends Are For" blaring at TW's house? . . . Andrew Loupe won the third Web.com Tour Finals event to reclaim his PGA Tour card. Hopefully, he'll play a little faster this time around. . . . And the team of Mark Canno, Josh Thomson, Kevin Devaney, and myself shot a gross 67 at Century Country Club to win the 2015 Harrison Education Foundation Golf Outing by FIVE shots.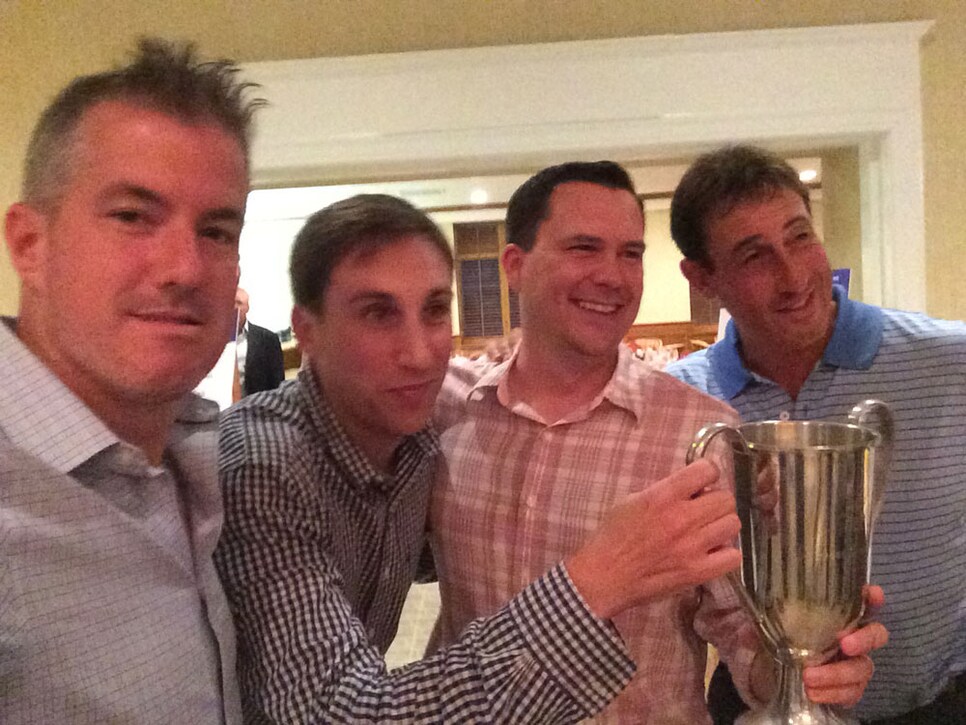 I also won the day's closest-to-the-pin competition and picked up so much pro shop credit that I walked out of there feeling like Jordan Spieth.
RANDOM QUESTIONS TO PONDER
Is it possible for Jordan to get any better?
What is Jordan going to spend all his money on?
Why didn't I use part of my winnings on a new wedge?