The Loop
Jordan Spieth's victory at Colonial 'one of most important days I've ever had'
Everything is said to be bigger in Texas, including, apparently, the diameter of a golf hole, at least when Jordan Spieth is staring one down.
Outsized, too, was the fortitude with which he dispensed whatever lingering doubts the native Texan and, alas, others might have had from his Masters Meltdown.
"This day is a moment that will go down, no matter what happens in the next 30 years, as one of the most important days I've ever had," he said.
This was the day that he won a tournament, the Dean & DeLuca Invitational, that allowed him to quiet the drumbeat of negativity that haunted him since the proverbial back nine on Sunday, a month ago, when he kicked away the Masters.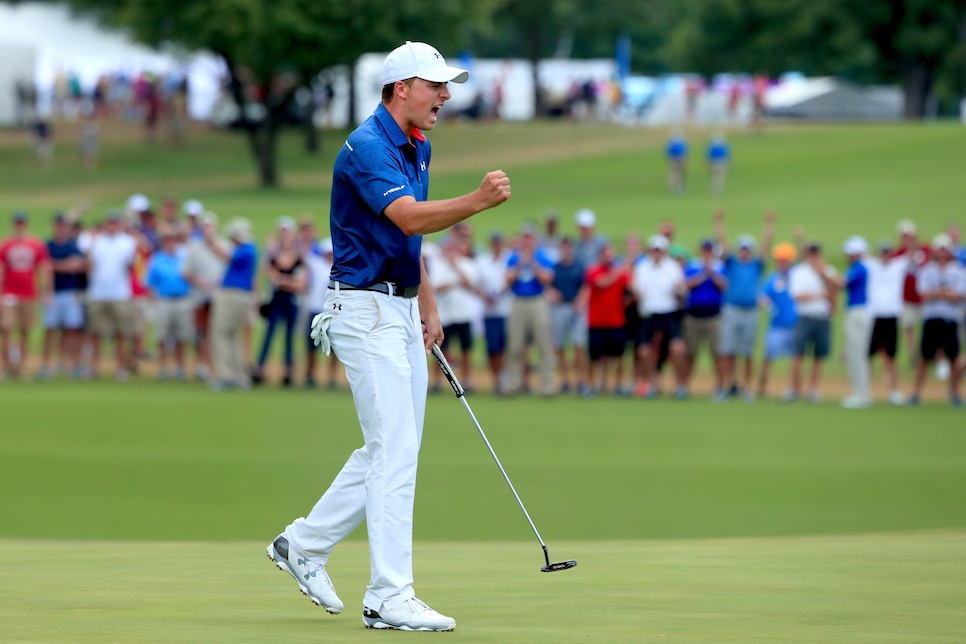 On the 10th hole at Colonial Country Club in Fort Worth, Texas, on this Sunday, he heard a man in the crowd yell, "remember the Masters."
"I had a little red-ass in me and it came out in the next few holes," he said. "I wasn't sure how long it would take to get over the hurdle, of having to come into every interview room, having to listen to the crowds, talking only about what happened a month ago. I'm 22 and we've won two majors. But it's very difficult to stay present, to stay positive, when that's happening, when those are the only questions. So in our third tournament coming back to close this one out the way we did is really, really special."
Spieth, who began the final round with a one-stroke lead, made the turn on Sunday trailing Harris English by two. Then this:
— He holed a 21-foot birdie putt at 10, got up and down for birdie at the par-5 11th and holed a four-footer for his third-straight birdie at 12.
— He holed a 13-footer to save par at 14, a 20-foot birdie putt at 16, a 20-foot pitch-and-run from behind the green at 17 and a 34-foot birdie putt at 18 to win by three over English.
"It's always nice to see those kind of putts and even chips go in on the back nine on Sunday and that's going to serve me well going forward," he said.
Going forward is the Memorial, which suddenly has taken on the aura of a major championship. The top three players in the World Ranking — Jason Day, Spieth and Rory McIlroy — have all won their most recent starts. Two weeks after that is the U.S. Open at Oakmont.
"We're kind of right on track," Spieth said of this, his second win of the season. "Back on track in contention in three of the last four events."
The victory was Spieth's eighth on the PGA Tour before his 23rd birthday in July, or one more than Tiger Woods had at a similar stage of his career. It also was his first professional victory in his home state.
"What a great week," he said of a win that could only be described as big, even by Texas' inflated definition of the word.