News
Jordan Spieth's big Sunday: Will he put '16 Masters behind him, career Grand Slam in front of him?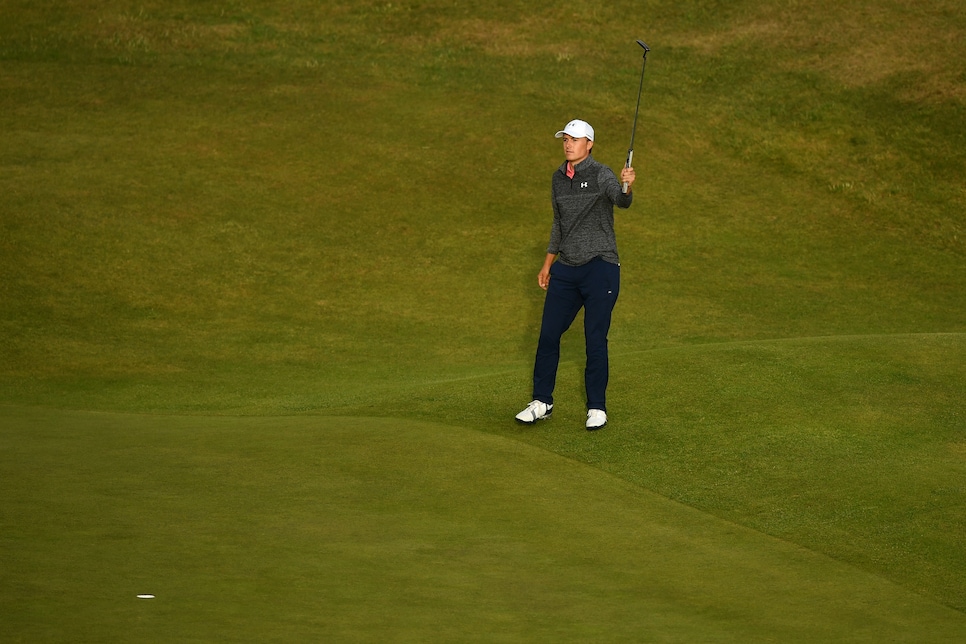 SOUTHPORT, England -- Sunday is very big for Jordan Spieth.
Through 54 holes, with a three-stroke lead, he's been the best player at Royal Birkdale by a lot. Though he's already got two majors at age 23, having gone now two years since his last one has caused the trauma at the 2016 Masters to linger in the collective memory – and probably Spieth's as well – too long. Capturing the Open on Sunday would accentuate the positive and eliminate the negative.
It's true that in golf, no one wins them all, or even most of them. But it's a cruel reality that major setbacks, if not made up for and healed quickly, can seriously inhibit the destinies of great talents.
Sam Snead was haunted enough by blowing the 1939 U.S. Open that he never won that championship. Conversely, in 1946 Ben Hogan lost both the Masters and U.S. Open by three-putting the last hole, but undid the damage by winning the PGA. When Arnold Palmer threw away the 1961 Masters, the three majors he had in the bank let him get his mind right enough to win that year's British Open. Jack Nicklaus felt he gave away the 1963 British, but made up for it immediately by winning the very next week at the PGA. Greg Norman seemed positioned to win many majors, but had near misses at the 1984 U.S. Open and 1986 Masters, along with giving away the Sunday lead in the 1986 U.S. Open before he won his first at the 1986 Open at Turnberry. Still not fully healed, his wounds turned grave when he lost the next two majors after that in playoffs. And then there was the collapse at the 1996 Masters. For all his many chances in majors, Norman would only win two.
Spieth is a long way from that kind of pattern, but the psychological stakes will rise each time he gets in major contention without having won again. The shorthand is that if Spieth closes out victory tomorrow, he'll be healed. If he doesn't, his hurt will double.
Why all this concern? Because Spieth has a wonderful chance to be a truly historic player who is clearly built for the toughest tests. Already, in only 69 rounds of golf in majors, he's led after 14 of them. If he wins at Birkdale, he'll have achieved the third leg of the career Grand Slam after only 19 majors. Only Nicklaus got three legs more quickly, in 16 majors. It took Tiger Woods 20 majors to get three legs.
For close observers of the game, it is natural to root for Spieth to excel. Great players provide the most interesting prism through which to see the game. Spieth himself knows this, and has already shaped his life to become the prism of his era. Besides his obvious ambition, it's evident in the way he processes all of golf's possibilities and permutations.
When he was asked, after his second bogey-less 65 of the championship on Saturday, a question that easily could have opened a trap door— "You're always such a positive thinker. Tomorrow do you, when you go out in the final rounds, do you ignore the memories of Augusta last year or do you embrace it and try and use what you learned from that as an extent?"—Spieth spun a long, eloquent answer that he also seemed entirely sincere.
"Absolutely," he said. "I think I'm in a position where it can be very advantageous, just everything I've gone through, the good, the bad and everything in the middle. I understand that leads can be squandered quickly, and I also understand how you can keep on rolling on one. So it was a humbling experience that I thought at the time could serve me well going forward. And if I don't win tomorrow, it has nothing to do with that. It has to do with it was someone else's day, and I didn't play as well as I should have. And if I win tomorrow it has nothing to do with that, either. You're learning and it all goes into the mental process. And as I go in for the next whatever, 18, 20 hours, it's about being very positive and really staying very focused on a game plan for tomorrow. Relax, smile more. Michael is doing a great job keeping us loose. It's been pretty easy. And it's not going to get any easier. So tomorrow will be a day that will be emotionally draining and difficult to stay very neutral in the head, but that's probably the most important thing for me to do."
When it was suggested that he was shaky on Sunday in his last victory at the Travelers Championship, Spieth didn't deny it, but also contended the experience had made him stronger.
"I thought Hartford was big," Spieth said. "I went in and I knew I didn't feel great with the putter, and it's been kind of off and on this year and was able to win feeling really poorly with putter and that's never happened before, going back to junior golf. And being able to do that gave me a confidence."
It's a confidence that will be severely tested tomorrow. If it holds up – by staying in the present - Spieth will be free to look forward again, not backward. Although when his 20-footer for birdie at the last dropped into the hole late Saturday, Spieth's face took on a soft, faraway look as he gestured with a gentle fist pump, as if he could already see himself at next month's PGA Championship in Charlotte, at a freshly turned 24, with a chance to complete the career Grand Slam at the younger age than Woods or Nicklaus.