The Loop
Watch Late Show host Stephen Colbert grill Jordan Spieth on his conversations with golf balls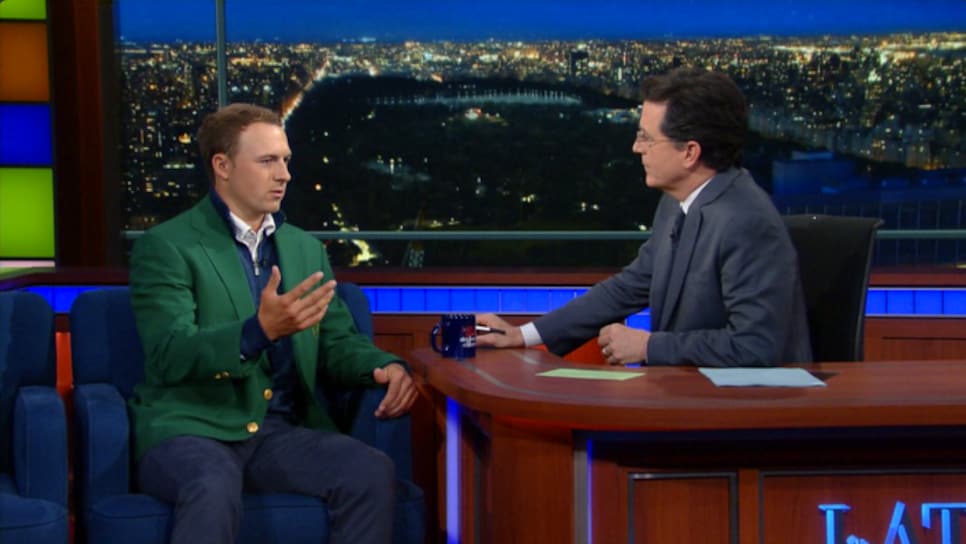 Jordan Spieth had a whirlwind Monday in Manhattan. The world's No. 1 player was all over New York City, along with LPGA star Lexi Thompson, to promote the Drive, Chip & Putt Championship.
But if you're going to be in the Big Apple, you have to make time for entertainment. Luckily for Spieth, he had a first-class view to the best act in town: Stephen Colbert.
The reigning PGA Tour Player of the Year stopped by the CBS' Late Show as a guest, and Colbert did what all of us would do if seated next to Spieth: He touched the green jacket.
"I've never had this dry-cleaned," admitted Spieth. "It doesn't smell, does it?"
Colbert had some fun with Spieth, playing multiple highlight clips of the golfer talking to his golf ball.
"Now, I assume your balls are watching tonight," Colbert said. "Is there anything you want to say to your balls?"
"Stay hot and stay dry," replied Spieth.
The segment ended with Colbert asking Spieth for swing advice, with a makeshift driving range set on stage.
"Oh boy," remarked Spieth, as he noticed Colbert's odd stance. "Where should I stand?"
"I take so long to set up my shots that my friends call me 'Coma Colbert,'" smiled the host.