The Loop
Jordan Spieth says he needs to be "more positive" on the course after missed cut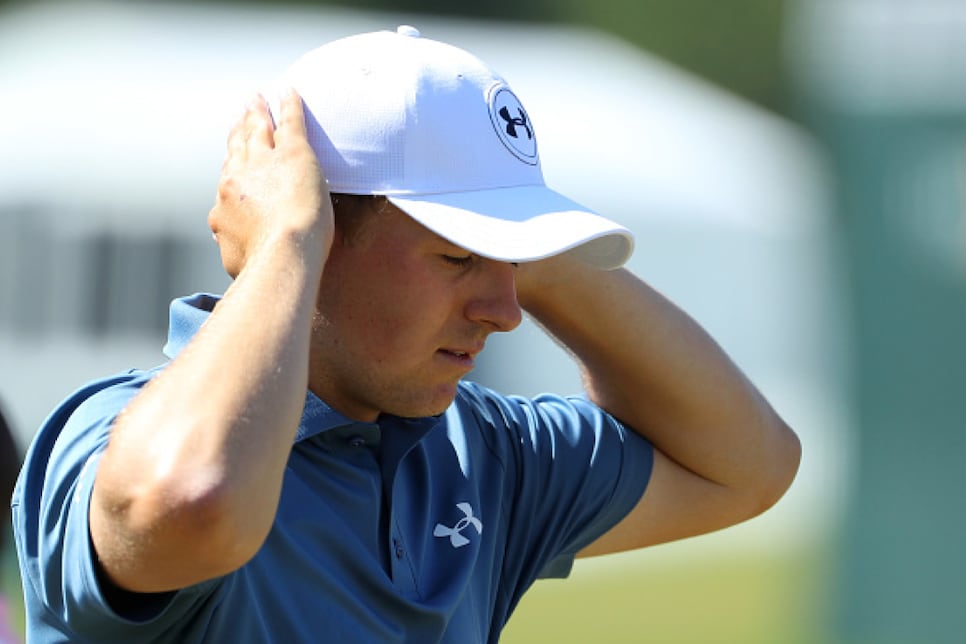 PONTE VEDRA BEACH, Fla. -- Jordan Spieth admitted that he is beating himself up too much over his inconsistent play of late, and it's affecting his results.
Playing for the first time since blowing a five-shot lead with nine holes to play in last month's Masters, Spieth missed the cut at the Players for the second time in three years, finishing off a second-round 71 on Saturday morning to end his week at one under, one stroke outside the cut line at TPC Sawgrass.
A big part of what held him back the last two-plus days was the one club he has almost always been able to rely on, his putter. Spieth took 59 putts over two days, twice three-putting, and ranked 122nd in strokes gained putting.
It would be easy to pin the poor performance as a Masters hangover but the 22-year-old World No. 3 insists that's not the case.
"I don't think there's much of a connection," he said. "I just didn't putt well. If I putted like I putted at the Masters, I would be at 10- or 12-under right now. I just had an off week with the flat stick. But I had plenty of rest. Again, Augusta seems like a long time ago now, to me. This was a complete new week."
The results, however, have been scattered. In Spieth's last seven stroke-play events, he has just two top-10s and has now twice missed the cut.
When he returned to the course after play was suspended due to darkness on Friday, Spieth had a chance to pick up a stroke or two but was sloppy from the start. On his first shot of the day, he tried to hit a punch-cut from the rough on the par-4 15th, but the ball struck a tree and only went 20 yards. Bogey.
One hole later, Spieth caught his second shot on the par 5 heavy, the ball came up short of the green and he wasn't able to get up-and-down, missing a 12-foot birdie putt. Spieth parred 17 and made a birdie that didn't matter on 18 to close out his short week at TPC Sawgrass.
During it all, Spieth's frustrations have been evident based on his body language and emotions -- at one point on Friday he muttered, "that's not even close to the right club," to his caddie after coming up short on his approach to the sixth hole.
"Certainly needs improvement on the consistency," Spieth said Saturday before departing. "The past three years seem that we had a chance to win about half the time we teed it up and this year that hasn't been the case. We ran away with the first one of the year and then had a couple chances overseas and then obviously a chance at the Masters, but my off days need to be two under instead of even par."
"Again, my ball striking feels great. Just need to be a little bit more positive with myself on the course and maybe kind of lower expectations a little bit and just kind of free myself up. It just seems I'm so tense and I just need to get back to the way I enjoy playing golf and I'm not far off."