The Loop
Jordan Spieth on Dustin Johnson Open flap: 'I would have thrown a fit'
AKRON, Ohio -- Had Jordan Spieth been approached by two USGA officials on the 12th tee of the final round of the U.S. Open on a Sunday afternoon while vying for the championship, as Dustin Johnson had been at Oakmont Country Club recently, he promises that events would have played out slightly differently.
In that, he would have stopped playing.
"I would have thrown a fit. I promise you, I would have thrown a fit," Spieth, the 2015 Masters and U.S. Open champion, said Tuesday at Firestone Country Club. "I wouldn't have hit another shot. I would have sat there like, 'This is not the way this goes. Let's figure this out right now.' You can't have a potential penalty or not. You've got to know in that case."
Johnson handled things much more calmly. Informed on the 12th tee that he might incur a penalty for causing his ball to move on the fifth green, he soldiered on not knowing exactly where he stood in the championship. But he played the final seven holes in even par, and even after the one-stroke penalty was assessed, he still won by three strokes.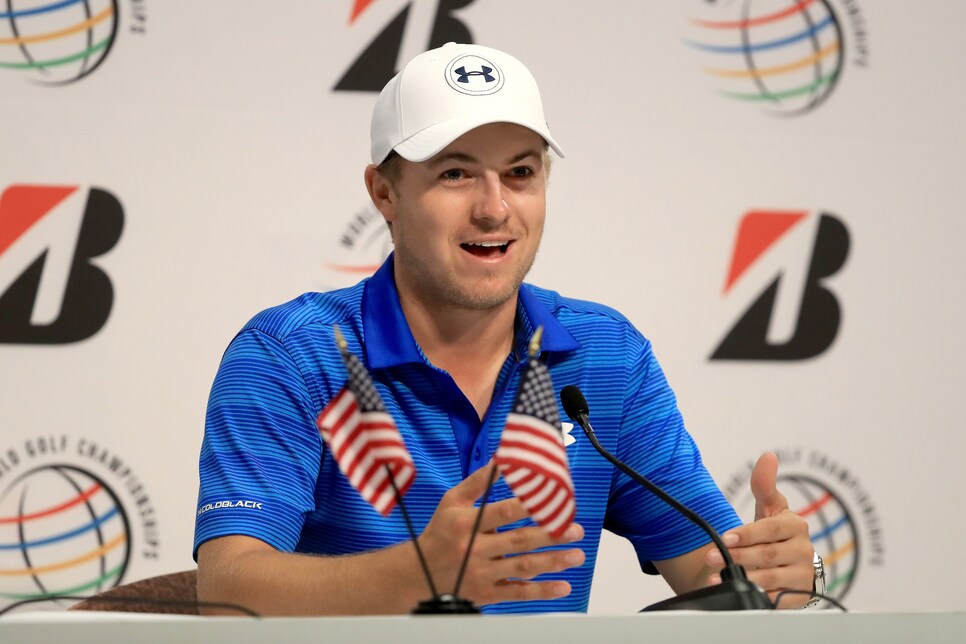 "I think that it was unfortunate the way it then played out, and they agree, and they said that. And I think that what Dustin did was extremely special given that circumstance," Spieth said.
As events unfolded down the stretch, Spieth waded into social media like many of his peers to voice his opinion on the ruling. He also traded texts with a group of fellow professionals as Johnson completed his round. They were nervous for their friend.
"He pulled driver out on 17. And I'm in a text with quite a few other -- like we all started a group text trying to figure out what was -- seeing if we all were thinking the same thing about what was going down from 12 on, and I'm sitting there going, 'What in the world is he hitting driver for?'" Spieth said, smiling.
"I'm like, 'No, don't hit driver. This is the only chance you have [for birdie].' Because he can fly those bunkers with 3-wood and still put it in a greenside bunker or chip it up. He didn't care. He had his lines, he knew what he was doing, he had that little power cut working and he just stepped up and delivered the shots he needed, so I was very, very excited for Dustin."
Especially so because Johnson's three-putt on the 72nd hole last year at Chambers Bay was the difference as Spieth won by a stroke. The popular Texan wasted no time congratulating the new winner.
"I texted him after he hit a 7-iron [into the final green] before he had made his putt," Spieth said. "I won't tell you what was in that text for a couple reasons, but, one, I shouldn't say it, and two, it's personal. But I thought it was extremely special given everything that's been hanging over him. That wasn't easy, and he stepped up."