The Loop
Jordan Spieth still on the brink of Masters history after rough finish Saturday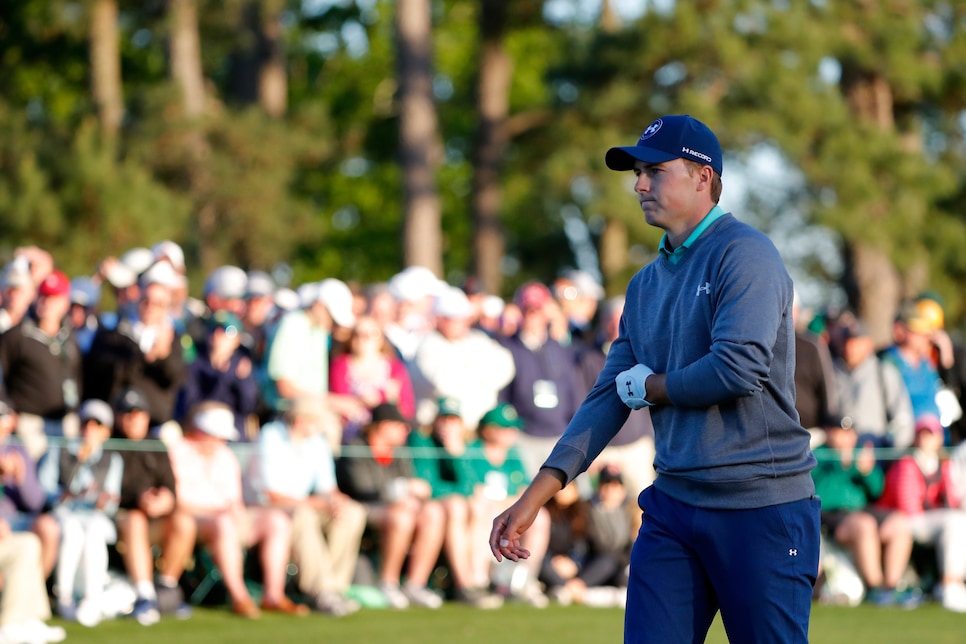 AUGUSTA, Ga. –- History is no stranger to the Masters. The tournament started by Bobby Jones in 1934 and placed on the map by Gene Sarazen's albatross the next year never seems to let us down.
And the 2016 Masters is no exception.
Twenty years after Greg Norman collapsed under the weight of Nick Faldo, and 30 years removed from Jack Nicklaus' last major at age 46, Jordan Spieth is poised to write another chapter of his own in Augusta National lore.
To do that, he will have to push Saturday's bogey, double-bogey finish from his mind, which turned a four-stroke lead into a single-shot advantage going into Sunday's final round.
"If I had finished at six [under par], I would have eliminated those over par," said Spieth, who stared at the tabletop before speaking, as if searching for answers. "Now somebody back there could get hot and I'd have to go low instead of playing a different kind of game."
Spieth finished the day at three-under-par 213, one stroke ahead of Smylie Kaufman and two clear of 58-year-old Bernhard Langer and Hideki Matsuyama. When Spieth stepped to the 17th tee, he had a four-stroke lead.
How will be put his late-day collapse out of his mind?
"Probably go break something pretty quick," he said, "grab some dinner and watch a movie, just sort of lay low like I have my last 11 rounds here."
Spieth, who last year won the Masters and the U.S. Open, will be trying to pick up his third major title at the age of 22 on Sunday.
For some context, Nicklaus, who has the record with 18 career majors, was 23 when he got his third, and Tiger Woods, who is second with 14 majors, was 24.
Sarazen, who like Nicklaus, Woods, Ben Hogan and Gary Player, has the career Grand Slam, was also 23 when he got the third of his seven majors.
Spieth would also join Nicklaus (1965-'66), Faldo (1989-'90) and Woods (2001-'02) as the only back-to-back Masters champions. And the Texan would be the youngest with two green jackets. Both Nicklaus and Woods were 25 when they got their second.
This was also Spieth's record seventh consecutive round with the Masters lead, breaking the mark of six set by Arnold Palmer in 1960-'61.
The last time Spieth lost the lead at the Masters was on the eighth hole of the final round of 2014 -- when he ended up finishing second to Bubba Watson.
Langer, who is trying to become the oldest major championship winner by 10 years, remarkably, won two Masters before Spieth was born (1985 and 1993, three months before July 27th, when Jordan was born).
The stage is set for Spieth to add to what has been a remarkable beginning to his pro career as he tries for his third victory in the last five majors and the eighth win of his PGA Tour career.
To win, Spieth will have to hold off Kaufman, 24, who has never played in the Masters before; Langer, who is 23 years removed from his last major championship; and Matsuyama, who is trying to become the first player from Japan ever to win a major.
Luring three back are Jason Day, No. 1 in the World Ranking, Danny Willett and Dustin Johnson, who has squandered chances to win the British Open, PGA Championship and, most recently, last year's U.S. Open to Spieth. Brandt Snedeker, McIlroy and Justin Rose are among those still in the hunt who would have been eliminated had not Spieth stumbled late.
Spieth, who never relinquished the lead despite his share of trouble, was gritty but erratic. After a 35 on the front nine, he made a double bogey on No. 11, bounced back with birdies on three of the next four holes, but drove it into the right trees on both 17 and 18, then three-putted the final hole.
"I played a really, really solid round with two bad shots at the end of the day," Spieth said. "But if you had told me before the tournament that I'd have the lead after 54 holes, I'd have taken that."
Still, Spieth said his finish will not be easy to forget. "Honestly, I think it will be tough to put it behind me," he said. "It's not going to be fun tonight, but hopefully, I'll put it behind me."
So far, he has always been able to rise to the occasion and learn from his mistakes, as he did in winning the U.S. Open at Chambers Bay last year when he followed a double bogey on No. 17 with a birdie on the final hole. Sunday, he'll need to erase another bad memory if he wants to continue adding to the history he's making at the Masters.