The Loop
Jordan Spieth in a position to win again, but has to wait around in Singapore (UPDATE)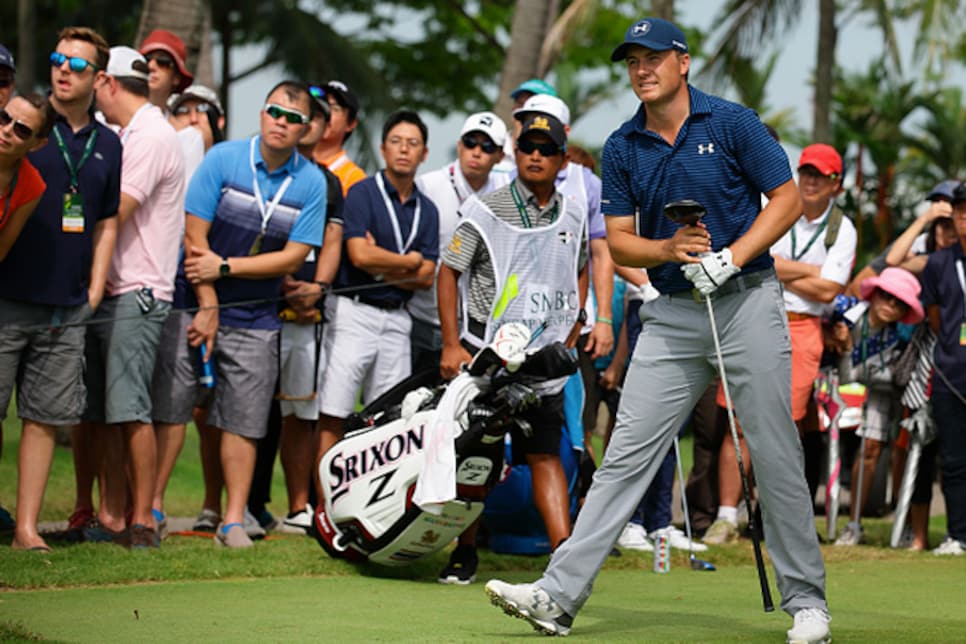 *Suhaimi Abdullah/Getty Images*
For a second straight weekend, Jordan Spieth was in contention as most American golf fans were sleeping. The 22-year-old started the day five shots off the lead at the Asian Tour's Singapore Open, until he made a final-round charge to put him in a position for another worldwide win.
And to finish off that rally, Spieth will have 24 hours to think about a five-foot birdie putt.
A weather-warning horn went off just as Spieth prepared to hole a birdie putt on his 72nd hole of the day. Here's the approach shot he hit to five feet.
That putt would putt him at 11-under, one off the current lead held by Younghan Song. However, Song has a 10-foot putt for par on the 16th hole to maintain that lead. All the while knowing the World No. 1 golfer is there to pounce. Talk about pressure.
Spieth didn't seem too happy about the situation when talking to reporters after the round. "It is what it is. I will come back tomorrow and try and win this thing," he said.
UPDATE: Spieth made the putt, but it wasn't enough. Song held onto his slim lead to pick up his first pro title.