Talk Show
PGA Championship 2021: All hail Jordan Spieth, still the greatest golf ball beggar (and self-talker) in world history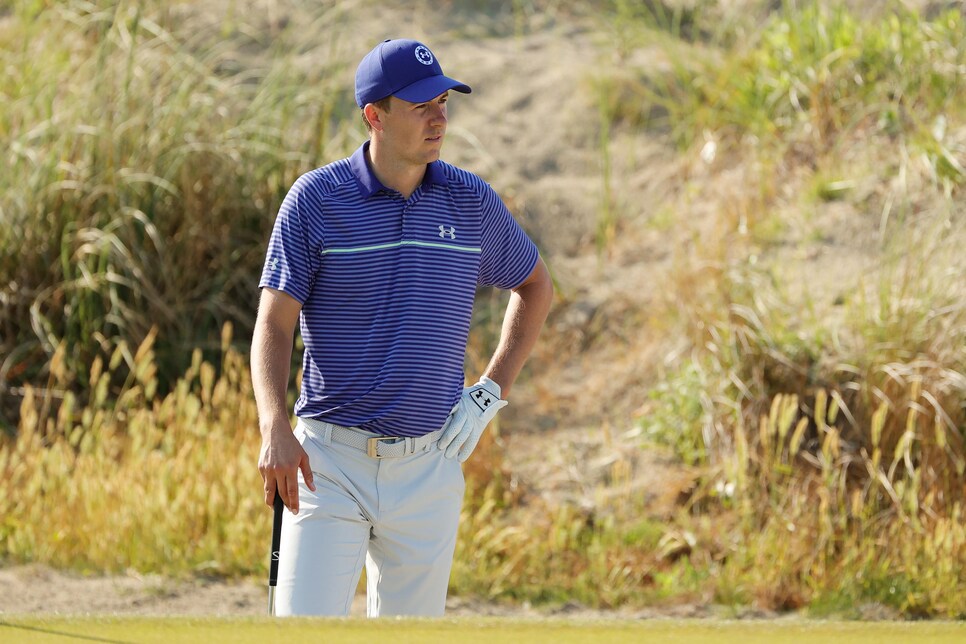 As far as I can tell, this clip of Jordan Spieth aggressively and then plaintively—almost desperately—begging his ball to stay on the 14th green in yesterday's first round at Kiawah is not on Twitter, so you'll have to click through to ESPN. This is the best I can do, but if you're a student of Spieth's incredible self-talk, I highly recommend it:
Fantastic. Imagine someone begging his girlfriend not to leave him even as she's packing her things and walking out the door, translate that to golf, and this is what you'd get. So much psychodrama in a single shot!
W. Timothy Gallwey wrote a book called The Inner Game of Tennis in the 1970s, and it should be the psychological bible of everyone who plays any kind of competitive sport, but the reason I bring it up now is because he introduces the concept of the two selves in sports. There is one self, a kind of mindless self, who performs, and another one who observes and sometimes comments on the performance...positively or negatively. And there is nobody in the world—the entire world—in whom you can see the two selves more distinctly represented in a single competitive individual than Jordan Spieth.
Simply put, he is the greatest self-talker in a sport chock-full of great self-talkers. He thinks through talking, he emotes through talking, and you get the feeling that deep down, he believes he can influence events—like whether a ball will stay on the green—by talking. And he definitely thinks he can talk his way out of the negative outcomes of each shot with his caddie Michael Greller.
There are a few examples hanging around the Internet, and Alex Myers diligently transcribed one of the best examples of his conversations with Greller from the 2018 Masters. (Here's another good one). (And another). But this post is about Spieth talking to himself, or to the ball, and unfortunately we don't have a really comprehensive digital catalogue of this neurotic behavior. A few one-off gems, like this one:
And this one, which includes the classic "golll-lee"):
And this compilation, followed by the one-off that gives us our self-loathing fix:
Just to prove he does it even when he's winning, here's a super-clip from the final round at the 2015 Masters:
Finally, this compilation might be my favorite for two reasons. First, the announcer calls the self-talk in the first clip, and second, we get a very intense "Jordan!" early on (you can stop after that, since it repeats a few clips from a video above):
But in my searching, I couldn't even find one example of the classic "dangit, Jordan!" anywhere. Which is why the clip from Kiawah on ESPN linked above is so valuable—these kinds of field recordings need to be collected, Alan Lomax style, and preserved in the Library of Congress. When someone is performing at a given task better than anyone else in the known universe, it must be immortalized.