The Loop
Jordan and Bryson are all that we need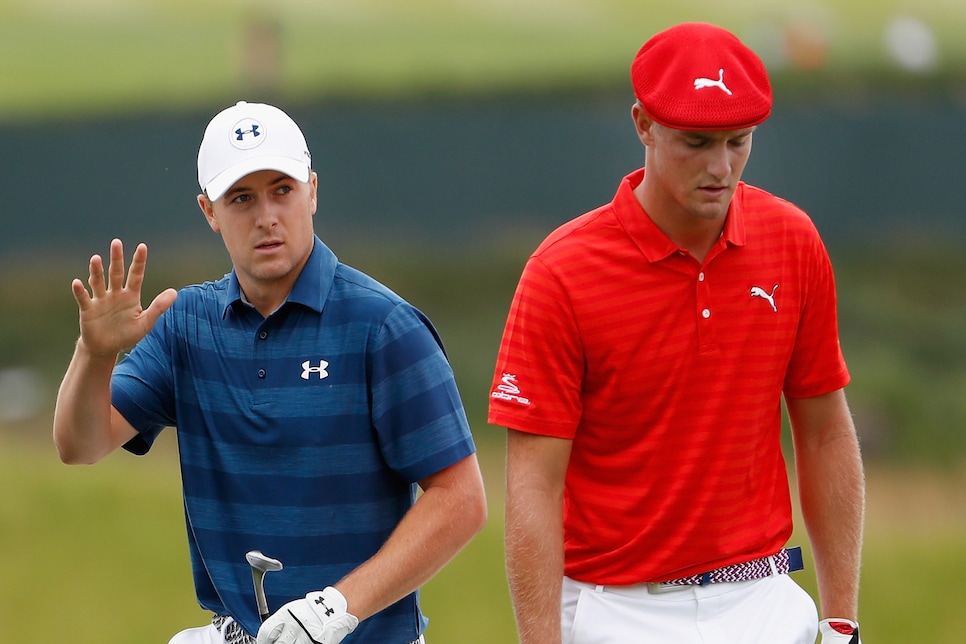 I'm bound for Hilton Head this afternoon to cover live golf for the first time in two months, I'm duly excited, and there's only one problem: I'll miss Jordan Spieth's entire second round. That may sound like a quibble, and it definitely is—a whiny, annoying quibble—but I'm currently addicted to professional golf in a way that feels almost unhealthy. There's plenty I could say about the exciting state of the sport, or the fact that we're all probably a little desperate after the pandemic dry spell, but I can't hide the truth: My current obsession comes down to two men.
Jordan Spieth. Bryson DeChambeau.
Golf can't live on one player alone, unless that player is Tiger Woods, but in the absence of Tiger I can absolutely dine out for years on these two larger-than-life mega-characters. As I write, I just watched DeChambeau burn the edge with a birdie attempt on the third hole at Harbour Town, and I reacted with more emotion than DeChambeau himself. Let me remind you: It's Friday morning. Nobody should feel like this on a Friday morning, including the players. I am capital-E Engaged.
"Wow," you might be thinking, "you must really like Jordan Spieth and Bryson DeChambeau."
Like? Like? To use a word "like" is to miss the point tragically and entirely. I don't know if I like them, and I don't care. Most people "like" Spieth, and most people seem to feel the opposite about DeChambeau, but these types of shallow analysis diminish the historical impact of what's happening here. Jordan and Bryson are transcending worldly notions of "liking" or "disliking." If you were standing in the middle of a hurricane, unable to resist its sheer force, recognizing in its magnitude your human smallness, how would you react if somebody sidled up and said, "hey, uhh...you like this?"
What we're witnessing is epic. It's a shame that I have to use that particular word here in 2020, since it's been robbed of its power by blogger overuse, but it's the correct word for the moment. Epic. Historical. Singular.
We all know about Bryson—his new beef-and-muscle body, his aggressive approach, his unapologetic and irrepressible urge to revolt against received wisdom. The patterns of this latest transformation are familiar. First, he was a meme. Then, he forced people to raise their eyebrows. Before long, Rory McIlroy was singing his praises, and even on a week when he couldn't putt, his new jacked-up game launched him to within one shot of winning the Colonial. It was the same when he started putting with the flagstick in after the rule change; it was almost a joke at first, and then other players realized he was right and copied him. It will be the same with his uniform-length irons—this, too, will be adopted in time by the masses. With regards to his body, I don't know for sure whether going Full Chunk is feasible long-term, or whether he's going to hurt himself like everybody seems to believe. I do know he's making us all think, and I do know his game is a flaming meteor, and I do know that I can't look away.
(Note: DeChambeau just made birdie on no. 4, and I let out a guttural "yeahhhh" and did a sort of drumbeat on my own stomach.)
We all know about Jordan, too. He's every bit as compelling, every bit as captivating, but for entirely different reasons. At the peak of my live golf coverage in 2014 and 2015, he went from talented but somewhat petulant wunderkind to steely champion, and came as close to winning all four majors in a single year as anyone had since Tiger. Then things got complicated, and they remain so today. I have played my part in contributing to the "is he back?" narrative, and I have followed the rises and falls just as closely as my fellow addicts. It's riveting material—from one moment to the next, it's impossible to tell if he's going to be the best player in the world, or if he's going to fade in ways that range from "disappointing" to "choke-adjacent." Already, the RBC Heritage is looking like Peak Late-Stage Spieth. On his third hole of the day Thursday, he hit an abysmal drive and ended with triple bogey. The narrative machine was off to the races, and then had to come to a grinding halt and reverse course when he made a career-best six straight birdies on the back, went out in 29, and finished two shots off the lead.
They say you can't step in the same river twice, and before Spieth overcomes his weekend blues, he's going to have to burst forth from this chrysalis and discover a new version of himself that integrates everything he's learned in service of becoming a champion again. There's no going back to 2015; there's only the future form of himself waiting to be inhabited. I believe he'll get there, and I continue to believe he's rounding into form even now.
In fact, this notion of progress is what's at the root of both men. In a word, it's evolution. Spieth's is a personal evolution, and it's irresistible because Spieth himself is an irresistible figure. DeChambeau's evolution is personal too, but it's also a broader evolution of the sport itself. These men are agents of dynamic change on the micro and macro level, which is why the concept of "liking" either one of them is irrelevant. Whether you're into them or not, they loom as large as nature. If it rubs you the wrong way, too bad; you might as well shake your fist at the sun.
In my book, this is a lucky time to be a fan. The change we're witnessing is happening at breakneck speed, and is essentially disappointment-proof. Whether they succeed or fail in the moment, the missions they're on are dramatic enough that you can't feel anything but total absorption. Count me as a devotee of this bizarre, thrilling cult—golf is working on multiple levels right now, but when it comes to the essential figures, Bryson and Jordan embody a new kind of magic.
And by the way, Bryson just made another birdie to move into solo second, and then birdied again to move to within one shot of the lead. How can I ever leave my TV again?