The Grind
Jon Rahm's incredible zinger, Tyrrell Hatton's attempt at an iconic Christian Bale role, and the new king of celebrity golf
Welcome to another edition of the Grind, where we are beginning to think Jon Rahm is just slightly more productive as a father of two young kids than we are. While I have trouble even getting to work some days, this guy is absolutely dominating his job and everyone else who plays golf for a living these days.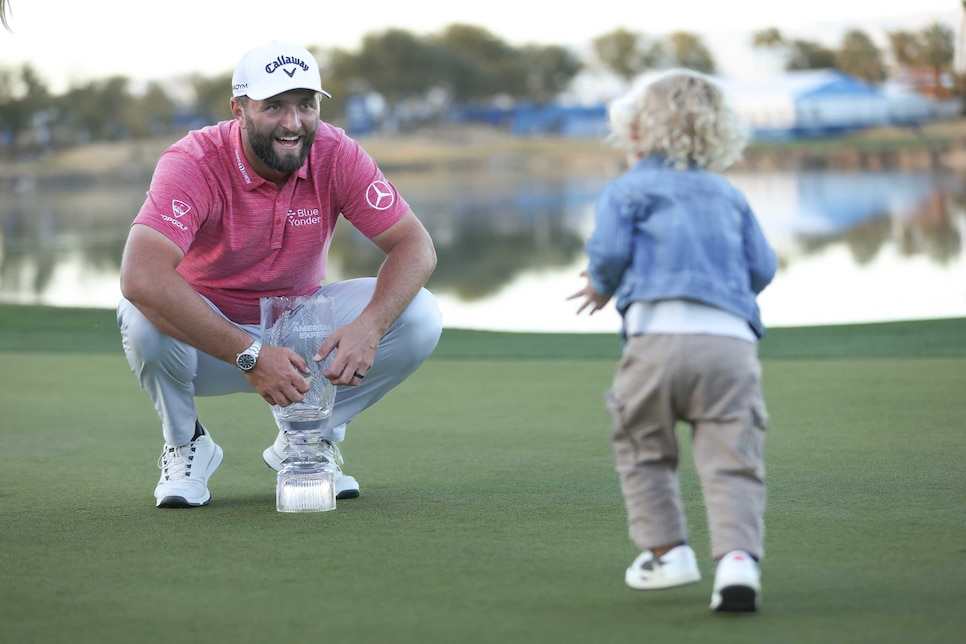 Sure, I'm guessing the Rahms' daycare situation is a bit more buttoned up, but it's still very impressive. The next time we cross paths I'm going to have to ask Jon for some multitasking tips. Well, and maybe some golf tips as well. In the meantime, let's stick to our Tuesday schedule of talking all things golf right here.
Jon Rahm: With four victories in his past six starts, the guy wins basically every time he plays now.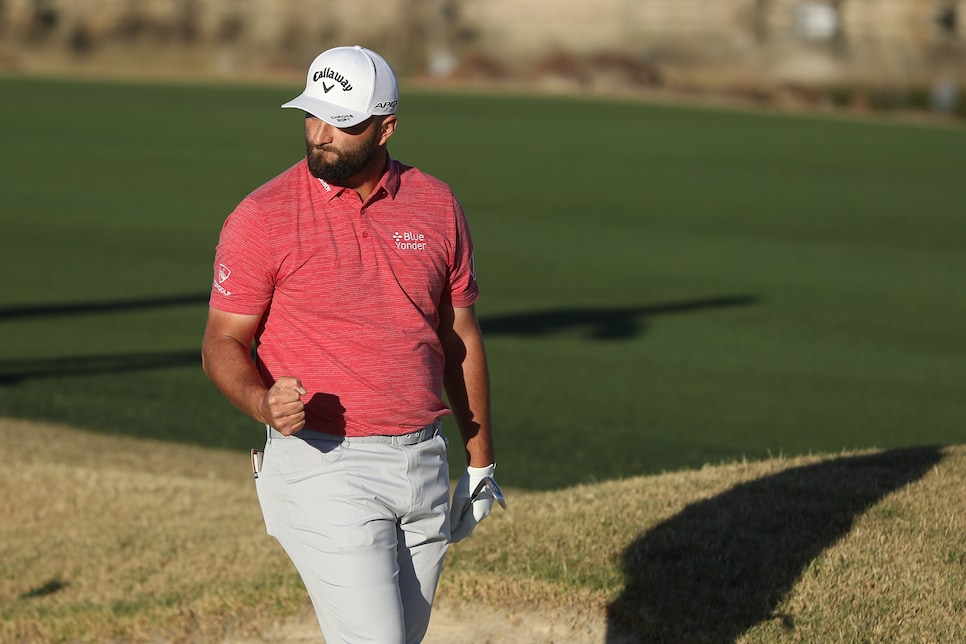 What more is there to say? OK, we'll say one more thing. Not only is Rahm the best player on the planet right now, he's the most entertaining golfer as well. And Exhibit A is what he said immediately following his latest win at the American Express. "I'm just going to say that I'm glad I came back and won the putting contest this year. That's all I can say." Amazing. Why is that so amazing? Well, because he went viral there last year when a hot mic caught him calling the tournament a "piece of shit putting contest." Well played, Jon. Looks like you've learned more than short-game tips from fellow Arizona State product Phil Mickelson.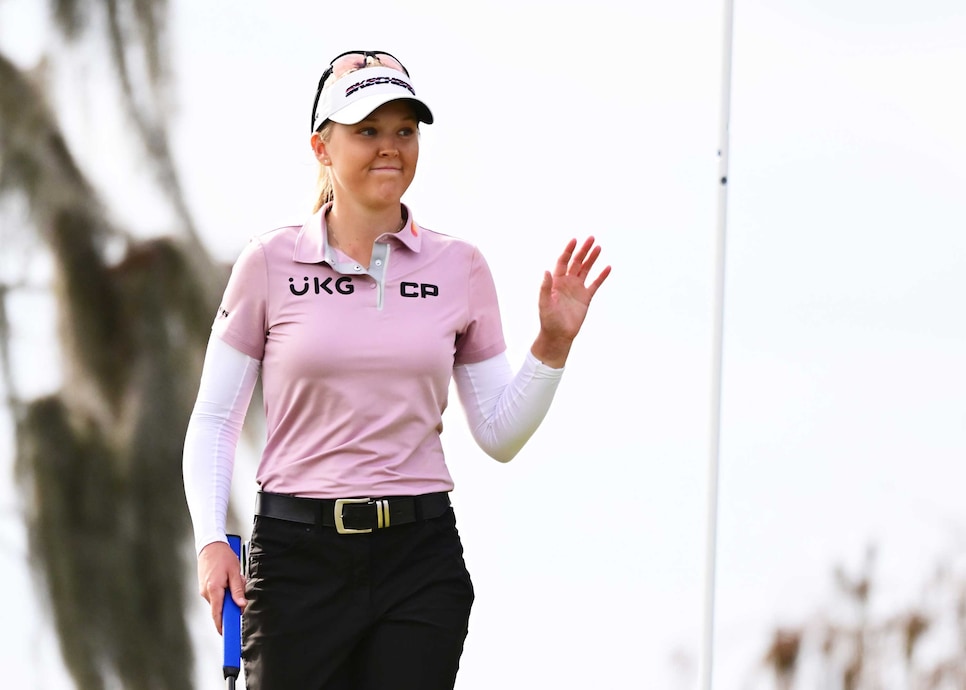 That might be the most impressive performance by a Canadian in Florida since Jim Carrey in Ace Ventura. And like Rahm, Henderson can claim she's undefeated in 2023. Enjoy it while it lasts, guys.
Victor Perez: It's not often that someone hits the best shot of their life at the absolute perfect time, but that's exactly what happened to the Frenchman at the Abu Dhabi HSBC Championship. Perez pulled off one of the sickest bunker shots we've ever seen on the penultimate hole, spinning a greenside shot back into the cup for an unlikely birdie that all but sealed his third career DP World Tour title:
That is absolutely filthy right there. And that reminds me that I need a new sand wedge because my old grooves aren't getting the job done.
Mardy Fish: He doesn't draw the same attention as a Tony Romo or Steph Curry, but this former tennis star is the current King of Celebrity Golf after winning the celebrity division of the Hilton Grand Vacations Tournament of Champions for a fourth time in seven years. Fish won the stableford competition by 14 points, posting what would have been an eight-under-par total:
And yes, the man who Jack Nicklaus once dubbed "the best non-professional golfer he's ever seen" has an American Century Championship (the Super Bowl of Celebrity Golf) title on his resume as well—winning in 2020 while firing a second-round 63 to break Lee Trevino's Edgewood Tahoe course. The dude is legit. And one of the rare golfers who don't sound delusional when they talk about "making a run at the senior tour."
Davis Thompson's dagger: Would it have gone in if the flagstick was out? No one can say for certain. But what a 2019 Golf Digest study concluded is that you are better off taking the flagstick out 99.9(!) percent of the time:
Ouch. That hurts every time I watch it. And it didn't even cost me a first PGA Tour title, hundreds of thousands of dollars and an extra two years of job security. Anyway, I never take the flagstick out when I play, but playing golf is also not my job. For those who it is, they should be pulling the pin. It's science.
Jon Rahm's world ranking: Well, at least he finally caught Patrick Cantlay (another great recent zinger), but even with a fourth win in five starts, the Spaniard is only No. 3 in the Official World Golf Ranking. And yes, he remains well aware of this fact.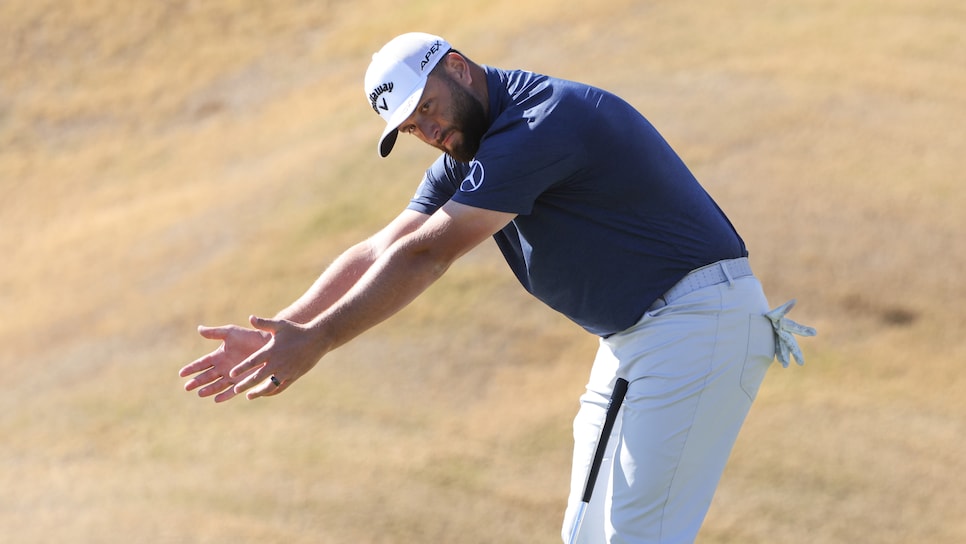 Whatever. In the unofficial best golfer on the planet ranking, Rahm is a clear No. 1 right now. And if he keeps this up, the numbers will reflect that soon no matter what the formula is.
My local driving range: It's going to be hard to go back after seeing what's available in New Zealand. Not only do people get to fire away at this beautiful island green in Lake Taupo, but if they happen to make a hole-in-one, they get a $10,000 prize!
At this point I should mention that it costs about $1 per golf ball. But if you live in New York City, that's actually a bargain!
The PGA Tour heads to Torrey Pines for the Farmers Insurance Open, AKA that event that Tiger Woods used to always start his year at, AKA that place that Jon Rahm owns now. Another win this week could finally move Rahm back to World No. 1, but it will depend on what current World No. 1, Rory McIlroy, does in Dubai. Because the new voice/face of the PGA Tour is making his 2023 debut . . . on the DP World Tour. Interesting.
Random tournament fact: Rahm has a chance to win for a third consecutive PGA Tour start, which would put him on a list of 18 other golfers to pull that off in the past quarter century. Make that 18 other instances, not golfers, that is. Tiger Woods has done it 14 times by himself.
RANDOM PROP BETS OF THE WEEK
—There will ever be a golfer as dominant as Tiger Woods: 1 MILLION-to-1 odds
—Jon Rahm will win this week: 3.5-to-1 odds (Actual odds, which are Tigeresque)
—More golfers will be pulling the pin in 2023: LOCK
Tom Hoge doesn't play around on Twitter!
CLUB PRO GUY TWEET OF THE WEEK
A nod to the social media stars:
It looks like Bryson has found a new innovative way to gain an edge on the competition:
Or his next sport to try to take over.
LIV Golf officially announced its deal with the CW Network, which drew some incredible responses from Golf Twitter. But nothing topped this mashup of LIV highlights with the opening credits of "One Tree Hill:"
Genius stuff right there. Also took me down memory lane to when that show came out and I was buddies at Wake Forest with (NAME-DROP ALERT!) Lee Norris, who played Mouth McFadden, although he's better known for playing Minkus on Boy Meets World. Lee used to come over to our apartment senior year to watch every episode. After I graduated, though, I didn't watch quite as faithfully. Please don't tell Lee.
VIRAL VIDEO OF THE WEEK (SCRIPTED DIVISION)
Speaking of throwbacks, we've seen the European/DP World Tour come up with some creative content through the years, but this "Golf Psycho" is really something. A spoof on "American Psycho" starring Christian Bale (GOAT) as Patrick Bateman, it stars a brooding Tyrrell Hatton and his inner-monologue. And if you aren't familiar with "American Psycho," the comparison of ball markings is a spoof on wealthy banking executives showing off their business card fonts:
Wow. That's taking it deep. But great acting by all! Might just want to pick a movie that's not more than two decades old next time.
THIS WEEK IN PUBLIC DISPLAYS OF AFFECTION
Look at this stunning homage to Tiger Woods:
See you for real soon, GOAT. We hope.
THIS WEEK IN PUBLIC DISPLAYS OF AFFECTION (FAIL DIVISION)
Wow. Between this and getting blasted for making fun of his wife's outfit last year, Adam Hadwin is doing his best to make the rest of us husbands out here look good. Appreciate it, Adam.
"I always fly coach. That's normal for me. . . . I try to hang on to some of this money we make, right?" —Tom Hoge, who in the same interview with the AP's Doug Ferguson also referred to his wife as "The Warden" and is now officially my new favorite player.
Big news in the world of World Long Drive as GF Sports & Entertainment is taking over with a deal involving Golf Channel broadcasting 10 events with record purses. Bryson DeChambeau will also be involved and we had the pleasure of talking to World No. 1 long driver Kyle Berkshire on this week's episode of The Loop:
The TGL, the team-golf-tech concept put forth by Tiger Woods and Rory McIlroy, announced new additions in Collin Morikawa and Adam Scott. They are both going to be fighting to be on Jon Rahm's squad. . . . Padraig Harrington, 51, finished solo fourth in Abu Dhabi. Padraig Harrington is awesome. . . . Xander Schauffele made an albatross. And it was awesome.
And, finally, this happened to me at Costco the other day: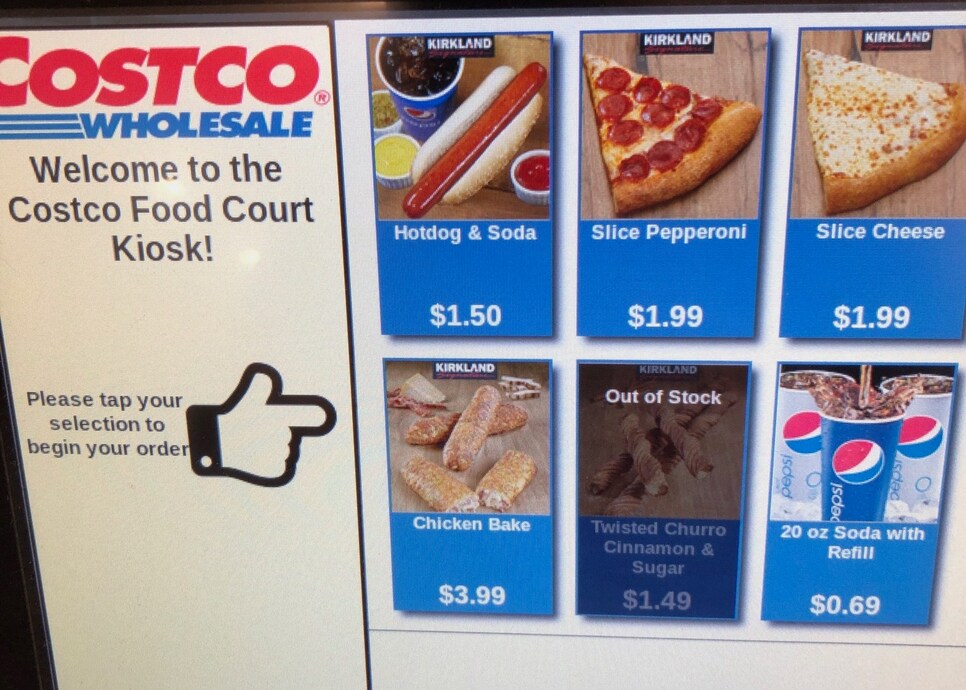 No churros. Eating that delicious doughy thing is literally the highlight of my week during the winter. I'm not sure even Davis Thompson was as devastated when that putt didn't drop. What an all-time dagger.
RANDOM QUESTIONS TO PONDER
Is Tyrrell Hatton hiding any bodies in his apartment?
What does Adam Hadwin have cooked up for Valentine's Day?
Will there be churros when I go to Costco this week?