CJ Cup
Jon Rahm had a spectacular round at CJ Cup that only a handful of pros could pull off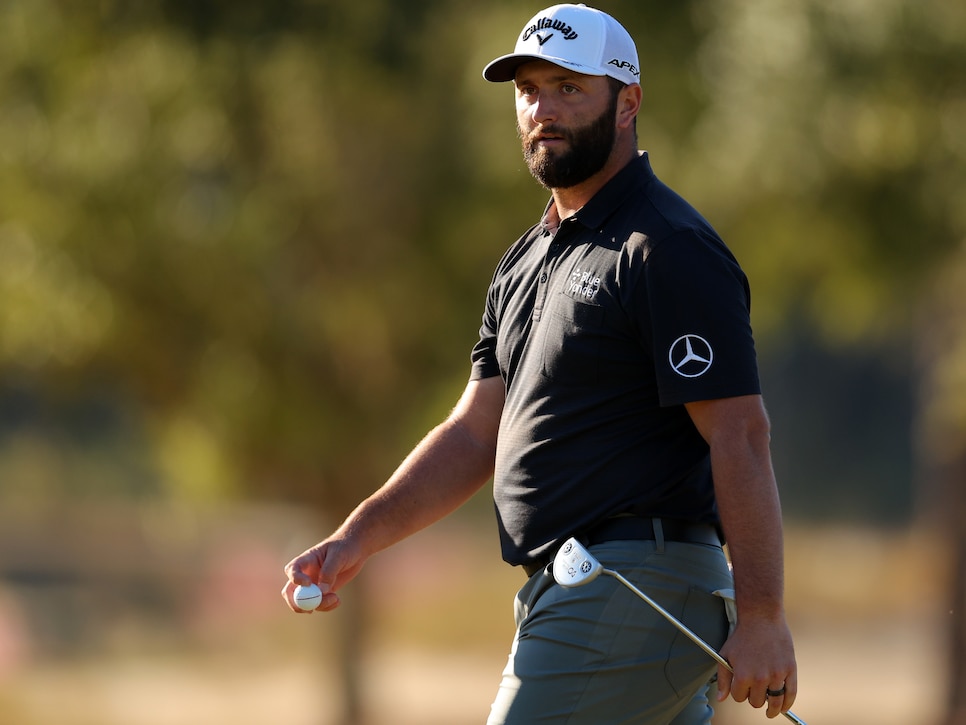 Jon Rahm reacts to a birdie on the 16th green during the second round of the CJ Cup.
Kevin C. Cox
It doesn't take much more than that to describe Jon Rahm's second round at the CJ Cup. Rahm scorched Congaree Golf Club with a nine-under-par 62 on Friday that had a number of highlight-reel moments, giving the PGA Tour's social-media team plenty to put on its Twitter feed. Rahm will share the 36-hole co-lead with Kurt Kitayama after a lone bogey on the finishing hole—the only blemish on a scorecard few players could generate.
Like four birdies in a row on Nos. 3 through 6 plus and another at No. 8—a holed shot from the sandy area after a mis-hit approach Rahm called "atrocious." Or the 35-foot bomb he dropped for birdie on No. 10. Or the 25-footer that fell for another at the 13th. Or another 25-footer from the fringe at 16. Then there was the topper: a 7-iron approach from 195 yards at the 17th that Rahm thought was 20 feet short, but actually just missed dropping for an eagle and would have had Rahm sniffing at a potential 59.
Such displays almost made the 12-footer for birdie at 15 seem ho-hum. And none of that is even counting the missed three-footer for birdie at the ninth or the sick pitch shot he hit at the 12th that nearly led to another birdie. How good was Rahm? His was the day's low round by three shots and his 10 birdies were the second-most in a round for his career, falling one short of the 11 he made during the third round of this year's Sentry Tournament of Champions.
Earlier this week, Rahm referred to last season on the PGA Tour as "what hasn't been my best PGA Tour season." Many pros were likely shaking their heads. A win, eight top-10 finishes and more than $5.5 million in earnings would be a career and then some to many players. But when you have 43 weeks as the World No. 1 and a U.S. Open win on the résumé, the bar is understandably higher. Fortunately for Rahm, he seems to have found a recipe for success.
"Hopefully I can keep that good play going and translate those wins to the PGA Tour, which I've done in the past," Rahm said. "I've played great in the fall on the European Tour in the past and I've translated it to the PGA Tour. I'm confident. I mean, it's showing. I've been working on some things and clearly, it's been working, so hopefully I can keep it going this week."
Through two rounds Rahm's words offer the kind of prescience usually reserved for psychics. As for those things Rahm has been working on, "it's a little setup thing, it's very small," he said of his putting.
For the day he was first in strokes gained/approach-the-green as well as strokes gained/around the green. He also was in the top 10 in strokes gained/putting and off the tee. Put those numbers in a data blender and it adds up to the Congaree course record falling.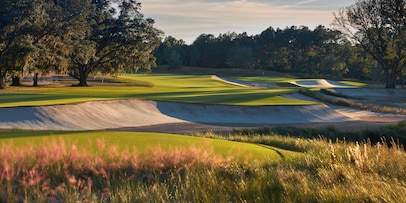 Tom Fazio has designed countless compelling golf courses on sites that weren't. But at Congaree, 30 minutes inland from Beaufort, S.C., he at least had great material: sand, in the form of two deep sections of it separated by a lowcountry wetland area. The sand made it easy to scoop and shape long ridgelines, creating significant movement across an otherwise level property—and dozens of stately live oaks, carefully transplanted for effect—further outline the design. Finely edged Melbourne-style bunkers sweep up to the edges of fairways and into greens, catching shots that drift too far and leading to challenging hi-lo recovery situations. Congaree hosted the 2022 CJ Cup after making its debut as a tour venue for the previous year's Palmetto Championship, which replaced that year's Canadian Open.
View Course
"I would say my iron game was a little bit better today," Rahm said. "Yesterday was one of those days where I just couldn't seem to find the center of the face. Lines were good, just wasn't truly comfortable, and it's hard to score that way. Today was a bit of a different story. It was much better off the tee, and with the irons I felt better and was able to be a little more aggressive and give myself a lot of birdie looks and a lot of close ones."
Making 125 feet of putts and only needing 22 strokes on the greens also helps, especially after an off day with the putter in the first round.
"Yesterday, speed was a bit of a challenge," Rahm told Golf Channel after the round. "I hadn't putted on greens this fast and this slick in quite a while, especially being in Europe the last few months. … It took me a little bit to get used to it."
Rahm pointed to a putt he made on the third hole as key. "Making that little slider on 3, you get a putt that's 10 feet breaking quite a bit, downhill with the proper pace and even the putts I hit on Nos. 1 and 2 were good so from the get-go my speed was good." he said. "I felt comfortable, and the rest of the game accompanied the putting."
When the rest of the game accompanies putting like that, we can only say: My. Word.