It's supposed to be fun
Ryder Cup 2021: What Jon Rahm thinks the Ryder Cup can teach us about life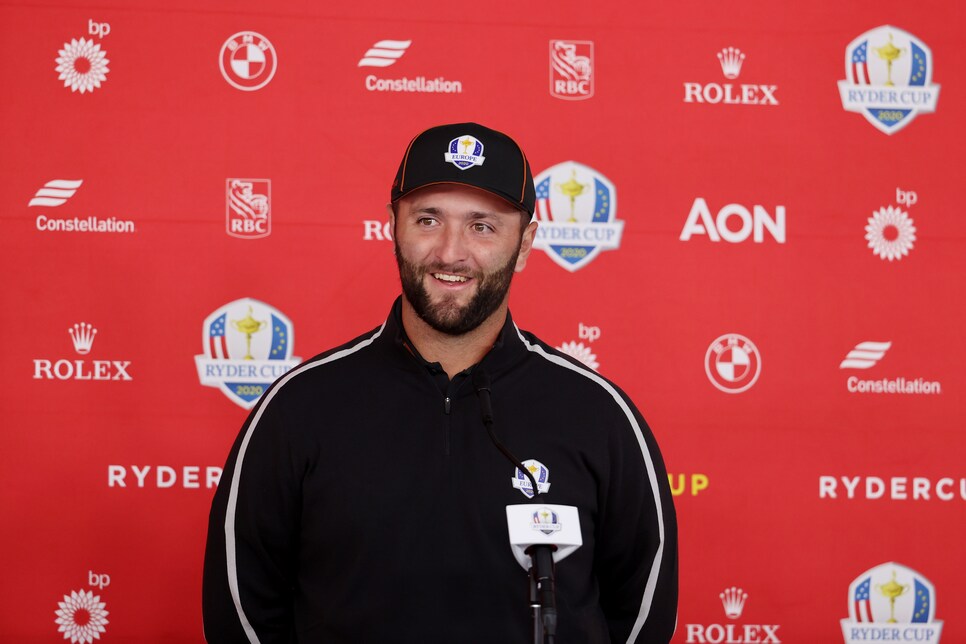 HAVEN, Wis. — Sports bring out the kid in us. We pay hundreds of dollars for a small seat in a loud building. We dress up in certain colors and wear another person's name on our back. We yell when someone runs into a painted area of grass.
Only this doesn't really happen in golf, where decorum still rules the day. Crowds are expected to cheer good shots from everyone and remain quiet for bad ones. Players, decked out in corporate logos, nod politely to these fans and stay mostly silent throughout their rounds. It's a rather muted affair—except for one week every two years.
We speak, of course, of the Ryder Cup, where grown men in their 20s and 30s and late 40s—looking at you, Lee Westwood—morph into hootin' and hollerin' children. Golf claps are replaced by USA! chants and hat tips take a back seat to Jeff Overton yelling BOOM BABY! It's why the golf world can't get enough of the Ryder Cup, and the players love it as well.
"It is really cool to see all these great players, people that have been doing this for a very long time—I mean, when Lee played the Ryder Cup for the first time, I wasn't even 3 years old yet," says World No. 1 Jon Rahm.
"To see all these great people that have accomplished so many things come together with a smile that only a team even like the Ryder Cup can bring to you, a juvenile excitement that you don't usually expect a 48-year-old to have, it's very unique and it's something that I wish everybody could see, because I feel like a lot of times we're missing that in life, and a week like this can definitely give you that youth back in that sense mentally, right?
"Even though I'm still 26, I'm very young, it still takes me back to when I was a kid hoping to be playing in the Ryder Cup, representing Spain, and how I felt back then."
Perfectly stated. Underneath all the money and the sponsorships and the Player Impact Program clout, golf is a game that's supposed to be fun. And the Ryder Cup is a reminder that fun doesn't have to only be for the kids.
MORE RYDER CUP PREVIEW STORIES FROM GOLF DIGEST