You Hate To See It
Jon Rahm's reason for not wearing his Arizona State jersey this week is just plain sad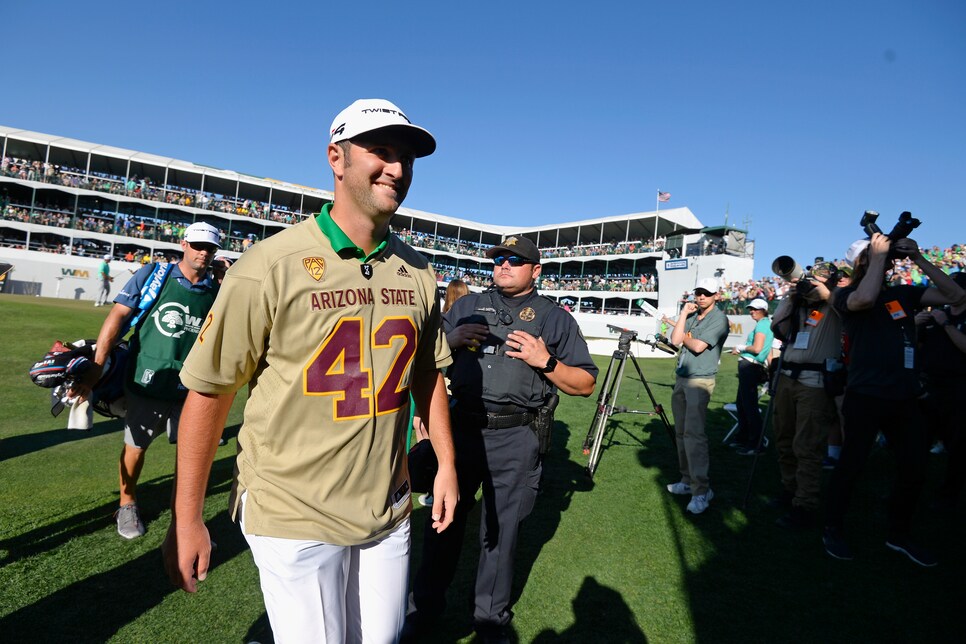 We've seen Jon Rahm embrace the Waste Management Phoenix Open's football-like atmosphere as much as anyone in recent years, but don't expect him to wear the Arizona State football jersey we've seen in the past. And the reasoning behind the decision is just plain sad.
On Thursday, Rahm encouraged the rowdy fans on the famed par-3 16th to make noise as he set up for his shot. Fun! But after his round, he explained the not-fun reason he won't be donning any Sun Devils gear over the weekend.
"No. No, no. Probably not going to come out in a long time," the Arizona State product said of the jersey. "Not for lack of enthusiasm or willingness, more for sponsor conflict than anything else. Last time I checked Travis Mathew doesn't make football jerseys, right? So can't really be endorsing somebody else."
Boooooo. You really hate to see it. Or, not see it, in this case. Technically, you're right, Jon, but c'mon. You're the World No. 1! Your clothing sponsor is going to be that upset if you wear your school colors for a few minutes? Especially when you're wearing the number 42 to honor Pat Tillman? Just look at how much FUN you were having in that above photo!
But Rahm is also 27 now. He's married. He has a kid. He's more mature and has more PERSPECTIVE! In some ways, this is commendable. But, nah, we'd rather just see him wear the RAHMBO jersey. Anyway, sadly, the Fun Police win this round.