The Loop
Jon Rahm's controversial finish, Phil Mickelson's brilliant bet, and an unexpected TV star
Welcome to another edition of The Grind where we got a little carried away on Sunday when we checked the DraftKings Millionaire Maker Contest and saw we were ranked 163rd out of 168 THOUSAND entries. I allowed myself to think about winning the million and how I wouldn't be writing this column today. Although, on second thought, I definitely would have written this column to let you all know about it. Alas, it didn't work out that way (Thanks for nothing on Sunday, Patrick Cantlay, Danny Willett, and Lucas Glover) and I wound up winning a cool $80 for finishing 1,125th. Subtract the $20 entry fee and that's $60 for beating 167 THOUSAND people. Oh well, maybe next time. . . LOL. Anyway, here's what else caught our attention this week.
Jon Rahm: The 25-year-old Spaniard is golf's newest king after ascending to World No. 1 with a dominant victory at the Memorial. Of course, it didn't look quite so dominant after that late penalty (more on that later), but regardless, what a performance in what felt like his first major title given the field and difficult scoring conditions.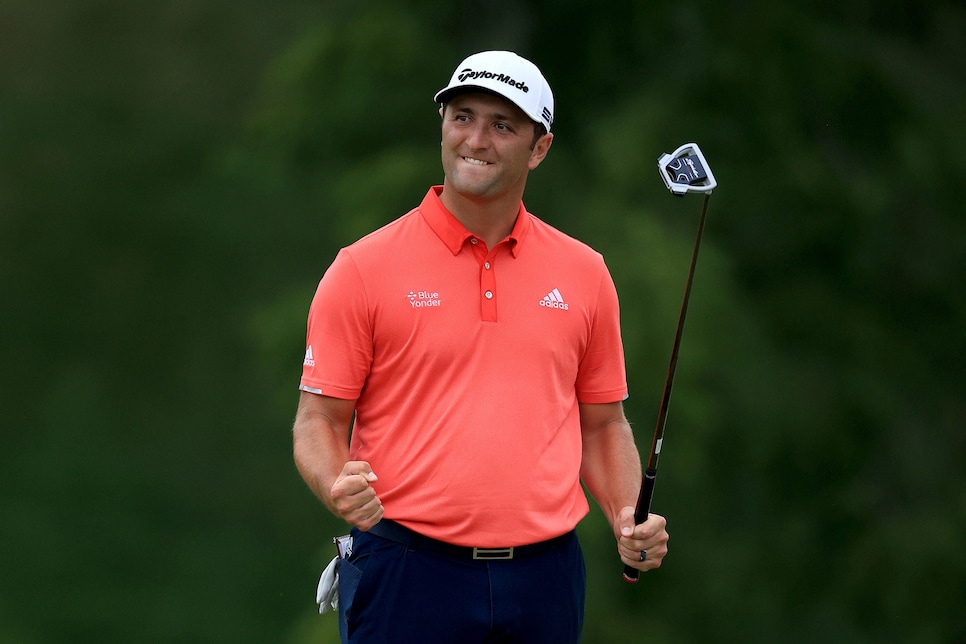 Rahm became the third-youngest, the fifth-fastest, and the second-ever Spaniard (after Seve Ballesteros) to reach No. 1. Impressive stuff from a guy who only seems to be scratching the surface. Golf fans should expect to see plenty of a different shade on Sunday for the next couple decades or so.
Christina Kim's next career: The LPGA pro was a delightful addition to the golf broadcast this past week and we'd love to hear more of her. After her playing career is over, of course. She certainly had Golf Twitter chuckling when after Bryson DeChambeau expressed shock at missing a green left, she blurted out, "The ball's above your feet, I mean, it's probably going to draw." Boom. You'd figure a scientist would know that. Anyway, our Brian Wacker caught up with her during the week to talk about her productive week while the LPGA is still off.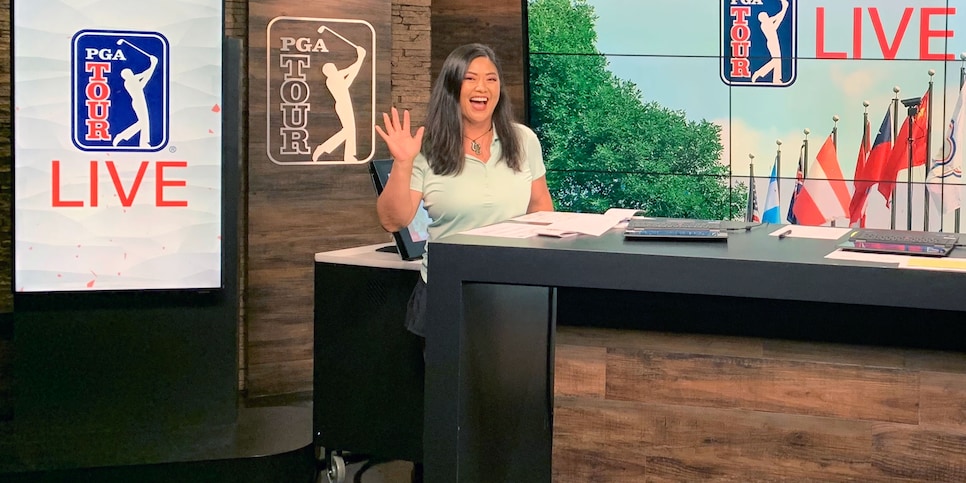 Matt Fitzpatrick on a Sunday on a tough track when he starts way back: In the two rounds with the highest scoring averages this season—the final rounds of the Arnold Palmer Invitational and the Memorial—Fitzpatrick has posted the only two scores in the 60s to make huge climbs up the leader board. I've got to remember this the next time I see wind in the forecast and a final-round pin sheet like this:
Jon Rahm's penalty: What a bizarre bogey that turned out to be. Did his golf ball move? Yes, but there's no way he could see it. And didn't the PGA Tour get away from HD replays being involved in rulings? Also, here's a great point:
And here's another tour pro offering his take on the situation in a slightly different way:
Seriously, that was one heckuva shot, especially given the situation. And I'm glad a replay didn't cost Rahm the win. Full disclosure: I also bet on him to win so. . . yeah. . . I might have been just a bit biased.
Brooks Koepka: The four-time major champ finished solo seventh at Hilton Head a few weeks ago. Since undergoing a stem-cell procedure on his knee in the off-season, however, here are his eight other results on the PGA Tour: MC, WD, T-43, MC, T-47, T-32, MC, T-62. I'm not a doctor, but that knee might need some work. And if only there had been a three-month pause in the season to get it fixed. . . Of course, if Brooks reads this, he'll probably sweep all three majors this year.
The World Handicap system: I had high hopes for the new system implemented by golf's governing bodies this year, but it's a total disaster. At least, for me. After entering seven (bad) scores, my handicap index hasn't moved. Not a single tenth of a point. In either direction. Nothing. The result is I'm putting up embarrassingly bad scores for someone who is supposed to be a 7.8—and I'm running out of time to get more strokes before my annual golf trip/tournament next month. Please let me know if anyone else has experienced anything similar. Misery loves company. And other bad golfers.
The PGA Tour heads to the Land of 10,000 Lakes for the second annual 3M Open, AKA that tournament with a lot of water in play where Matt Wolff drained a walk-off eagle last year and Bryson DeChambeau gave us this classic reaction:
He didn't even look that stunned this past Friday when he made that 10 at Muirfield Village.
Random tournament fact: Bryson is not playing this year. In fact, a lot of big names are skipping with a WGC and a major in the next couple weeks.
RANDOM PROP BETS OF THE WEEK
—Matt Wolff will win with a walk-off eagle again: 1 MILLION-to-1 odds
—I will win the 1 MILLION contest: 1 BILLION-to-1 odds
—Bryson will still be talked about a LOT during the broadcast: LOCK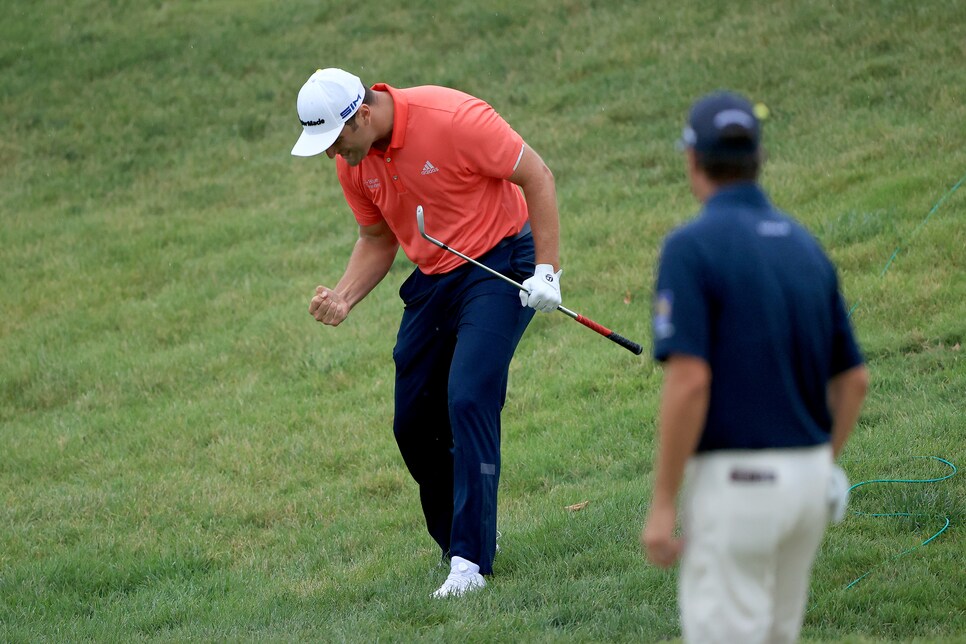 Again, penalty or not, that was awesome.
The European Tour has done it again, this time having three pros compete in a closest-to-the-pin contest from 300 yards. By hitting driver off the deck. And Marcus "The Bullet" Armitage stole the show:
Damn. These guys are good.
VIRAL VIDEO OF THE WEEK (FAIL DIVISION)
I hate to say it, but. . . dude, you had one job.
THIS WEEK IN TOUR PRO PUBLIC DISPLAYS OF AFFECTION
We have the first WAG sighting of the restart!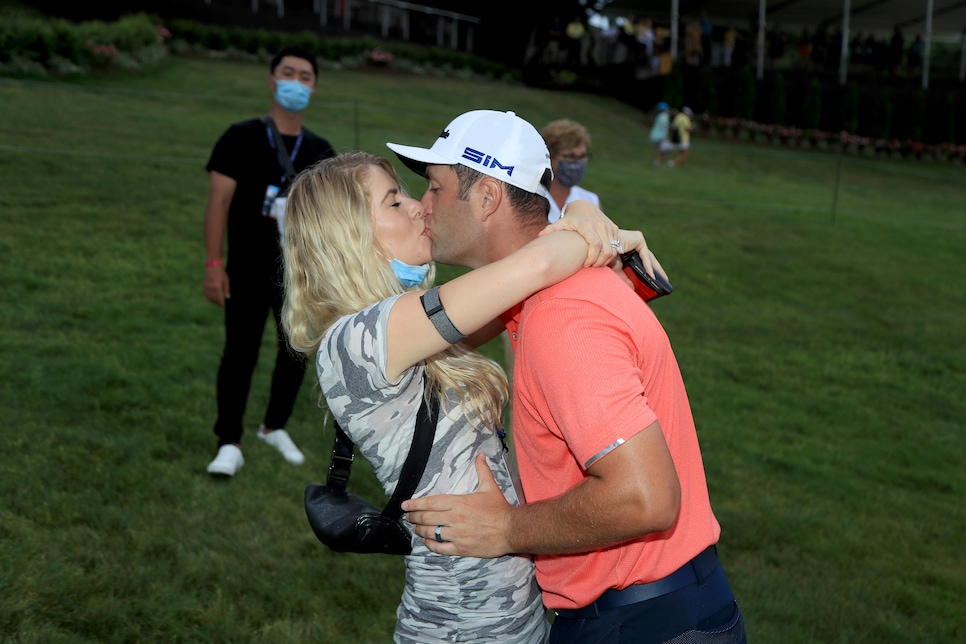 OK, now the PGA Tour is truly BACK.
"I've been preaching about [the golf ball going too far] for, goodness gracious … 43 years [ago] I first went to the USGA. I mean, that's a long time to be studying something. Guys, stop studying it and do something! Will you, please?" —Jack Nicklaus, who took matters into his own hands by basically turning Muifield Village into Winged Foot on Sunday. Glad to see I'm not the only person upset with golf's governing bodies. Maybe Jack is ticked off at having a low handicap index as well.
THIS WEEK IN PROS ARE JUST LIKE US!
OK, so it's a screenshot, but this was remarkable. It's Sergio Garcia after stroking possibly the worst putt in golf history: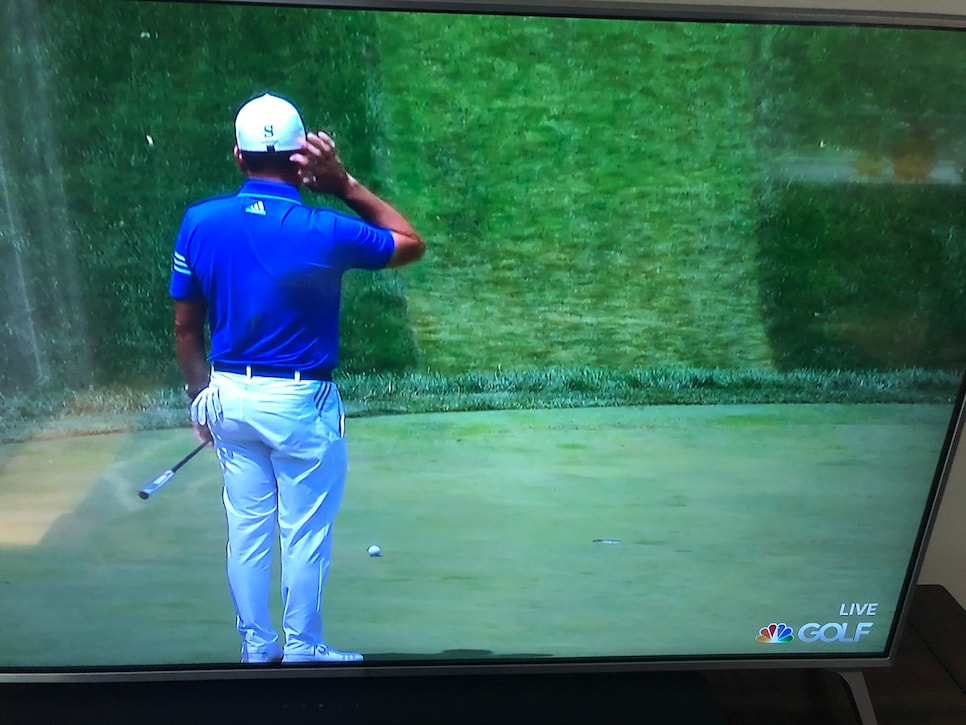 THIS WEEK IN PHIL BEING PHIL
Once again, there was a lot. Phil putted one from 78 yards:
And he LAID UP on a par 3:
Incredible. But the best Phil being Phil story comes from The Action Network's Jason Sobel, who reported on an old bet Mickelson won with Colt Knost that Jon Rahm would reach the top 10 of the Official World Golf Ranking within a year. "There was a comma involved," Knost told Sobel of the wager. Well done, Phil. I actually won some money off Rahm winning this week. Sadly, there wasn't a comma involved.
Davis Riley is now one Korn Ferry Tour title away from the coveted and rare BATTLEFIELD promotion to the PGA Tour following win No. 2 at the TPC San Antonio Championship. Unfortunately due to COVID, that's the only way he's getting to the bigs before next season. . . . Congrats to Jack Nicklaus for edging Tiger Woods in the "Open for the Ages," but my favorite part was Rory McIlroy's final-round 63. Even in fake tournaments he continues to rack up backdoor top 10s! . . . Check out our latest edition of Local Knowledge, where I took a deeper dive into whether alcohol can help your golf game:
And finally, congrats to Nicole Rae and Liam Byrne for winning Golf Digest's fourth annual Trainwreck tournament: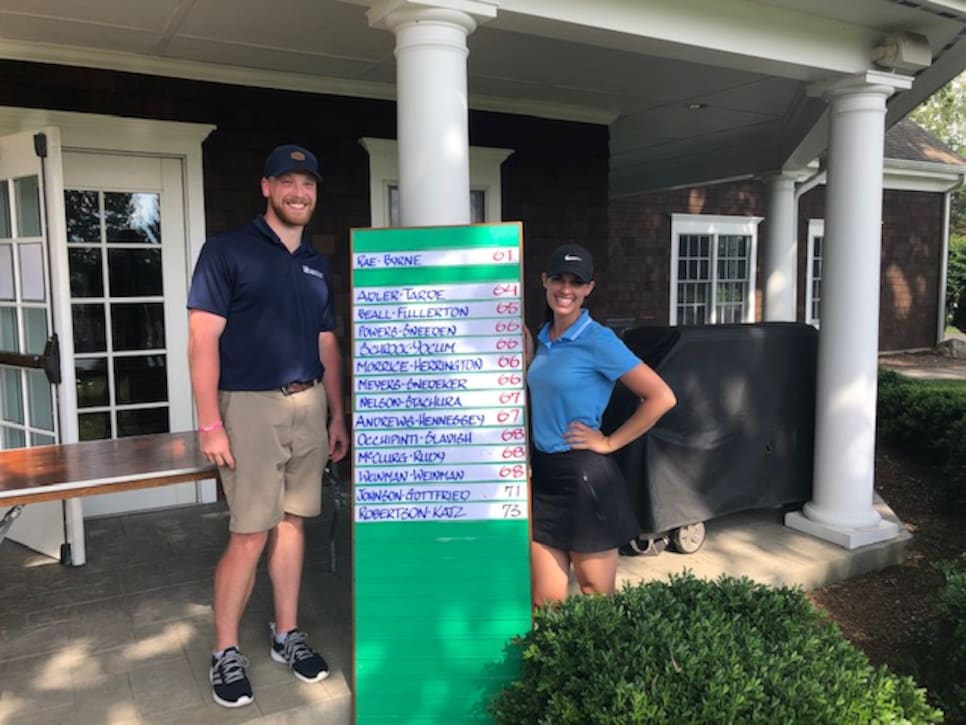 That being said, after winning by four, their handicaps are officially under investigation.
RANDOM QUESTIONS TO PONDER
How many actual majors will Jon Rahm win in his career?
What country club(s) would I join if I won $1 million?
Would more on-course drinking improve my handicap?