The Loop
Jon Rahm-mania hits the PGA Tour, the best part of Tiger Woods' return, and the craziest hole-in-one story ever
Welcome to another edition of The Grind, where we learned once again that you never know what you're going to get at a golf tournament. What started as Tiger Week turned into Jon Day as Rahm-mania took over at Torrey Pines.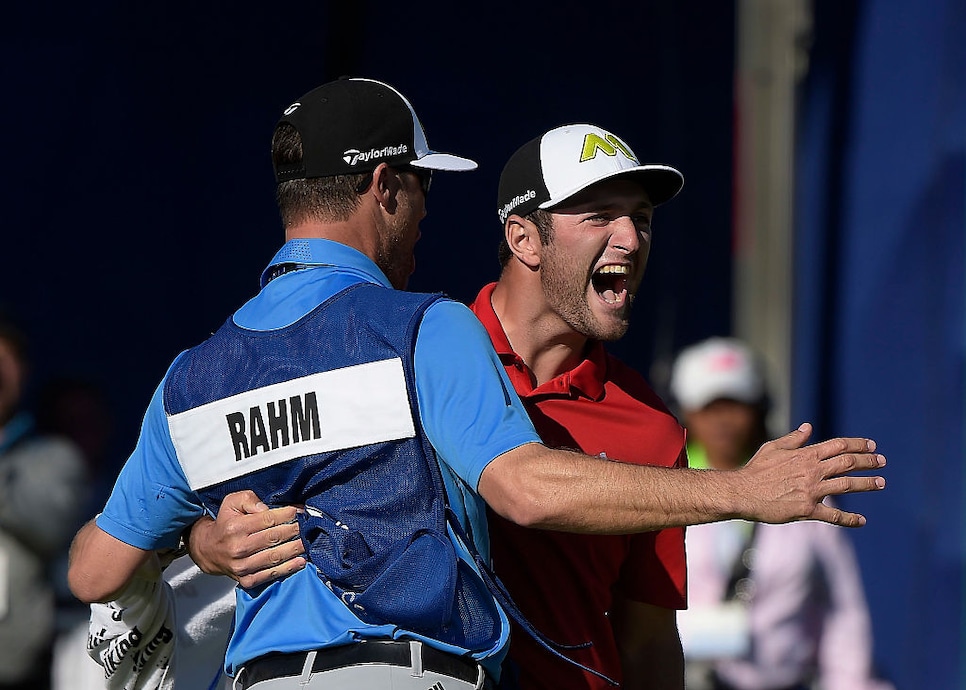 As it turned out, Woods gave us the year's most overhyped performance outside of La La Land (more like "Blah Blah Land," am I right? OK, please don't hurt me) but it was great to see him back. And it was even better that golf fans still had so much else to talk about long after he jetted away from La Jolla. Let's break it all down.
Jon Rahm: What a back nine. What a putt. What a stud. The most can't-miss pro prospect in recent years proved that label to be true with a Torrey Pines finish that would make even fellow TaylorMader Tiger Woods proud. We haven't heard Jim Nantz get this excited since Phil Mickelson last won the Masters.
For Rahm, 22, this looks like it's the first of many wins on the PGA Tour. One day, he'll probably regret that hat, but for now, he's flying high.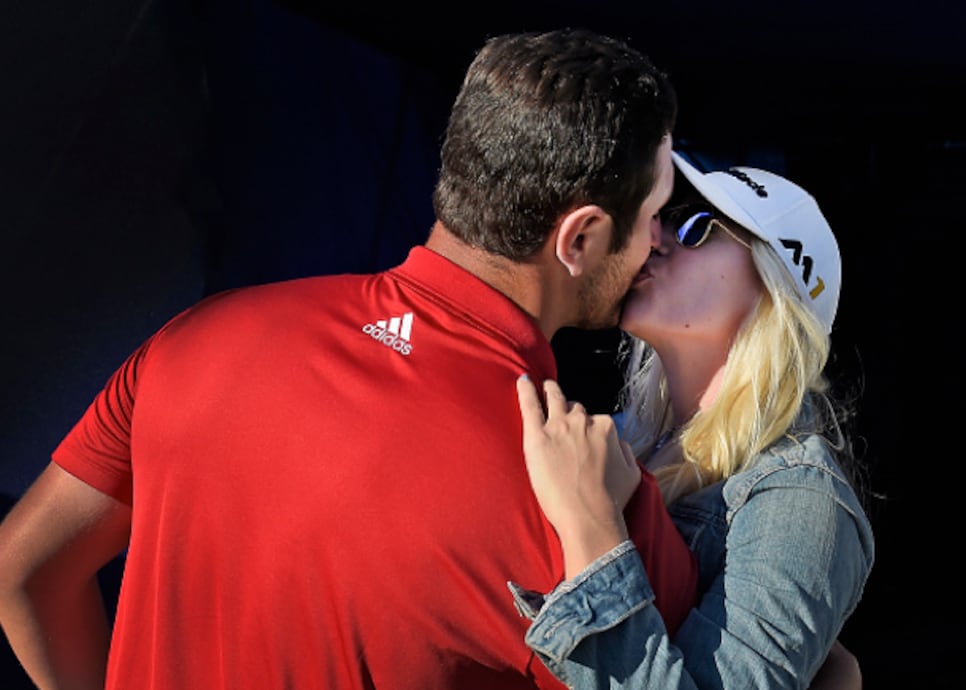 Just one bad piece of news for American golf fans: He hails from Spain so get ready for him to torment you for decades. And imagine if he pairs with countryman Sergio Garcia? Talk about a nightmare.
Masters of None: Not a nightmare was the way my big fantasy draft went this year for Masters of None, a team I share with co-worker Joel Beall. Rory McIlroy/McRib with the third pick? Bill Haas in the third round? Ollie Schniederjans in the sixth? OK, so Joel basically just let me draft guys I like so that if they fail he can rub it in my face, but I'm feeling good about the rest of the season.
American women: What a start the LPGA got off to in 2017 with Brittany Lincicome topping Lexi Thompson in a playoff. Throw in Stacy Lewis, who would have won if not for a late triple bogey, Gerina Piller and Nelly Korda (Jessica's younger sister) making her first start as a tour member and you had the first LPGA tournament in which Americans finished 1-5 since the 2011 Canadian Open. Oh yeah, on Friday, Lincicome made a hole-in-one while Thompson flirted with 59 -- on a par 73! Plenty of fireworks in the Bahamas.
Tiger Woods' short game: That flop shot on Thursday. That delicate downhill eagle chip late on Friday. The fact that he cleaned up just about anything within eight feet. Tiger Woods' short game looked sharp in his first official PGA Tour start in more than 17 months, giving his fans hope that those yips (or whatever you want to call them) plaguing him a couple years ago are gone. However. . .
Tiger Woods' long game: Woods was abysmal off the tee with his new driver and nearly as bad with his old irons. Yes, it was just one tournament and the Torrey Pines rough didn't help matters, but I found this Tweet from Steve Flesch to be especially on point:
Translation: He looked like an old man swinging the club.
Tiger's group: What were the chances the marquee pairing of Woods, Jason Day and Dustin Johnson would all miss the cut? Woods has now missed seven cuts in his last 16 official starts (he missed four in his first 13 seasons), but Day and DJ missed just one cut each all of last season. Again, it's just one event, but they left those large galleries at Torrey Pines pretty deflated.
Golf-related Super Bowl prop bets: Look, we love that Vegas includes golf in its prop bets for the big game, but these are so convoluted. Tiger Woods' 72-hole score in Dubai or Tom Brady gross passing yards (-18.5)? Hideki Matsuyama 4th-round score in Phoenix (-19.5) or New England/Atlanta longest field goal of the game? We'll stick to Super Bowl-only bets. And after initially thinking the Patriots would win, my official prediction is the Falcons win a shootout, 35-31. At least, that's what I'd like to see on Sunday. . .
The PGA Tour heads from Torrey Pines to TPC Scottsdale for the Waste Management Phoenix Open. Yes, this is the one with that stadium hole where all the hooligans hang out. The Tiger Woods Comeback Tour heads to the Middle East for the Dubai Desert Classic. Yes, that's a long flight for someone with a bad back.
Random tournament fact: Jon Rahm finished T-5 at the 2015 Waste Management Phoenix Open as a college junior. This time, he'll get to keep the money he earns.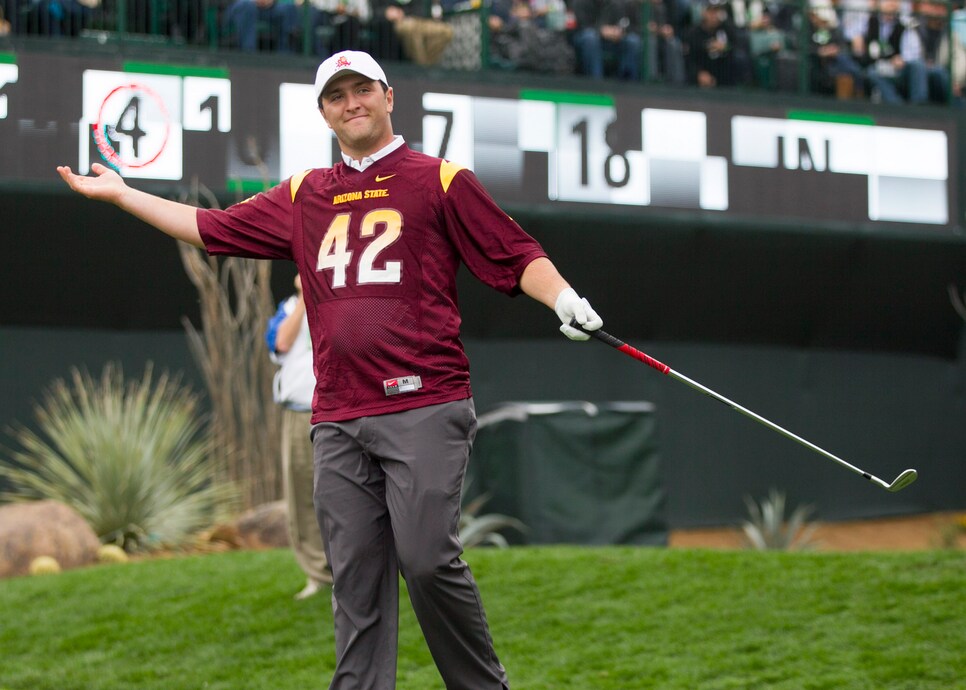 RANDOM PROP BETS OF THE WEEK
-- Jon Rahm is done winning on the PGA Tour: 1 MILLION-to-1 odds
-- Tiger Woods will make the cut in his next three events: 6-to-1 odds (Actual odds)
-- Tiger Woods' back will feel looser this week in the desert: LOCK
Andy Sullivan played with two of the tallest tour pros in the world -- Chris Wood and Robert Karlsson -- at the Qatar Masters. It created the perfect photo opportunity.
VIRAL VIDEO OF THE WEEK (INVOLVING TIGER WOODS)
The best part of Tiger's return to the PGA Tour? The tour's cool commercial of tour pros, including Phil Mickelson and Jordan Spieth talking about how hard it is to win an event and then marveling at Tiger Woods' 79 career victories. Even cooler? Watching Woods' reaction to it:
VIRAL VIDEO OF THE WEEK (INVOLVING A ROWDY FAN)
Harold Varner III missed the cut at Torrey Pines, but luckily he stuck around to capture this footage of a fan eluding security and jumping into the pond on the 18th hole:
A little play-by-play by HV3 would have been nice, but still a great clip.
THIS WEEK IN PHIL MICKELSON BEING PHIL MICKELSON
There was this "how did he do that?" flop shot:
And this "how did he think of that" moment when he purposely putted an eagle attempt off the green to have his ball funnel back to set up a birdie:
And the fact that it's very possible Phil didn't need to do that makes it that much better.
"Just like everybody, I'm getting ready for that first full week in April." -- Tiger Woods. #ItsAProcess
THIS WEEK IN TOUR PROS ENJOYING BEING TOUR PROS
Looks like the women of the LPGA didn't mind beginning the season in the Bahamas.
THIS WEEK IN BELEN MOZO LEXI THOMPSON MAKING US FEEL BAD WITH HER TRAINING
We've seen Lexi box, but she's really hit the weights of late. And considering she shot the second-best score in relation to par in LPGA history, we'd say her workouts are paying off.
I can safely say I've never used #gymlife as a hashtag before.
This tale of amateur Bob Taylor making three holes-in-one on the same hole over three consecutive days 42 years ago is amazing. Of course, it makes me feel even worse that I haven't managed one over 34-plus years. . . . Jon Rahm said he learned English in part by memorizing rap songs by Kendrick Lamar and Eminem. The kid is resourceful. . . . Famed instructor Pete Cowen told Golf Digest he thinks putts should only be worth half a stroke. Somewhere, Ben Hogan nods in agreement. . . . "The Affair" capped the worst drop off of any show in TV history with its deadly Season 3 finale. Then again, I probably should have seen this coming after what Showtime did to "Homeland" in Season 3. . . . On a more uplifting note, after being pestered on Twitter for 206 consecutive days, Sergio Garcia has agreed to let a fan caddie for him at the British Masters Pro-Am.
Aw, that's sweet, Sergio.
RANDOM QUESTIONS TO PONDER
What's Tiger's sit/stand/lay ratio on long flights?
Who's the best rapper on the PGA Tour?
Should Sergio be concerned for his safety?