The Loop
Johnson wins 'pillow fight,' impersonates Bobby Locke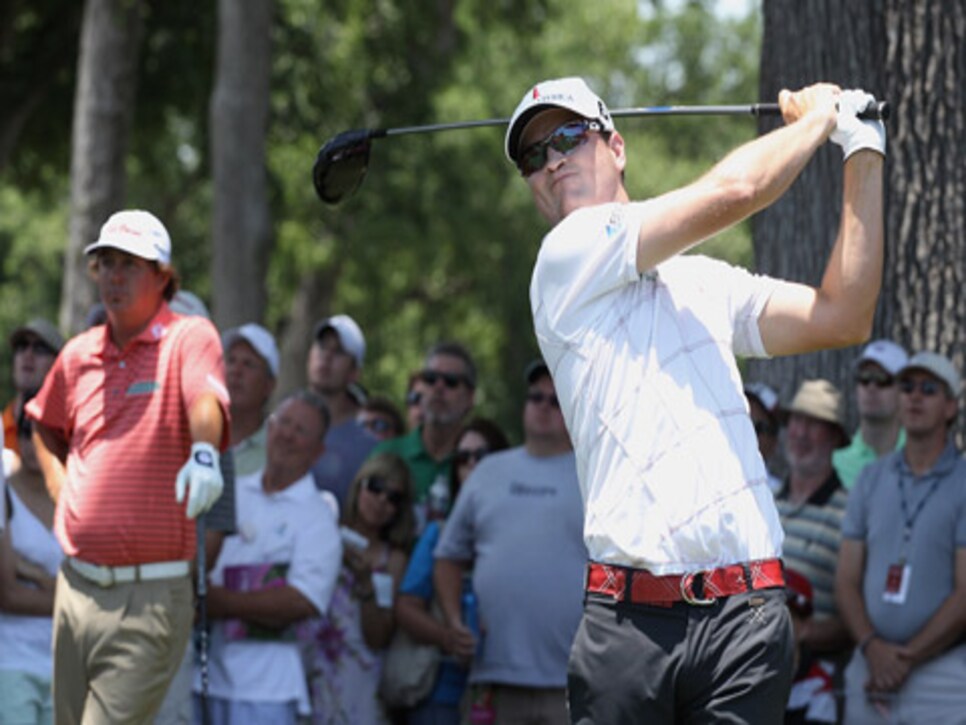 (Photo by Scott Halleran/Getty Images)
It was a scene from the pages of history, which at the Crowne Plaza Invitational at Colonial tends to suggest that Hogan was its author. But this one was written by another legend from the same era and oddly re-enacted at the conclusion of an altogether strange afternoon on Sunday.
For the record, Zach Johnson won, which was less of a surprise than the fact that Jason Dufner lost. More on that momentarily.
Fifty-five years ago, at the '57 British Open, Bobby Locke won by three only for officials to learn later that Locke had forgotten to return his ball marker to its original position after moving it a putter-head to clear it from Bruce Crampton's putting line. He then putted out from the wrong place.
Locke could have been disqualified, but the Royal and Ancient ultimately decreed that "with his three-shot lead and no advantage having been gained, the equity and spirit of the game dictated that he should not be disqualified."
The equity and spirit of the game were not applicable at Colonial Country Club on Sunday, when Johnson carried a three-stroke lead into the final hole and similarly moved his ball marker a putter-head away to clear a line for Dufner, then forgot to replace it.
He then holed what he assumed was a par putt only to learn that he was assessed a two-stroke penalty, resulting in a double-bogey 6, reducing his margin of victory to one.
"Good thing I made it," Johnson said of his last putt. "No harm no foul."
Maybe it was the most appropriate way for the tournament to end after an unusual Sunday in which two of the PGA Tour's hottest players were engaged in "one serious pillow fight," as PGA Tour caddie Noah Zelnik called it on Twitter.
Indeed, it wasn't pretty. Dufner, seeking a second straight victory and third in four starts, fell two behind at the 11th hole with a double-bogey. At the next hole, he got the two back with a birdie and a Johnson bogey caused by his having hit the lip of a fairway bunker, causing the ball to finish behind him.
By this time, the CBS broadcast crew had begun speculating that Dufner was mentally shot following a month that included the aforementioned two victories, as well as his wedding. At one point, David Feherty said, "His brain now is on a stick. He's carrying it around."
Dufner might have been overtaxed, but only according to his accountant. In the last month alone, he has earned more than $3.2 million.
Meanwhile, adrenaline alone would have kept him attentive, at least until the tournament slipped away from him with a triple-bogey at 15. Even the most refreshed player likely would have surrendered after that.
To discount his performance based on fatigue would suggest that Johnson otherwise would not have won. Yet while Dufner was the center of attention in recent weeks, Johnson had elevated his own game. In the last six weeks, he has a victory at Colonial, a tie for second at the Players Championship and a solo second at the RBC Heritage.
It may have been a pillow fight, but the two players involved have been swinging their pillows better than anyone this side of Luke Donald. And when the feathers cleared and Johnson assessed the damage incurred from his own carelessness, he was still the winner.