Courses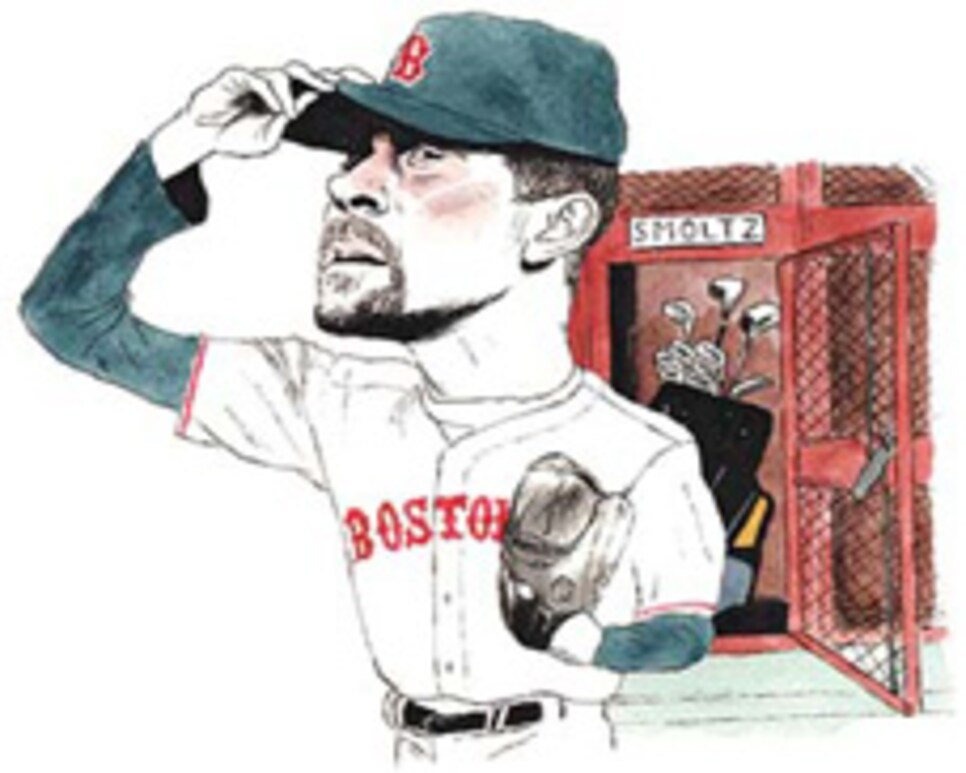 "I've had a lot of great rounds but very few have ever been with him," John Smoltz says of playing alongside Tiger Woods.
John Smoltz, 42, has had the distinction of playing with Tiger Woods and Annika Sorenstam in the same foursome. He's also the only pitcher in history to have more than 200 wins and 150 saves. After 20 seasons with the Atlanta Braves, Smoltz had shoulder surgery last summer and is now in his first season with the Boston Red Sox. Although currently on the disabled list, he's scheduled to be back in early June. An avid golfer who still presses when he plays with Woods, Smoltz recently discussed his aspirations of making it on tour once he steps away from baseball, the golf course in his backyard, and how the world's greatest golfer also has no peers when it comes to talking trash.
Do you take an annual buddies trip?
I try to before each spring. Some work. Some don't. This year with the change to Boston I wasn't able to make that trip.
Where do you normally go?
On my way down to Florida, I cover the coast. We'll hit Wayne Huizenga's place -- the Floridian. Sea Island, where I have a place. We bounce around.
As the baseball season starts, does golf take a back seat?
I'll play more golf during the season than I'll play in the off-season.
Rank these three golfers, best to worst: Smoltz, Glavine and Maddux.
That's pretty easy. It would be me ... and then here comes the hard part [Laughs.] In a four-round tournament, they both are about the same. But if it came to the lowest score I think Maddux would nose out Glavine. But they both have about the same handicap. Glavine can't avoid that one hole where he makes a 6 or 7. He has that hockey loop but he can hit it, he can play with just about anybody. If it's a scoring tournament he's going to have a few more big holes.
Who will go down as the toughest hitter you've ever faced?
How about the toughest course you've ever played?
Butler National. I scored well on it, but it was a tough, demanding course. Actually, I take that back. The new one, Erin Hills (near Milwaukee), that's the toughest golf course I've ever played. It's almost 8,000 yards long.
If you could win one major, which one would you want to win?
That's tough. I would think I'd want to win the Masters. It would be cool to have a green jacket.
Have you played Bethpage Black?
I have not. This will sound snooty and snobby, but I'm not one to go somewhere where it takes a long time to play golf. I like a quick round.
How do you kill time on a plane?
I use the plane to go through all my mail. I'll accumulate a bunch of stuff and then go through it at one time on the plane. Sometimes I'll watch a movie; sometimes I'll play cards. There's nothing that's a set routine. I'm on the go so much; sometimes I just like sitting there.
One movie on a long flight?
"Dumb and Dumber" always puts me in a good mood. "The Fugitive." Believe it or not I could watch "The Rock" a bunch, too. But If I need to laugh, and things have been going tough, I'm going to throw something funny in there. "Dumb and Dumber" will always do it for me.
Are you an efficient packer?
I think I'm an efficient packer, but I'm not one with a strategy. I'm a pressure, last-minute packer. I'll actually clean up my closet before I pack, and get everything the way I want it to be, but I hate it. I hate the business of what I've had to do for 23 years. Hate it.
An all-expenses-paid trip to Bandon, Pebble or Pinehurst -- which would you choose?
Bandon Dunes because I've never been there.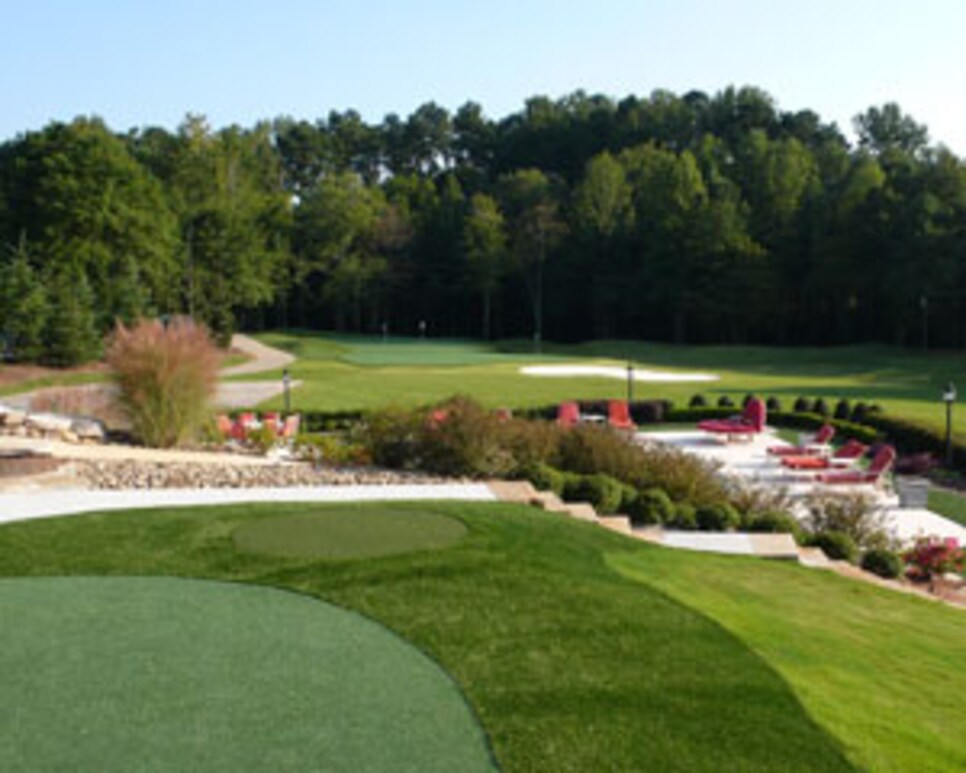 Ireland, Scotland or would you prefer to stay in the United States?
I always prefer to stay here, but I certainly want to go to those places to check them out. That's the history of the game. I definitely can't wait to go over there.
You've never been to Ireland or Scotland?
I've only been out of the country once, and that was to the Bahamas; and that doesn't count.
One course for the rest of your life?
I have to say Hawk's Ridge [Hawk's Ridge is close to Smoltz's home in Ball Ground, Ga.] It's my favorite. I love the whole thing. I'm sure there are others, but I'm a convenience guy.
How many times have you played Augusta?
Five or six maybe. Something like that.
What's your lowest score at Augusta?
I shot a 72, but it was ugly. And when I say ugly -- I had 23 putts. For whatever reason, when I go there, I don't treat it like just another golf course and play golf. I let too much mystique creep in.
Have you played there with Tiger?
Yes I did. We played there on a Sunday. And as the story grows and the older I get, I'm going to say I was one of the few guys who played with Tiger on Sunday at Augusta.
It was two years ago, about two weeks before the Masters. It was during spring training.
Did you guys have a match?
Yes, but we didn't have our normal match because that's like going to my man's home course. Here's the deal: We didn't get a chance to hit any warm-up balls. I pipe one right down the middle on the first hole. And I felt good about it. And he hit it in the trap. And I made 6 and he made 4. My day pretty much went downhill after that, even though I had about a seven- or eight-hole stretch where I parred them all. He shot a 68 or 67, and it wasn't even fair with some of the tough pins.
What would be your normal match with Tiger?
A Nassau -- front nine, back nine and overall. And in my mind we're playing medal play but that ends real quick. You start out thinking: Today might be the day. And that ends real quick. In a match, Tiger wants to win the last few holes and that's what he usually does. I'm not anywhere near a professional golfer but I can see where a professional golfer changes his game and approach because of playing alongside Tiger. I've had a lot of great rounds but very few have ever been with him. He gets you thinking you have to hit the perfect shot, because he's always doing it. It's amazing. It's fun to watch. I've been more comfortable with him lately.
How many strokes does he give you?
It starts out at two a side and I try to beg for three a side. But two a side is pretty fair.
Is the wager something I could never relate to?
No, no, no. It's fine. What's fun is the bantering back and forth -- the good-natured fun.
And I hear he can talk smack.
There's nobody in his league.
Have you played 10 rounds with him? Twenty rounds? Or too many to count?
I've played quite a few. It's fun. How would I explain it? I would say it's like a ride that you never want to end. Once I played with Tiger and Annika. I mean -- gosh.
You played in the same group as Tiger and Annika?
What was their relationship like? Were they bantering back and forth?
Yeah. What it basically boiled down to: I was really trying to compete hard against Annika. And on the first tee Tiger said, "I'll bet she beats you." We all played from the same tees. And she was super nice. And she was probably a little nervous because that was her first time playing with him. My whole focus was that he threw the gauntlet out. And I did it, I won. And I didn't say a word. And there was more stuff written about that round in the following weeks. It was like my whole career paled in comparison to that one event. The next time I played her, she kicked my butt [Laughs.] And she let me know about it too. *[Laughs. *]
Do you like gambling on the golf course because you're betting on yourself? Because you have some control over the situation?
Baseball is where many components come into play to determine success. In golf you can get a bad break, but there aren't relief pitchers. No one's coming in after 15 holes saying, "I'll take it now." In golf it's your match and it's under the gun. I'm not the kind of guy who can play golf by myself. I'm just not. I like competing with other people, seeing how they do under pressure, trying to get into their skull. It's a lot of fun.
I'm a 7 handicap. If we walked out to the first tee of your course, how many strokes would you give me and would you be cool playing for $5?
Yeah. I'd want to beat you. I don't care if we play for a Diet Coke. I'd give you about four a side, and I'd want to beat you.
So you're about a plus-two handicap?
Yeah. But the handicap system is a joke. I think you're either a scratch or you're not.
What's your low round on any course?
I shot 63 at the Floridian from all the way back. The next day I shot 38-30-32-33 for 36 holes. So that middle 18 holes I did squeeze out a 62, but it wasn't official.
Can you compare that feeling of having everything firing on all cylinders in golf to the feeling you have on the mound where you're hitting all your spots?
You can. They're similar in the sense that you can't just master any of those rounds. Why can't you do it for four rounds? Why can't you do it for seven starts? Why can't you do it for nine innings? When you're on fire you'd think you could just go back out the next day and do the same thing. It just doesn't work that way. But when it's clicking you don't think too much, and it's coming off the club great, or it's coming out of your hand great. Baseball is a little out of your control. Golf you have a little bit more control, with the exception of Mother Nature.
Do you have a favorite architect?
Tom Fazio. I'm a big fan of his. I haven't seen one of his courses I didn't like. I also like Arthur Hills.
What's your perfect scenario post-baseball career and how serious are you about a professional golf career?
I'm real serious. I want to do it. I want to see how far I can go. I want to make a cut on the PGA Tour, but in reality I want to play on the senior tour. I'm fighting age and time, but I'm not afraid of the challenge.
Do you take lessons on a regular basis?
I've never had a lesson. The way I look at it, until I get physically fit, it's irrelevant. I've learned a swing. It may not be the right swing, but it's the swing I need from the physical standpoint to get it done. I've always adapted to the condition I'm in.
What are the strengths and weaknesses of your game?
My short game has gotten real good. That's why my scores have gotten so low. Because of some of my injuries I don't hit it as far but I hit it straighter, so the tradeoff is pretty good. I have creativity. I think I can hit certain shots and see things differently than most. That may have something to with baseball. I like to feel like I can work the ball. I see different things when I'm in the trees, and I feel like I can pull it off. I'm learning to use that type of atmosphere or personality to my advantage, and learn within both golf and baseball what I can and can't do, and stay within those boundaries.
Tell me about the little course you have in your backyard.
It's finally finished. I've created an environment at home where I really don't care to leave when I'm done playing baseball. I'm probably going to miss out on a lot of great golf courses, but I could accomplish and do everything I want to do in my own backyard. Every shot in the world that I want to work on can be in my backyard. It's a combination of a kid dream place and an adult dream place where I have everything you could want in the framework of a neighborhood on 20 acres.
I'm part of a company called Southwest Greens. I'm one of the owners. They came in; they put in two large greens -- anywhere from 8,000 square feet to 9,000 square feet. They're on opposite ends of my property with water involved on one of them. There's a big 2,500 square foot practice putting green and nine tees around the property. I have a special tee across the creek where it's a driver. You try to drive the green from 308 yards. What I wanted to do is be able to drop 100 to 200 golf balls and not feel like I was hitting to open space. I wanted targets and to be able to work on shots that are weaknesses of mine. And it really has helped. As little as I've been able to get out there and use it, it has really helped. If I never get to play on another golf course for the rest of my life because someone says I can't, I'm in hog heaven in my own backyard.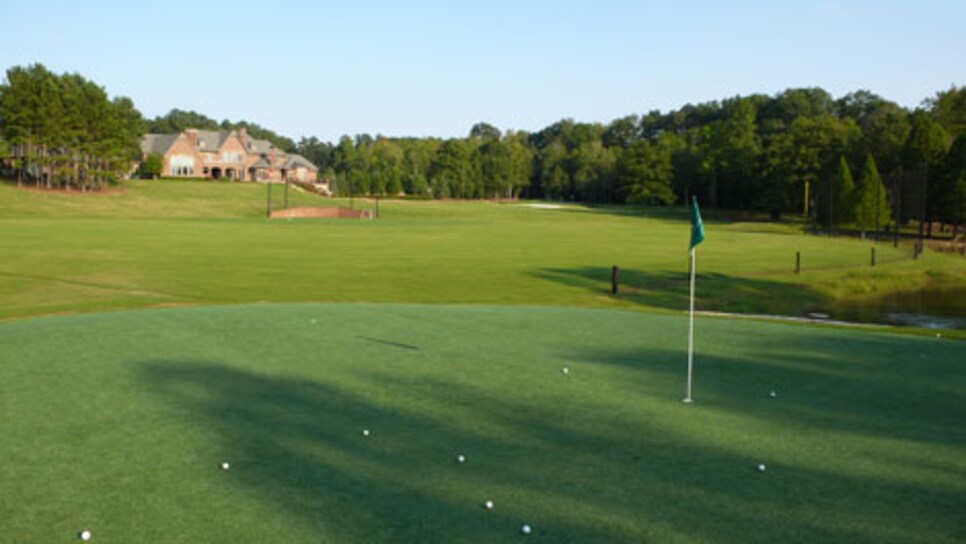 Have you ever broken a window in the house?
Yeah. Friends of my kids hit a rock by the pool and it jumped in and broke the window. The house is not really in play. You have to hit something crazy to get the house in play.
Do you have any holes-in-one back there?
I've had four. Three intended. One was in a hole I didn't intend to get it in.
How about on a real course?
Yeah. I had a hole-in-one at Shadow Creek on a par 4, number 11. That was by far the most ridiculous, incredible -- you name it.
I__ read you and Dr. J won Michael Jordan's charity event in the Bahamas this year. What was it like playing with Dr. J?__
Well, when I drew him I told him, "Doc, we just won." That's the way I felt. With the way I was playing, I love that tournament, I love that format, a two-man scramble, if I get someone to help me about seven to ten shots over two days we're going to win. And we were fortunate enough to make 10 birdies the first day with three bogeys. We had some dumb bogeys. And we made eight birdies the next day with no bogeys, so we won by two.
Brett Hull and Brandi Chastain. It's tough to beat Brandi. I've had her as a partner. She is intense. She's great.
Now this is where it gets a little interesting. She says 20. But she's playing from the forward tees in a two-man scramble and she's a huge help. You don't have to worry about a drive half the time.
What is Dr. J's strength? You'd think he'd be a good putter.
Yeah. The first day, his putter, if he didn't make them, they were close. He made about five or six putts the first day, which were huge. I've played in four-man scrambles where we haven't made that many putts. He always gave me a good line, and we always felt there was a good chance we were going to make. His putting was valuable.
Three-foot putt for your life, do you putt it yourself or do you call Tiger?
I'd putt it. That's just the way I am. My life might be at risk, but I'd putt it. I don't like to grind all the time because I don't want it to take away from baseball. But when I grind, and the pressure's on, I love that feeling. It doesn't mean I'm always going to the successful, but I'm more inclined to make a putt of that magnitude than a three-footer for kicks.
If Tiger were a pitcher, would he be a starter or a closer?
He'd be the best-conditioned starter in the game.
You think he'd go nine innings every time?
I do. I love to watch when Tiger's playing. To be honest, everything's better when he's playing.
Would you be shocked if it comes out that golfers are taking performance-enhancing drugs?
I'd be shocked if the numbers correlated to the other sports, but I wouldn't be shocked if there is somebody taking something. Golf is still one of the purest forms of sport. It's still a sport where you call stuff on yourself. But it's not removed from people failing, and being tripped up. I don't think I'd be shocked. I don't think you can say that about anything anymore.