The Loop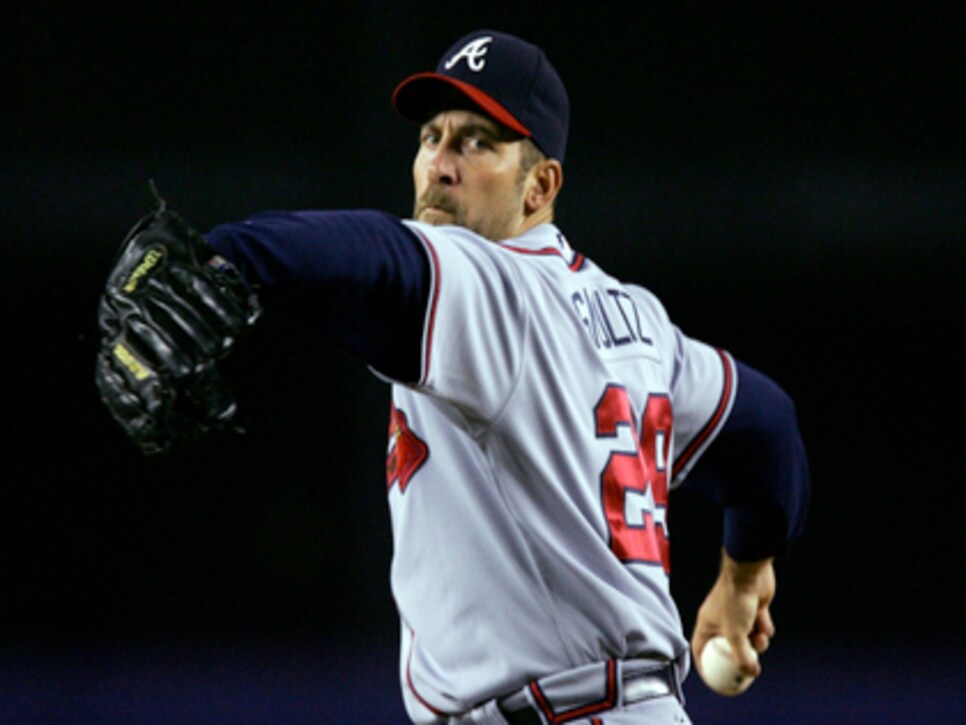 My recent Q&A with John Smoltz is in the June issue of Golf Digest and the complete conversation is online.  Here's the link.
I asked Smoltz to rank these three golfers, best to worst: Smoltz, Glavine and Maddux.
Smoltz didn't hesitate: "That's pretty easy. It would be me . . . and then here comes the hard part [Laughs.] In a four-round tournament, they both are about the same. But if it came to the lowest score I think Maddux would nose out Glavine. But they both have about the same handicap. Glavine can't avoid that one hole where he makes a 6 or 7. He has that hockey loop but he can hit it, he can play with just about anybody. If it's a scoring tournament he's going to have a few more big holes."
As a loyal fan of the San Diego Padres, I had to ask him who is the toughest hitter he has faced so far. Smoltz replied, "Tony Gwynn."
I figured that's what he'd say. Gwynn won eight batting titles, had 19 consecutives seasons with a batting average above .300, and a ridiculous career batting average against the Braves three aces.
I found this on the accuscore.com website where Gwynn explains why he faired so well against Smoltz, Maddux and Glavine.
Gwynn said, "The Braves guys were always around the plate. I don't think they believed in wasting a lot of pitches. They were going to try to make a quality pitch and I was going to try to put the bat on the ball and hit something I could handle. The Braves guys were always nibbling on one half of the plate which made it a lot simpler for me to put the bat on the ball."
Makes sense (and almost sounds easy).
I first met Smoltz at Hawk's Ridge Golf Club in Ball Ground, GA. I was in town to do Ambush No. 9, "Fore on the Porch." The craziest (and by far the best looking) Ambush victims to date. It was also the only group of women I've Ambushed so far.
Smoltz is a member at Hawk's Ridge. He's a plus-2 handicap who has never had a lesson. He told me he's not long off the tee, but I saw him hit a few drives and he's far from short. He told me he had just finished his back-yard golf course and invited me over to check it out, but it's not your tyipcal back-yard golf course. I thought I'd need nothing but a putter and maybe a few wedges. I had no idea I would be able to hit driver.
Later that afternoon, Chuck Knebles, the director of golf at Hawk's Ridge, took me over to Smoltz's house to meet up with the future Hall of Famer. As you will see, Smoltz's back yard is as big as Central Park. I hit a few shots before Smoltz had to leave. He is the assistant coach for his daughter's volleyball team and they had a game that day. I have nothing but great things to say about John Smoltz.
One reader, Troy Feldpausch, already read the Q&A and sent me an e-mail:
"Hey Matty G, I always thought I wanted to be like you when I grow up, but I've now changed that to wanting to be John Smoltz. Let's recap: He has played with Tiger and Annika. He has played Augusta. He shoots in the 60s. He's making $5.5 million in base salary this season and he has a golf course in his back yard. Yep, sorry man . . . you've been replaced."
Boy, fans are fickle. I've met Tiger and Annika (but neither one could probably pick me out of a lineup). I've been to Augusta (but in 11 years I've never won the media lottery to actually play the course on the Monday after the tournament). I shoot in the 60s (if I quit after the 14th green). I make roughly $5.5 per hour and in the Digest office we have a 15-square-foot practice putting green. OK, Troy. You're right. Smoltz wins.
Lastly, here's a quick picture and video tour of what Smoltz refers to in the Q&A as his "hog heaven." This is Smoltz's back yard: