College Golf
John Pak wins Haskins Award, first of three college POY honors likely to come the Florida State senior's way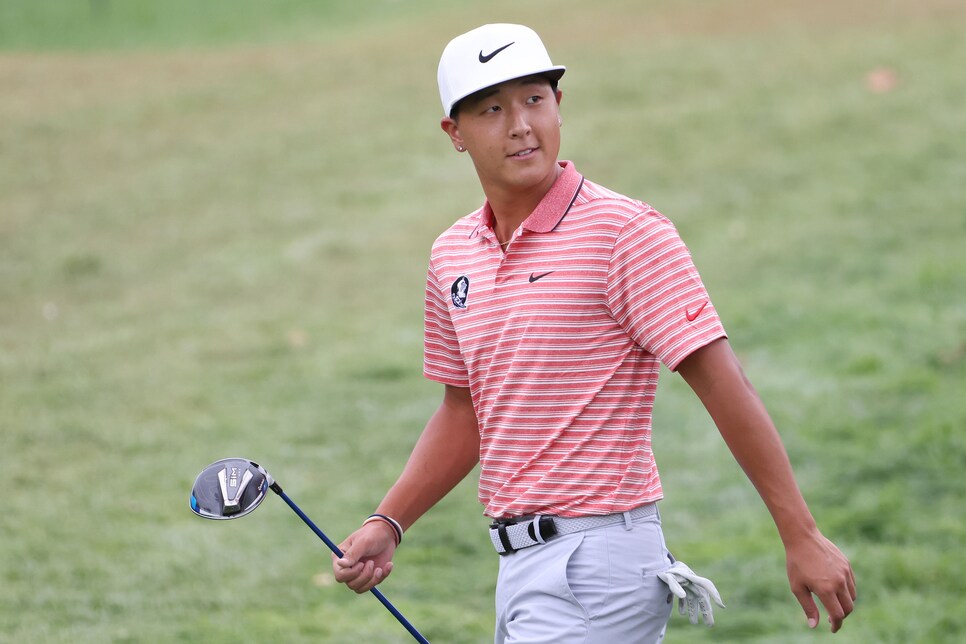 Florida State's John Pak walks to the 12th tee during the first round of the 2020 U.S. Open.
Jamie Squire
John Pak might want to clear out some space in his trophy cabinet. The 22-year-old from Scotch Plains, N.J., who wrapped up his college career at Florida State on Tuesday when the Seminoles fell in the quarterfinals of the NCAA Championship. But he got some better news later in the afternoon when he was named the winner of the Fred Haskins Award presented by Stifel.
The Haskins Award is one of three men's college player-of-the-year honors that Pak looks likely to pick up in the coming days (the Jack Nicklaus Award and Ben Hogan Award are still to be announced).
Pak completed his time in Tallahassee as Florida State's all-time career leader in scoring with a 69.87 average. With eight career wins, he also tied Nolan Henke for the school's all-time victory mark.
During the 2020-21 regular season, Pak finished in the top seven in seven of eight starts. Then in the postseason, Pak posted a T-5 finish at the ACC Championship, a fourth at the NCAA Regional and a fifth at the NCAA Championship.
"So many great golfers have won this award. Just to be up there with those guys gives me a lot of confidence," Pak said. "I have a great support system around me at Florida State, and I'm so happy I chose to come here. Having the coaches around just helping me to get better every single day is what I think helped me have such a great season this year.
"Traveling with my friends, teammates and my coaches is something I will always cherish. I love my teammates to death. Those are my fondest memories being on this golf team."
His performance this season also help him grab playing privileges on the Korn Ferry Tour this summer, as Pak finished No. 1 in the PGA Tour University rankings. The program, begun in 2021, gives full playing status on the KFT to the top five college seniors in the ranking (which is based on play in college and pro events).