The Loop
John Daly recovering after elbow surgery
One day after undergoing surgery on his right elbow, John Daly was in immmense pain but also in good spirits, knowing perhaps that the ache in his arm might finally go away.
"I've been dealing with it for two years. I can handle a few more days," Daly said by phone Friday afternoon. "I have no idea what my timeline is to come back. I just know that it was time to do something. When the doctor looked at my MRI, all he said was, 'Wow.'"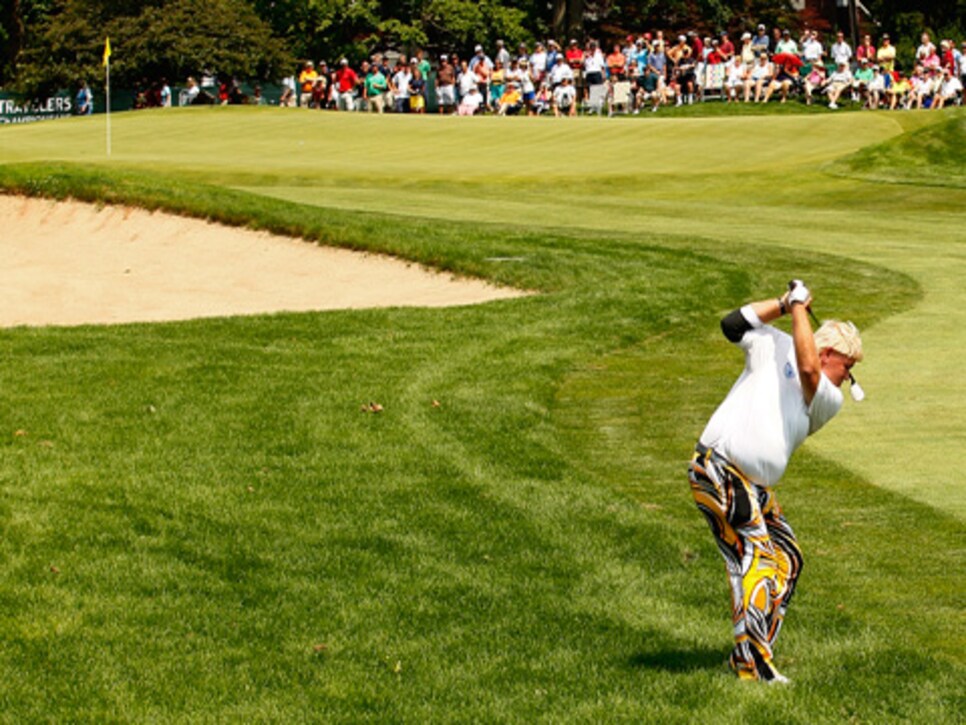 John Daly wearing an elbow brace at the 2013 Travelers Championship. Photo: Michael Cohen
Dr. Wesley Cox in Fayetteville, Ark., performed the procedure Thursday morning on Daly's elbow. Daly deferred to his doctor on the technical explanation of the procedure, though he did say he had four screws inserted to "hold everything together."
The genesis of the injury he traces to the 2007 at the Honda Classic -- the event which he said caused many of his recent physical troubles. It was at that tournament where Daly said he hurt his ribcage after a female spectator jumped inside the gallery ropes and snapped a picture of him at the top of his backswing. Daly feared his tee shot might hit her and aborted his swing.
"That messed me up pretty good ... ribs, back, elbow," said Daly, 47, who sued the tournament in 2010. That litigation is still ongoing.
"I've been a little bit unlucky from there," he added. "I hit a tree root in India, hit another one in Hilton Head. Last two years have been brutal [with the pain]."
Last week at The Greenbrier Classic in White Sulphur Springs, W.V., Daly withdrew after the third hole of the second round. He had opened with a 75 and hit a tree root on his second shot at the par-5 12th, causing more damage to his arm. He finished the hole and then withdrew.
"I'm glad I finally did something about it. I have got to get it right," he said. "You can't play hurt out here, not with the quality of players. They're just too good. Hopefully, this gets me back on track. If it doesn't then I don't know what will happen to me. It's disappointing to be out the rest of the season, but this had to get done."
Daly, a five-time winner on the PGA Tour, including PGA Championship and British Open titles, is not eligible to take a major medical extension in 2014 because he does not have full exempt status, only conditional status after finishing 146th in earnings last year.
In 12 starts in 2013, Daly earned just $43,543 with his best finish T-50 at the Puerto Rico Open. He missed six cuts and withdrew from two others.