The Loop
John Daly back to his usual spot outside gates
AUGUSTA, GA. -- A certain black and gold RV with Arkansas plates is parked between a gas station and a jewelry store across the street from Augusta National, and will remain there through Saturday. The sign "John Daly Merchandise Sold Here" hangs in the windshield above the steering wheel. On folding tables out front lays a rummaged pile of T-shirts in mostly large sizes, shot-glasses, headcovers, autographed balls, posters, copies of "My Life in and Out of the Rough," and four pairs of Loudmouth ski pants.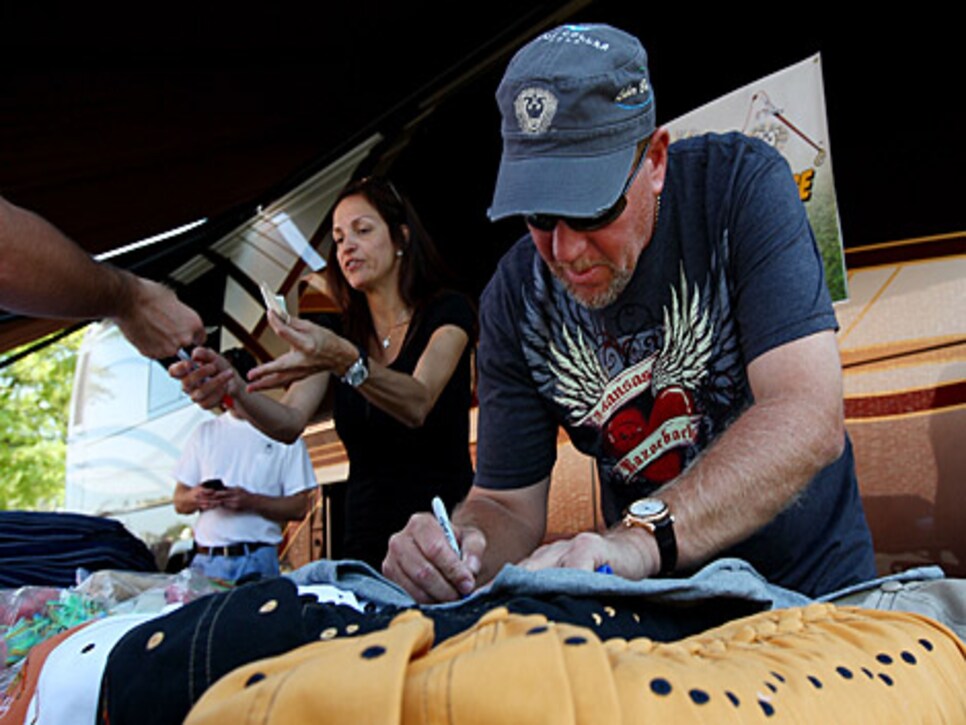 Daly has been a mainstay outside the gates at the Masters, but hasn't played the tournament since 2006. Photo by Getty Images
"You can use them as rain paints," says John Daly, prodding the material approvingly. Daly's got on jeans, a Dallas Cowboys sweatshirt, a few days blonde stubble and no sunglasses. He's squinting against the 11 a.m. sun as he smokes a cigarette and sips a 20 oz. soda that must've come from his neighboring vendor.
If you buy something he'll autograph it or have his picture taken with you. He has two women in snug fleece pants handling the cash and credit card machine, but there's no sense of rush. The prices are fair; $20 gets an autographed T-shirt, a photo-op, and whatever words you can think to say to the two-time major champion.
Daly last played the Masters in 2006 when he missed the cut, and his only top-10 in the tournament was in 1993 when he finished T-3.
As Masters foot traffic flows in and out of the main gates, there always about a dozen people stopped by Daly's RV. Their smiles are big and bright at the ease and surprise of the opportunity to interact with a legend. It's only a sad scene if you want to see it that way.