After Jin Young Ko's first full season on the LPGA Tour in 2018—a year in which she claimed her second LPGA title and earned the Rolex Rookie of the Year award—the then 23-year-old from South Korea faced a challenge she hadn't encountered in her nascent professional career. With the conclusion of the CME Tour Championship in November, the 2019 LPGA season would begin in three months, a quicker turnaround than she'd previously experienced. What then was the smartest way for a rising talent to juggle the off-season and be in the best shape to pick up where she had left off?
Three years later, the choice Ko made that offseason would turn out to be a fateful one. Rather than rest back home the entire time in South Korea, Ko was swayed to start 2019 in Palm Springs, Calif., participating in a golf "boot camp" with her coach, Si Woo Lee.
"It was about a month of training," Ko told Golf Digest via email, "and within that short period of time it was very tough. But through that duration, I think I was able to have a successful season."
Indeed, Ko proceeded that spring to win two major titles and two more LPGA victories. Her triumph at the Misson Hills Dinah Shore Course in the ANA Inspiration—where she partially practiced at the camp—made her the World No. 1 for the first time.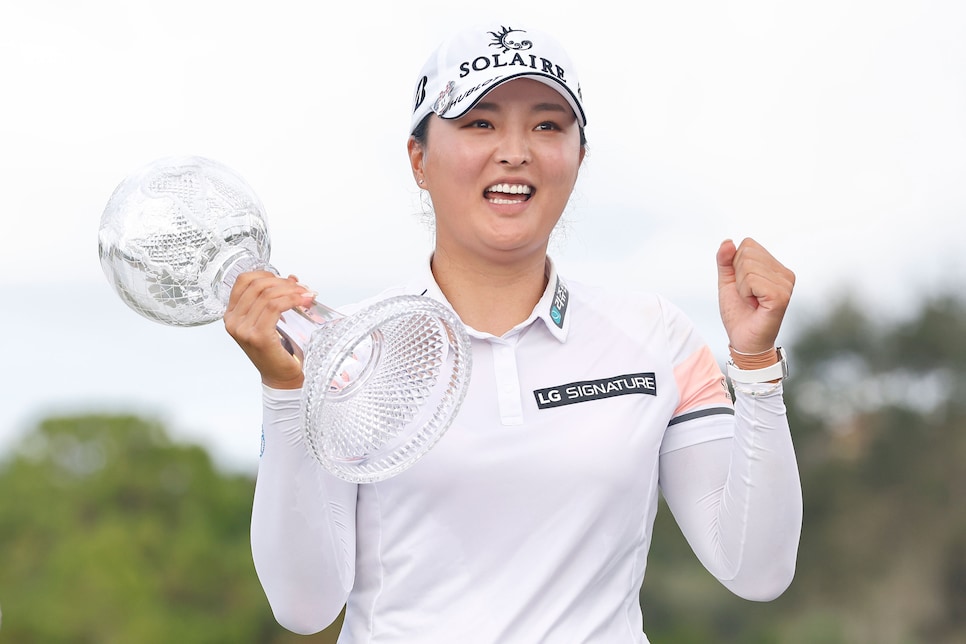 Jin Young Ko capped her 2021 season by winning the CME Group Tour Championship in November and earning Player of the Year honors.
Michael Reaves
Ko sees the January retreat to the California desert as an important part of her schedule, having returned again earlier this year to prepare for the 2022 LPGA season, with a particular eye toward this week's Chevron Championship, the last time the tournament formerly known as the ANA will be held at Mission Hills.
Lee runs the camp as part of his Big Fish Golf Academy, with roughly 20 to 25 players participating for up to two months in January and February at a few Palm Springs courses, including Mission Hills. Lee works alongside four other coaches, but is dedicated to working alongside Ko when she is there. This year's camp was six weeks due to the two-week quarantine in South Korea upon their return.
The daily schedule is a reversal from the downtime Ko previous spent in South Korea, watching K-dramas on Netflix and eating chips. For four weeks, she awoke to a 5 a.m. alarm that allowed her to get loose ahead of a 6 a.m. breakfast. She emerged on the first tee as the sun rose at 6:30 a.m. The group played 18 holes at one of the area courses, finished around 11 a.m., and went off to lunch. Following an hour break, Ko worked with the coaches and focused on all aspects of her game. Three to four days a week, she'd fit in an hour to an hour and a half workout during the practice time.
"When I played with her, her focus, her routine was so consistent," said Binny Lee, a current Epson Tour player who participated with Ko in the 2020 camp. Lee referenced Ko's amazing streak of 114 holes of bogey-free golf that she compiled in 2019, a record for any player on any professional tour. "And that's why she had that bogey-free streak. I think that's the biggest thing. Her focus is another level when she's out there."
Yes, the hours are long, but Ko says she still took time to enjoy being around peers. The World No. 1 introduced herself and made sure it wasn't all about golf when talking to the other participants away from the course. She played host for one of Lee's YouTube channel videos, joking alongside them as she talked inside a cart during a practice round.
"She practiced harder than anyone else," Lee texted. "I joked to other players, 'you guys need to practice harder than world rank No. 1 player!' I, personally, am impressed."
Interestingly, the boot camp has started to overlap with the first few events of the LPGA schedule, all held in Florida in January. Already in the U.S., you'd think Ko might decide to shorten her stay in California to get in some competition. Ko, however, finds the practice time important enough for the long-term approach to the year that she's willing to skip those early events.
"The condition of the grass is perfect, and so is the weather," Ko said. "[It's] great for me to practice."
Ko shared on Instagram her return to work in California in January as it coincided with the Hilton Resorts Tournament of Champions. Ko and Lee posted images on Instagram of her practicing under the desert sunrise, even playing at the Dinah Shore course four days after the Drive On Championship.
"There is no such thing as perfection in preparation," Ko explained, "but I felt that I needed some time in training for myself after the CME competition last year before the season began."
Notably, at the CME Tour Championship, Ko only hit wedges to warmup due to a wrist injury. While the time away from the game helped, Ko kept up physical therapy exercises earlier this year and iced daily.
The tandem's training continued once Ko returned to South Korea before her victory at the HSBC Women's World Championship. Her first day out of quarantine, Lee and Ko worked on a swing change they needed to make that they discovered in Palm Springs.
"The interesting thing I found out from this camp with her was that we still have factors to improve the level of completion of her swing," Lee explained. "Currently, we are focusing on the turn of bottom by improving sequence of core."
They continued to work on the adjustment following her victory before coming to the States. Their continual refinement may explain Ko's assertion after the opening round of the JTBC Classic that her best is yet to come.
"I think it's not coming yet," Ko said despite having posted her 16th straight round in the 60, a streak the finally ended a day later. "It's coming soon maybe."
What she's shown already is impressive on its own. The 26-year-old has won the LPGA money title three consecutive years, even while making only four starts in 2020. Since first becoming the World No. 1 following her 2019 Chevron Championship victory, she's held the top perch for 122 weeks, the second-most in Rolex Rankings history and within shouting distance of Lorena Ochoa's 158 weeks. (Most recently she reclaimed the No. 1 ranking in January after Nelly Korda had held the spot since the previous summer.)
Ko's most recent stretch is looking like her most dominant. Including a victory at the HSBC Women's Champions in February, Ko has won six of her last 11 starts. A closing 63 at the CME Group Tour Championship last November earned her player of the year honors for the second time, beating out Korda in a fiercely contested final-tournament showdown.
"I really enjoyed competing in Mission Hills," Ko said, "and I feel bad that I can't get to see the winners jump in Poppie's Pond [going forward], but I'll do my best to prepare for the first major competition of this season as if it's my last."
The good news: She'll be very familiar with her surroundings.