PGA Tour
Jimmy Dunne had some curious answers in interview about PGA Tour-Saudi deal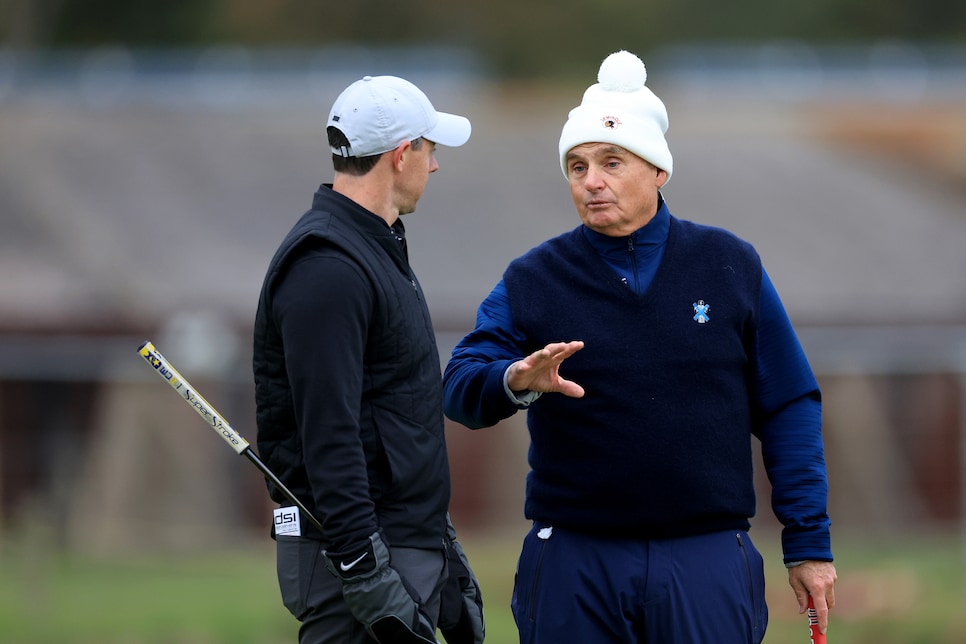 The discovery that Jimmy Dunne played a key role in brokering the framework deal between the PGA Tour and Saudi Arabia's Public Investment Fund was a surprising revelation in the wake of Tuesday's unexpected announcement. Last June, the Wall Street powerbroker seemed to have taken a hardline stance against those who took big-money guaranteed contracts to join LIV Golf, and by extension the source of that funding, the PIF.
"I don't like it when they say they're 'growing the game.' That's crap," Dunne told Sports Illustrated's Michael Rosenberg. "I don't even like it when they say 'I have to do what's best for my family.' I really wonder how many of those guys, the lifestyle that they were living was so horrible that their family needed them to do this. Just say, 'I'm at a point in my career where I [want to] make five times as much money against much weaker competition and play less.' Just tell the truth. Don't cover it with a lot of crap."
Moreover, Dunne had 66 coworkers killed in the September 11, 2001 terrorist attacks—his firm was headquartered in the World Trade Center. Saudi Arabia's connection to the attacks—15 of the 19 hijackers were Saudi nationals—would seemingly make him unlikely to want to work with the PIF, let alone have the initial clandestine meeting with PIF governor Yasir Al-Rumayyan.
Dunne has been interviewed by a handful of media outlets the last few days, addressing the how and the why of the initial meeting. "I came to the table not being comfortable with criticism why [the PGA Tour] didn't meet with them," Dunne told the Associated Press. "If you look at what happened [with LIV], we never would have done anything they did. We never would have hired Greg Norman. We never would have him flying to an event in a parachute. We never would have done so many of these things.
"What does that tell me? That I have no idea what they're thinking," Dunne said. "And when you have no idea what an adversary is thinking, I want to ask them, not their lawyers. I want to ask them directly."
Dunne appeared Thursday on Golf Channel's "Golf Central" and during a lengthy interview with George Savaricas was asked about his changed stance toward the PIF, prefaced by the fact that 9/11 victims groups have come out critically of the tour's new arrangement.
"Every day, the first thing that I think about is [September 11]," Dunne said. "Several times during the day, I think about it. And the last thing I think about at night is that That has not changed since that day. And I'm not alone in that I would guarantee that every one of those family members has that same condition. It is just a reality of how unbelievable sad and awful that day was."
But then the next part of Dunne's response caught many off guard.
"I am quite certain—and I have had conversations with a lot of very knowledgeable people—that the people I'm dealing with had nothing to do with it," Dunne said. "If someone can find someone that unequivocally was involved with it, I'll kill them myself. We don't have to wait around."
Dunne continued by saying: "We need to come together as a people. We have too much divisiveness. There's a point in time when you have to say, 'let's try to get to know one another. Let's try to understand, let's try to demonstrate by example.'
"I believe that we should not run away from our differences and we should get to know each other and basically make it difficult so that the extreme, vicious, immoral aspects of the people of the world, we don't have to have a family deal with what we dealt with 20-plus years ago. As awful as it was for me, it was way worse for other people. I can't imagine if one of my children were involved. I have a real empathy but I'd like to do something about it … that starts with communicating."
The curious response wasn't the only thing that had Golf Twitter talking from the Golf Channel interview. At one point, asked if the PIF now owns pro golf given its financial position in the new entity, Dunne took an emphatic tone, noting that PGA Tour commissioner Jay Monahan would be the CEO of the new group and the tour would always maintain control.
"People will say a lot of ridiculous things. And it's hard sometimes to listen to them. … But under the heading of insane, you can put that one," Dunne said.
He also noted: "By definition, as much as I liked the people I dealt with, the game of golf is too important, the legacy of the PGA Tour is too important. The people that we have in place have too much experience that we have no desire, no need—there is no way on God's green earth that we're going to give up control."
In speaking to the media Tuesday, Monahan acknowledged the financial burden the tour has taken on in the fight against LIV. Dunne, however, said that the tour was in a strong enough position to walk away from the deal if the conversations with Al-Rumayyan weren't going the way the tour had hoped.
The response confounded the show's co-host, Johnson Wagner, who is also a member of the PGA Tour. After 25-minute interview was over, Savaricas asked Wagner for his thoughts.
"I've got tremendous respect for Jimmy Dunne, what he's done for the game of golf, I've been around him numerous times, a wonderful gentleman. But I just don't understand … if the tour was so healthy, why? Why do you need this influx," Wagner said. "It's shocking to me, I don't think we're getting that answer. And I think that's why players are so frustrated."
You can see the Golf Channel interview in its entirety here.