The Loop
Jimenez's 66 recalls the time a 54-year-old Ben Hogan went low at the Masters
AUGUSTA, Ga. -- Miguel Angel Jimenez's third-round 66 at age 50 in the Masters recalled a long-ago Saturday at Augusta National GC when an older, more famous senior golfer shot the same six-under score.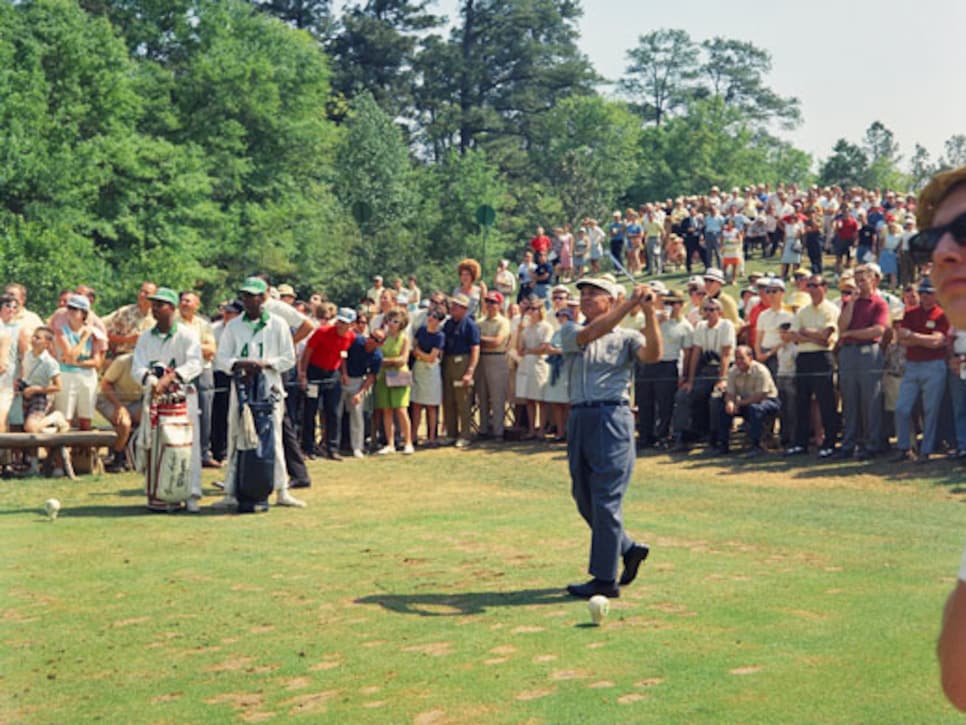 Hogan hadn't competed since the previous year's U.S. Open when he showed up at the 1967 Masters. Photo by Getty Images
Ben Hogan was 54 in the spring of 1967. His body had never been the same following the 1949 car-bus accident that almost cost him his life. To be able to play in his 25th -- and what would be final -- Masters, Hogan received nearly 20 cortisone shots in his painful left shoulder.
He hadn't competed since the 1966 U.S. Open at Olympic Club, where he was T-12 after getting into the field on a special exemption. But an expert of making the most out of the limited tournaments he was able to play after being badly hurt in the crash, Hogan could still hit the ball superbly. It was the putter that sometimes felt like a snake in his hands, to the point where he struggled to draw the club away.
Hogan's 74-73 start in 1967 was nothing special -- he missed a couple of putts of less than two feet. Then came the third round, more accurately, the second nine on Saturday. "I remember that day," recalled Chi Chi Rodriguez, who played one group behind Hogan. "Man, he was like a surgeon."
Hogan turned in even-par 36, but then got on a roll and temporarily turned back the clock. Birdies at Nos. 10, 11, 12 came off shots to seven, one and 15 feet. He followed those by two-putting the par-5 13th from 15 feet for birdie. After a par at the 14th, Hogan made another two-putt birdie on 15. He didn't disappoint the throng at 18th either, sinking a 25-footer for birdie to come home in 30. Those who weren't cheering were crying, so improbable had been Hogan's afternoon.
The 66 got Hogan within two shots of the 54-hole lead, but there wasn't to be a Sunday charge. He was tired. He was 54. And when he bogeyed the second, third and fourth holes, he was done. Hogan shot a 77 and finished T-10. The standing ovations along the way weren't for how he was playing 24 hours after that beautiful back nine, but for who he was.