The Loop
With history on the line, Furyk finally finishes strong
LAKE FOREST, Ill. -- As wonderful a golfer as Jim Furyk has been, he has known all too well the feeling of letting a tournament slip from his grasp, like a glass of milk souring in his hands just before he could take a drink.
Pursuing one of golf's rarest feats -- its magic number -- Friday afternoon in the second round of the BMW Championship, however, Furyk seized the moment and became only the sixth golfer in PGA Tour history to shoot a 59.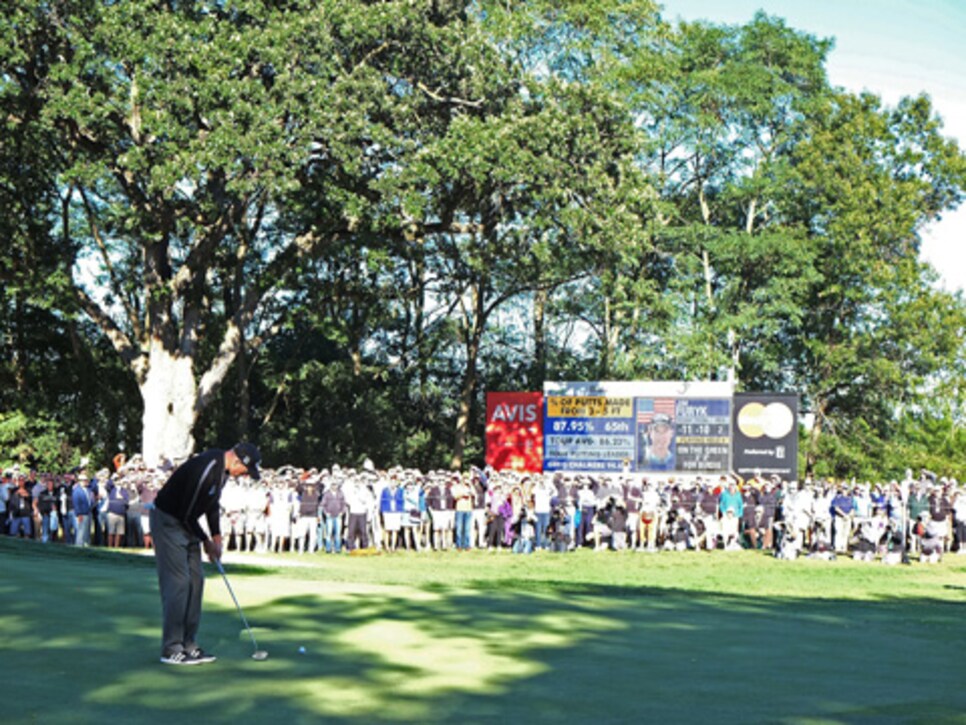 Jim Furyk sinks a birdie putt on the 18th hole to finish with a 59. Photo: Bill Fields
Furyk's was a 12-under gem at Conway Farms GC on a sunny, breezy day when the next best score was 65 and the field average was a fraction over par (71.026) as he assumed a share of the 36-hole lead with Brandt Snedeker.
For the wiry, feisty 43-year-old who counts the 2003 U.S. Open among 16 PGA Tour victories, it was a joyous, happy day that he ranked among his career highlights. It was a round in which he hit 14 of 14 fairways, 17 of 18 greens and required just 23 putts.
"Some days you look at putts and [you] can't visualize where they are," Furyk said. " 'Is it left edge or is it just out [of the hole]?' Today, I'd just look at a putt and say, 'It's a ball out.' I could draw the line and get lined up, and a lot of them went in."
The putt that took Furyk into the history books was a three-foot birdie putt on his 18th hole (the par-4 ninth) after hitting a 103-yard gap wedge. Before he putted, a spectator yelled, "Jimmy, I'll give it to you." Furyk acknowledged the man with a smile and wave, then called on the memory of a similar putt that he made, on the 72nd hole of the 2010 Tour Championship when he won the event and the FedEx Cup.
"It reminded me of the putt to win the FedEx Cup exactly," Furyk said. "It was probably just a touch longer and it was almost the same putt -- a little downhill slider left-to-right. I always try to [recall] times when I've done something well, and it was like, hell, I knocked that one in. It's the same putt, it's left-center, just hit it solid and see what happens. I don't really remember even striking the putt or what it felt like when it left the putter or anything."
Furyk broke 60 despite a bogey on his 14th hole, becoming the first PGA Tour 59-shooter (Al Geiberger, Chip Beck, David Duval, Paul Goydos and Stuart Appleby are the others, while Annika Sorenstam did it on the LPGA Tour) to have a blemish on his scorecard. After the three-putt, though, he rebounded with an 11-foot putt two holes later to get back to 11 under for the day and bring 59 back into play.
He played his first nine in eight-under 28, boosted by a hole-out eagle with a 9-iron on the par-4 15th hole. Furyk jarred the approach moments after talking with fellow competitor Gary Woodland about having been in Tiger Woods' grouping the time he holed out on the 15th hole at Pebble Beach during a frenetic comeback victory at the 2000 AT&T Pebble Beach National Pro-Am.
"Literally within the next two minutes, he holes it," Woodland said. "It was impressive. He was in the zone today. It's the greatest round I've ever seen. He drove the ball unbelievably. He rolled the ball. He managed that golf course better than anything I've ever seen."
Furyk did it with veteran caddie Mike (Fluff) Cowan alongside. For Cowan, who has caddied on Tour since 1976, it was like working for Peter Jacobsen in the final round of the 1988 U.S. Open at The Country Club, only better. "Peter shot 64 the last day and we started that day with seven straight 3s," Cowan said. "He had it about 12 feet on No. 8 and missed. That was pretty efficient. But this is 59."
During on a 10-minute wait on their 17th hole, Woodland and Furyk killed the time by talking about wedges and pro football, Woodland razzing the veteran about his beloved Pittsburgh Steelers. Although Furyk failed to birdie the par-5, the chat relaxed him.
"I was kind of smiling when I was getting ready to hit my drive," Furyk said. "I actually quit thinking about trying to shoot 59, which was a good thing really."
In addition to dealing with disappointing losses at the 2012 U.S. Open and WGC-Bridgestone Invitational, and losing a tough singles match at the 2012 Ryder Cup, as well as getting beaten by Jason Dufner at the 2013 PGA Championship, Fuyrk arrived at the BMW having not been chosen by Fred Couples as a captain's pick for the United States Presidents Cup team. It will be the first time in 15 years Furyk hasn't played for an American squad in an international match.
"I was bummed about it, but I'm not really a spiteful person," Furyk said. "I didn't go out there with a chip on my shoulder to prove anything to anyone this week. I feel like my career has spoken for itself."
Thanks to a round for the ages it shouted on Friday, and, out of character, the business-like Furyk was going to savor his accomplishment.
"I'm going to try to enjoy this," he said. "I'm not a smell-the-roses type of guy, but how many times am I going to shoot 59 in my life? I'm going to enjoy this one a little bit tonight, and I'll have a big, fat smile on my face when I go to bed."
If Furyk didn't sleep well, it wouldn't be because he was worried about how he was playing.
When a reporter mentioned to Cowan that Furyk's score might well have been a 58, the longtime looper said softly, "Fifty-nine will do."