U.S. Senior Women's Open
Jill McGill outplays legends to win U.S. Senior Women's Open, joins a small elite club that includes Arnie, Jack and Tiger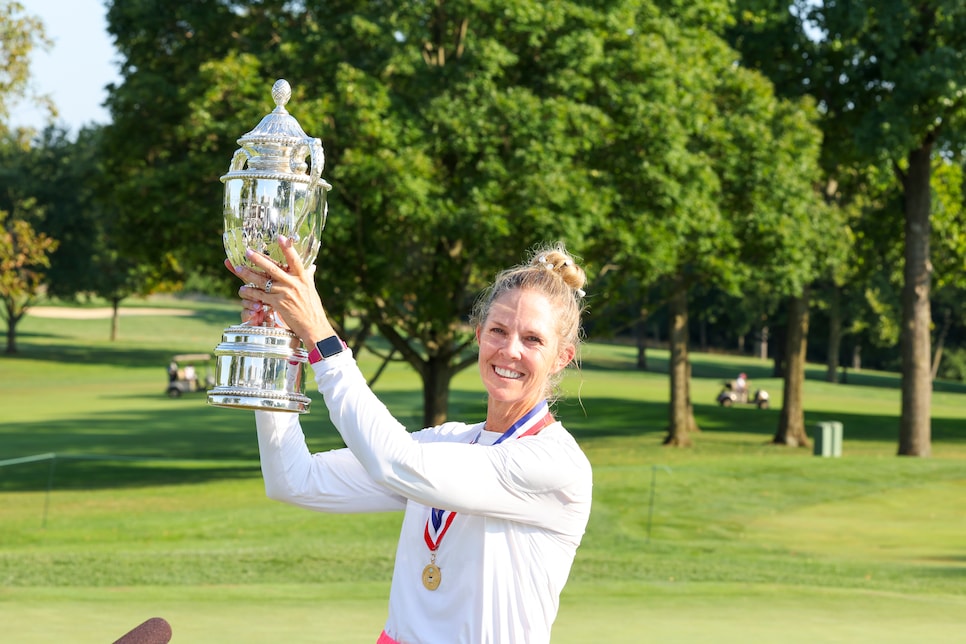 Who could have seen this coming: Annika Sorenstam and Laura Davies, World Golf Hall of Famers, legends of women's golf, on a competitive walk down memory lane in the U.S. Senior Women's Open on Sunday, giving way to a relatively obscure player whose unlikely victory placed her name alongside Arnie, Jack and Tiger?
Jill McGill, 50, a non-winner in 15 years on the LPGA, quit playing tournament golf nine years ago and in recent years took up tennis. But a U.S. Women's Amateur victory in 1993 gave McGill an exemption into the U.S. Senior Women's Open at NCR Country Club in Kettering, Ohio, and playing alongside Sorenstam in the final round, she emerged the winner.
In so doing, McGill, who in '93 also won the U.S. Women's Amateur Public Links title, became just the sixth player to win three different USGA events, joining Palmer, Nicklaus and Woods, as well as JoAnne Carner and Carol Semple Thompson.
"It must be the USGA," a beaming McGill said. "These are the only events I win. It's been a long time coming for a professional win, but I'll take it. To be in that company is tremendous. I mean, one professional win, but I'll take it. That's amazing."
McGill shot an even-par 73 in the final round for a 72-hole total of three-under-par 289, one stroke better than runner-up Leta Lindley and two better than Catriona Matthew and Helen Alfredsson. Sorenstam and Davies, with scores of 77 and 78 respectively, tied for fourth, along with another World Golf Hall of Famer Juli Inkster.
Davies, 58, who won the inaugural Senior Women's Open in 2018, appeared headed to victory, expertly protecting a two-stroke lead through 11 holes, when she imploded on the par-4 12th. She came to the 12th tee having not made a bogey in 35 holes, then hooked her tee shot into trees. Her second shot hit a tree and caromed out of bounds. Her fourth shot also clipped a tree, and she would up making a quadruple-bogey 8, going from a two-stroke lead to a two-stroke deficit.
"I just think the overall week, it just wore me down, and then the heat today," Davies said. She was noticeably limping throughout the championship, the result of an Achilles heal injury. "I mean, it's just an accumulation. It's three weeks of walking with a hobble, the pressure of a final round, and well, I was going really well until the quad."
Sorenstam, meanwhile, opened with a birdie to join Davies and Alfredsson in a tie for the lead, the three of them having won the first three U.S. Senior Women's Opens. But Sorenstam bogeyed four holes in a five-hole stretch on the front nine to fall from contention while Alfredsson's bid unraveled with three consecutive bogeys early on the back nine.
"I love the golf course," Sorenstam said. "The support has been fabulous, the weather, everything has been great. I wish my game was a little better, so obviously disappointed. I didn't drive it well enough. I've been driving it well coming into this. I made birdie on the first and felt great and then somehow just my wheels came off. I really can't pinpoint it. It was just difficult to get the momentum."
McGill, meanwhile, led by four at one point on the back nine, a cushion she needed when she closed with consecutive bogeys.