News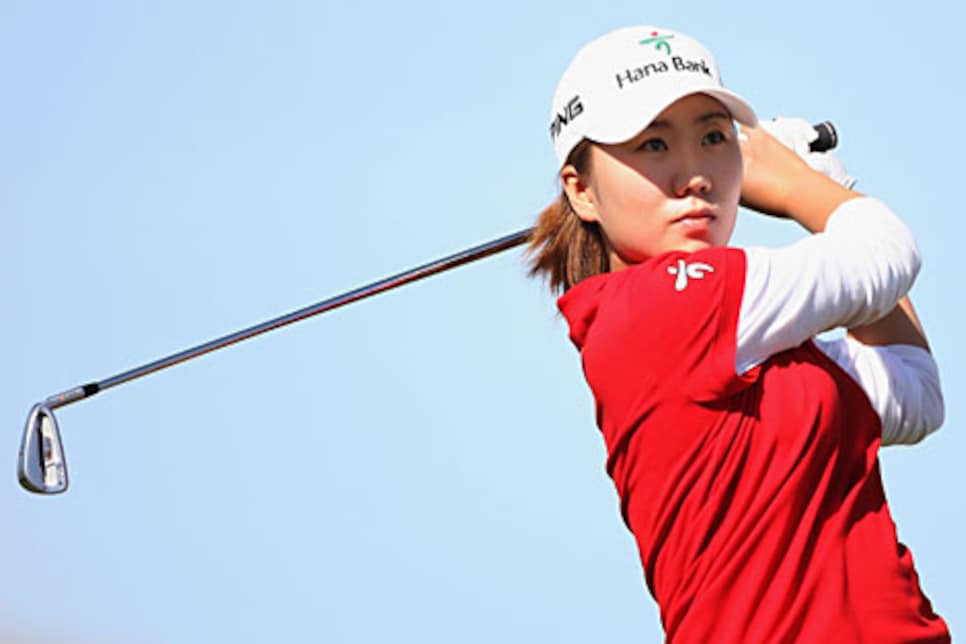 In-Kyun Kim had six birdies and two bogeys on Friday to take a two-shot lead over Suzann Pettersen and Australia's Karrie Webb
PHOENIX (AP) -- An aching stomach didn't ruin In-Kyung Kim's day in the Arizona sunshine.
Kim shot her second straight 4-under 68 on Friday to take a two-stroke lead halfway through the J Golf Phoenix LPGA International.
The 20-year-old South Korean had six birdies and two bogeys to retain the top spot on the 6,711-yard Papago Golf Course.
Norway's Suzann Pettersen (69) and Australia's Karrie Webb (68) were second at 6 under, and South Korea's Eun-Hee Ji (70) and Song-Hee Kim (69) were 5 under.
Two-time defending champion Lorena Ochoa had a triple bogey en route to her second straight 72 and was eight shots off the pace at even-par 144.
Michelle Wie struggled to a 4-over 76, but made the cut at 5-over 149.
In-Kyung Kim finished off the day with eight straight pars and a troublesome stomach.
"I really had a stomach ache on the back nine," Kim said. "I think I had too much fruit this morning. So I had to take some pills on 16 or something. I feel better now."
"No more strawberries," she said.
Kim earned her first LPGA victory last year at the Longs Drugs Challenge, a performance that she said has eased the pressure when she's at or near the top of the leaderboard.
"Before winning the tournament, actually the expectation of others in Korea, I was kind of under that," she said, "so it was good to step out, you know, and to step forward. So winning is always fun. I just want to play good every week."
The strong wind of Thursday's first round, with gusts approaching 40 mph, subsided to ideal conditions Friday.
"It was nice to come out and not lose your hat on the first tee," Pettersen said.
Scores weren't noticeably lower, though, as players grappled with the difficult greens on a municipal course that was closed for renovation most of last year before reopening in December.
"I think the hardness of the greens is what is protecting this golf course," Pettersen said. "... These greens, there's hardly any grass on them, and the grass that's on it is quite dead and fairly new, so it's not holding the ball."
Pettersen, playing the back nine first on the course near the giant red rocks of Papago Park on the eastern edge of Phoenix, had four birdies to make the turn at 4-under 32, but had bogeys on the fourth and eighth holes coming in.
"You're going to make bogeys out there," she said, "but there are plenty of birdie chances as well, so you have just got to make sure you grab some of them."
Webb pulled into a tie for second with a birdie on the 18th. The 35-time tour winner is seeking her first victory in two years.
"I still know my game is good to compete week in and week out with the top players," she said. "I just haven't put it all together, but I've been pretty happy with my progress at the start of this year and two great rounds to start this tournament."
Angela Stanford shot a 67 Friday and was tied with Jiyai Shin at 4-under 140.
Ochoa hit her tee shot in the water on the par-3, 158-yard second hole.
"I hit the wrong iron," she said. "It was a little bit windy. I misjudged the wind. Then I put it on the green and three-putted from 30 feet."
A student at Stanford, the 19-year-old Wie hadn't played on the tour since her runner-up finish at the season-opening SBS Open at Turtle Bay. After her round, she worked out on the driving range with coach David Leadbetter.
"It was a struggle," she said of her day. "It's weird because I didn't feel like I shot my score. I felt like I shot a lot better. Just a couple of missed putts here and there and a bad drive, but overall I felt pretty good. I just couldn't make things happen, couldn't get it going."
The Phoenix event, long a favorite stop on the LPGA Tour, lost its sponsor and home course after last season. The LPGA stepped in to save the tournament, and it was moved from the Superstition Mountains Golf Club east of Phoenix back to the city, where crews scrambled to get the court in shape for the event.
The tournament is the final tuneup for the season's first major, the Kraft Nabisco Championship in Rancho Mirage, Calif.