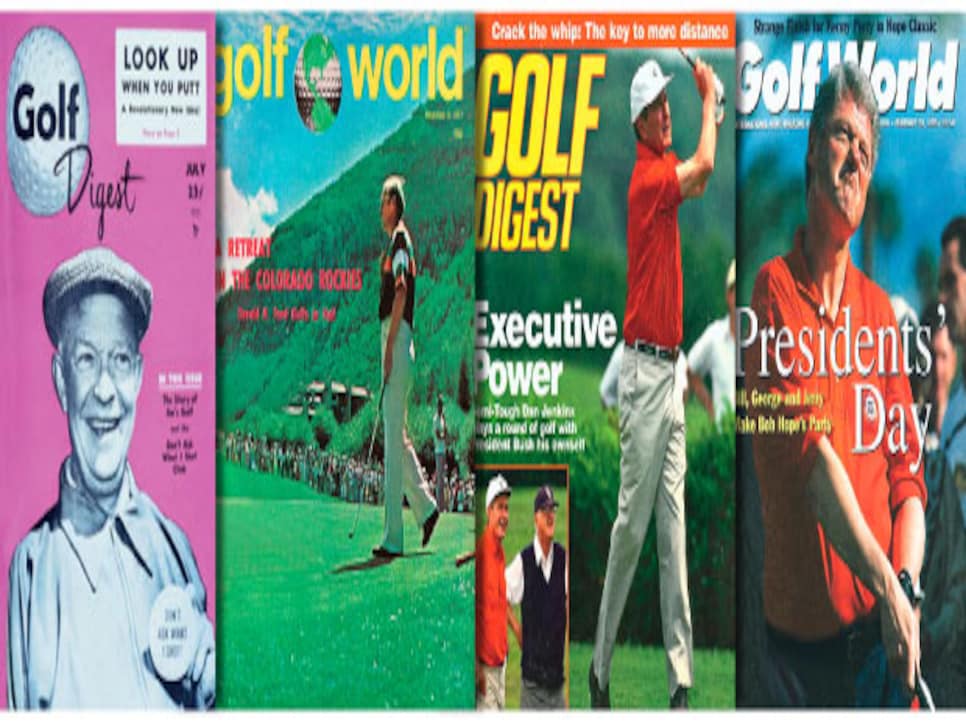 Four previously featured presidents (from left): Dwight Eisenhower, Gerald Ford, George H.W. Bush (with Dan Jenkins) and Bill Clinton.
Golf needs the help. That's why President Obama is on the cover of Golf Digest this month. Maybe it's simplistic to say, but we're hoping Tiger and Obama can do what Arnie and Ike once did.
When the leader of the free world loves golf, it can't hurt the game's chances. Awhile back we decided to publish in this magazine every photograph we could find of Obama playing golf. Memo to Washington: Golf is OK.
Did I mention that the golf industry accounts for 2 million jobs with a total economic impact of $195 billion annually? We need to get that message across to Congress and this administration.
As golf leaders gear up to launch a government-relations program for the first time, Joe Steranka of the PGA of America says: "The golf industry is misunderstood, and a serious, well-constructed plan must be adopted or golf risks further erosion of its reputation, continued legislative injustice and ongoing lack of public support by congressional leaders, their staff and federal-agency personnel."
Our magazines, Golf Digest and the newsweekly Golf World, have a tradition of reporting on the golfing presidents and putting them on our covers. In May 1953, Golf Digest wrote presciently: "Golf interest and activity in this country is in for quite a popular spurt, it would seem, stimulated by all the good publicity the game is receiving as a result of President Eisenhower's great enthusiasm for it."
One of my favorite stories we published was about President Kennedy, who invited Abraham Ribicoff to play nine holes while the Cabinet was being picked. The press asked Ribicoff what he shot. "Forty-three, and Mr. Kennedy beat me by a stroke," he said. Ribicoff actually had shot 38 to Kennedy's 42. JFK had a wire sent to him quickly: "President deeply disturbed at newspaper report of your golf score, insists that anyone connected with his administration be as clean as a hound's tooth. Please wire if you get work." Kennedy appointed him Secretary of Health, Education and Welfare.
Dan Jenkins wrote a rollicking cover story after playing with his friend George H.W. Bush. And Tom Friedman interviewed President Clinton during his final days in office--remember Clinton's line: "Golf is like life . . . All the biggest wounds are self-inflicted." Despite repeated attempts with President George W. Bush, Jenkins had no luck getting a match but wrote a profile of The Bush Dynasty" in October 2005. (See golfdigest.com/go/presidents for a selection of presidential stories.)
So tell me again why Obama is on our cover? I yield to that interview with Clinton, whom we asked: If all the world's leaders played golf, would it be a better place?
"Well, I think it might be a little more relaxed," he said. "I think golf is a game, when you're playing with other people, that's sort of filled with respect and a sense of common humanity. And I think that it's harder to deny the validity of your playing partner's existence. So if people played golf more with their adversaries, I think it'd be better, because they'd still have differences that would be sharp and profound, but there'd be a little more empathy. It'd be good."