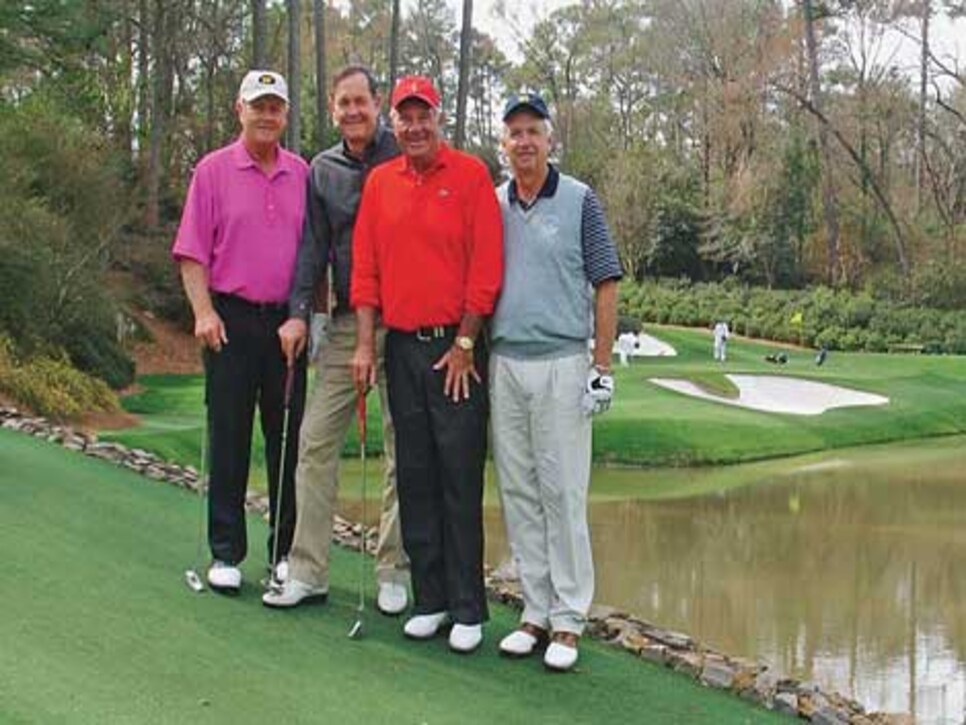 The buddies at Augusta National's 12th hole: Jack Nicklaus, Cliff Drysdale, Butch Buchholz and Leigh Livesay.
Even Jack Nicklaus takes golf vacations. He and three buddies watched the men's tennis final at the U.S. Open this September and spent the rest of the week playing golf on Long Island. They played 18 holes at Friar's Head, 36 at Sebonack and 18 at Atlantic. Jack shot 71, 74, 72 and 76 -- not bad for a guy turning 70 in January.
That was their fall buddies trip. Back in March, Jack flew the foursome in his private jet to Augusta National, where they played 18 on the big course, had dinner and stayed overnight in a club cottage. After 18 again the next morning, they played the Par-3 and flew home. Among buddies golf trips, how sweet is that?
Jack's golf pals are Cliff Drysdale, a former tennis pro and now an ESPN announcer; Butch Buchholz, a Hall of Fame tennis pro; and Leigh Livesay, a friend who owns a tree and landscaping business in Miami.
The foursome has been together for about 12 years, often teeing it up at the Nicklaus-designed Bear's Club in the morning and then playing tennis on three impeccable grass courts at Jack's home in North Palm Beach. Drysdale and Nicklaus are partners in tennis but opponents in golf. "Drysdale is always getting too many shots from me," says Nicklaus.
His buddies have Handicap Indexes in single figures, and Jack now plays from the members' tees and gives them only their course handicap. The standard game is a $10 four-ball nassau and $50 individual closeouts. (A closeout is a popular bet in which you play 18 holes for a set amount of money. If the match is lost before the 18 holes are concluded, you may press the remaining holes for half the original wager.)
"That's the most money I've ever played for," says Jack. "Arnold and I used to play for $20 in practice rounds."
Getting strokes, Drysdale once shot a 76 at Loxahatchee to beat Jack's 74 and "never stopped talking about it," says Buchholz. "I think he's beaten Jack one time since. Cliff fails the ultimate IQ test -- he presses Nicklaus on 18 without shots."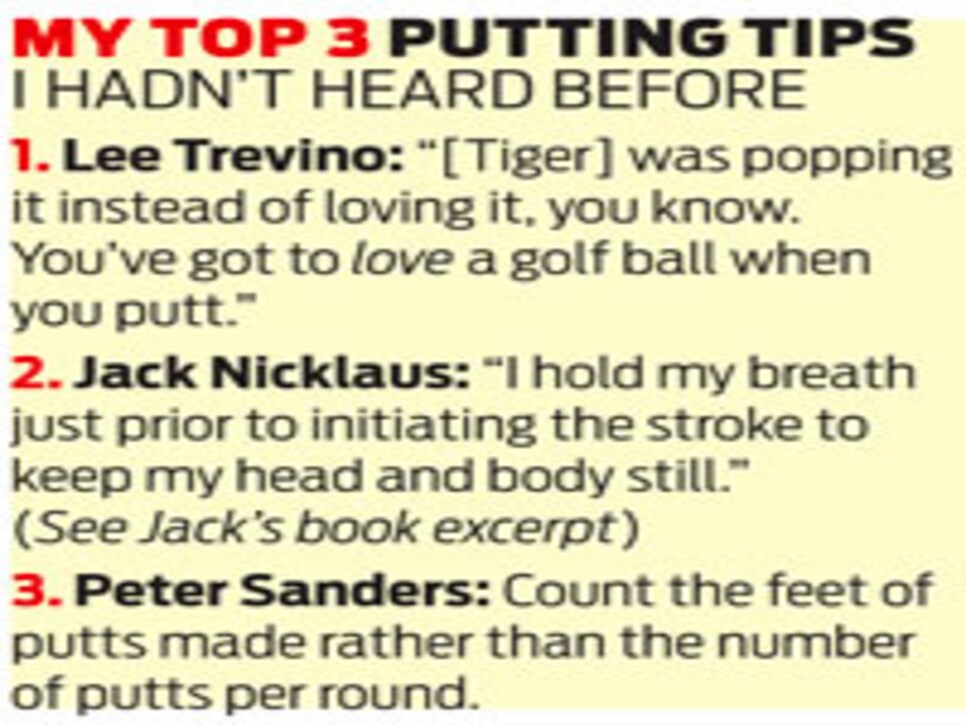 The payoff has always been in $50 bills. When Jack would come home from playing Drysdale, he'd give Barbara the fifties, which she would tape to the inside of the pantry door. Soon the kitchen cabinets were papered with Drysdale's $50 bills. When the Nicklauses had their house remodeled a couple of years ago, the cash was carefully removed, stored and re-taped inside the new doors. Visitors are shown the kitchen cabinets with more pride than Jack's trophy collection.
"I give Jack a lot of smack," says Drysdale, "and he's a quick learner because he gives it right back."
"Jack doesn't play much golf anymore or get excited about it," says Livesay. "I think the most fun he has playing golf these days is with our group."
"He's just one of the guys," says Buchholz. "I think he wonders sometimes what he's doing out here with us clowns."
Jack says their next road trip is to Columbus, Ohio. He's got a golf course there he wants to show them.