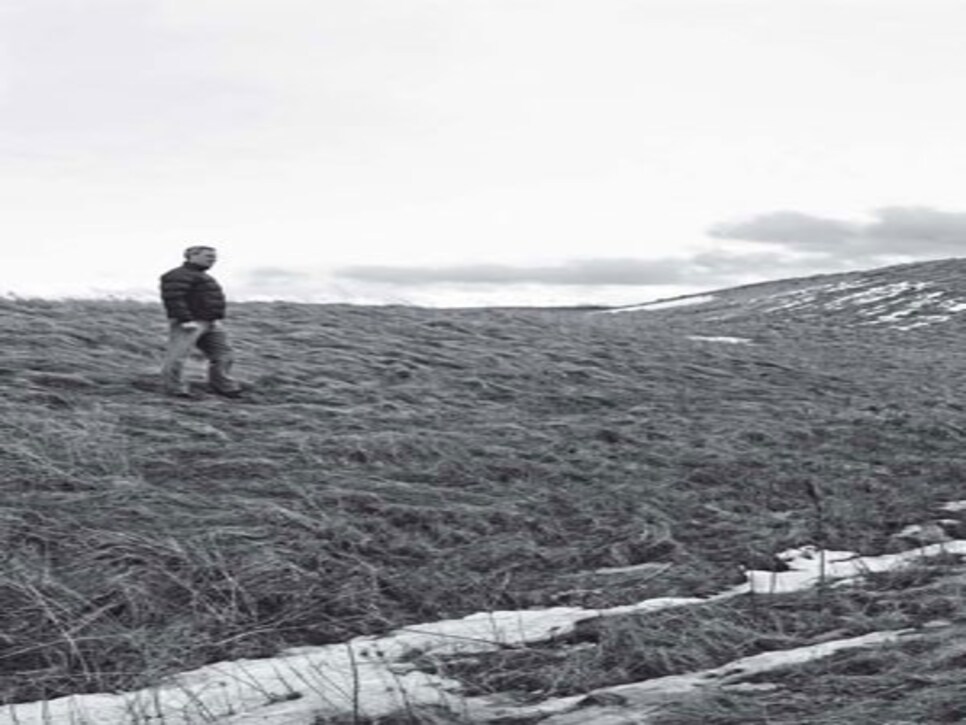 My favorite innovator: Mike Keiser, the man behind Bandon Dunes.
I'm sitting here in my Connecticut office at 8 o'clock on a summer's night, and the temperature has climbed to 90 degrees because some bean counter (I originally wrote "accountant" when it was 80 degrees) cut the air conditioning off at 5:30. You might ask what this has to do with the price of golf balls, and I will tell you.
This issue is dedicated to golf innovations -- the top 60 since Golf Digest's founding in 1950 are ranked in order by the staff (view entire list
). I had argued unsuccessfully that air conditioning should have been on the list, and now I'm convinced I was right. There is not a breath of air in this room. Don't tell me it was invented in 1902. Metal woods were made by Kaiser Aluminum in the 1940s, but they weren't popularized until Lee Trevino won the 1984 PGA Championship with one -- and my fellow editors ranked metal woods first on the official list.
If it weren't for air conditioning, there would not be a Florida or an Arizona, and there certainly wouldn't be a Las Vegas. Golfers simply wouldn't retire. They would stay in New York and Chicago, because Northern Michigan and Vermont would be paved over. We couldn't fly without air conditioning, so forget American tourists playing golf in Scotland and Ireland. And all office buildings would require windows that open, risking a higher suicide rate among low-handicappers because everybody knows that the better you play, the more frustrated you become.
Forgive me if I'm talking gibberish, but the oxygen is not getting to my brain. My second recommendation discarded by the staff was "power steering." I remember Cary Middlecoff telling me it changed the way everybody played. When you drove your automobile to the course, it literally took nine holes to get the tension out of your forearms. Slicing was a national epidemic. Power steering was introduced commercially on passenger cars in 1951 by Chrysler; General Motors followed in 1952. Arnold Palmer won the U.S. Amateur two years later.
My third largely ignored suggestion was Surlyn, an ionomer resin invented by the DuPont chemist Richard Rees in the late 1950s, then manufactured as an uncuttable cover for golf balls by Bob Molitor, a chemical engineer working for Spalding. Back then, the Spalding Top-Flite was kind of a bounding rock that no self-respecting player would use, but eventually it drove soft balata covers out of the market, and everybody now plays with durable balls that also spin, stop and withstand bellied wedges from 100 yards. When I was growing up, golf balls were $1.25 apiece, and the price never went up. I just paid $100 for a dozen Pro V1s in the shop at Pebble Beach. Maybe we were better off when golf balls smiled.
In case you're having trouble hearing me, I just stuck my head in a refrigerator. The fourth innovation on my hit list is "501(c)(3)," which is not an ionomer resin but a line in the Internal Revenue Code discovered by PGA Tour commissioner Deane Beman and used to reinvent pro golf as a nonprofit corporation with a volunteer work-force that made journeymen millionaires and ex-wives even richer, if you know what I mean.
Finally, No. 5 is Bandon Dunes, the brainchild of my favorite innovator, Mike Keiser, who found Scotland on the shores of Oregon. He's the most successful creator of remote-destination golf. That is, if you don't count Dick Youngscap and his private Sand Hills Golf Club on the shores of Nebraska, which reminds me of that exchange between Humphrey Bogart and Claude Raines in the movie "Casablanca":
"I came to Nebraska for the waters."
"The waters? What waters? Nebraska is in the sand hills."
I told you the heat was getting to me. Back to Oregon. I just returned from playing Old Macdonald, Keiser's best new course of the year, or was it the only new course of the year? His real innovation is making money in a business when everybody else is losing money. He says if you build it good enough and don't put in any waterfalls, make it plenty wide and not too expensive, they will come. The other nice thing about Bandon is, the wind blows 20 miles per hour every day all summer long -- and you never have to turn on the air conditioner.