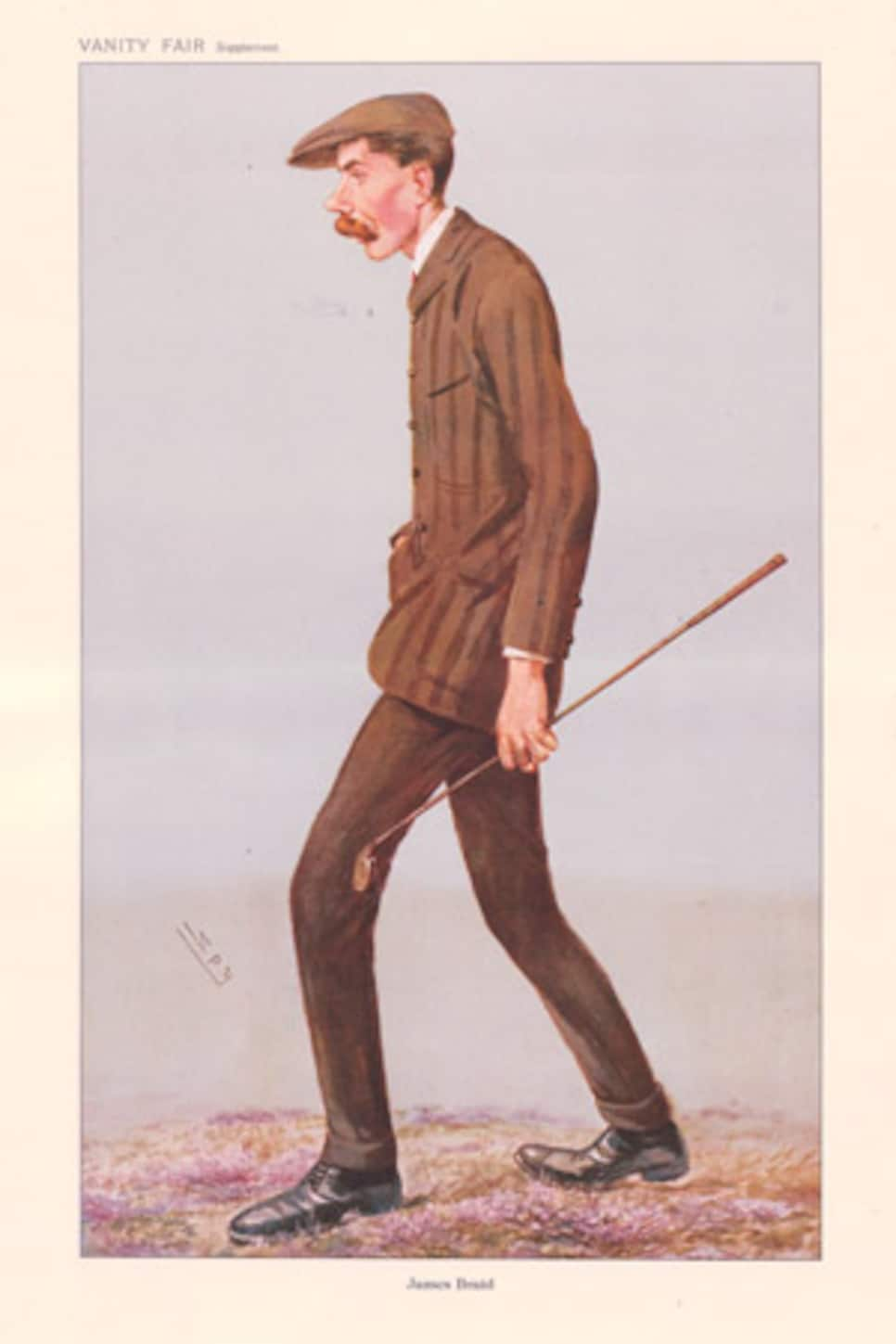 The best and worst shots on a golf trip to Scotland last summer were both hit by a buddy of mine, an international banker who bears an uncanny resemblance to James Braid, the tall and lanky five-time British Open champion whose caricature by the English artist known as Spy adorns clubhouses the world over.
The worst shot came on the last day of our weeklong adventure when we had grown so accustomed to having single caddies chart our every step that we relied on them with unquestioning fealty, or at least Braid did. The last match of the trip would determine the overall winner of our pool, and remarkably Braid and I had a 3-up lead. On the par-5 12th at Crail, I was out of the hole, but Braid was solidly in play. He asked his caddie the distance to the hole and took a 7-iron.
"Are you sure?" he said to his caddie, known as Bil with one l, like his father, Phil with one l (as Bil had described himself).
"Doesn't look that far; gimme the 8," said Braid, who then made a perfect arabesque swing and flushed his ball 100 yards over the green.
I came running up to him. What the heck happened?!
"He gave me the wrong yardage. He said it was 150."
Braid, I said, you were fifty--not one-fifty! Five-oh! Are you deaf and blind!
"Bil wanted me to hit the 7!" Braid explained.
He wanted you to run it up.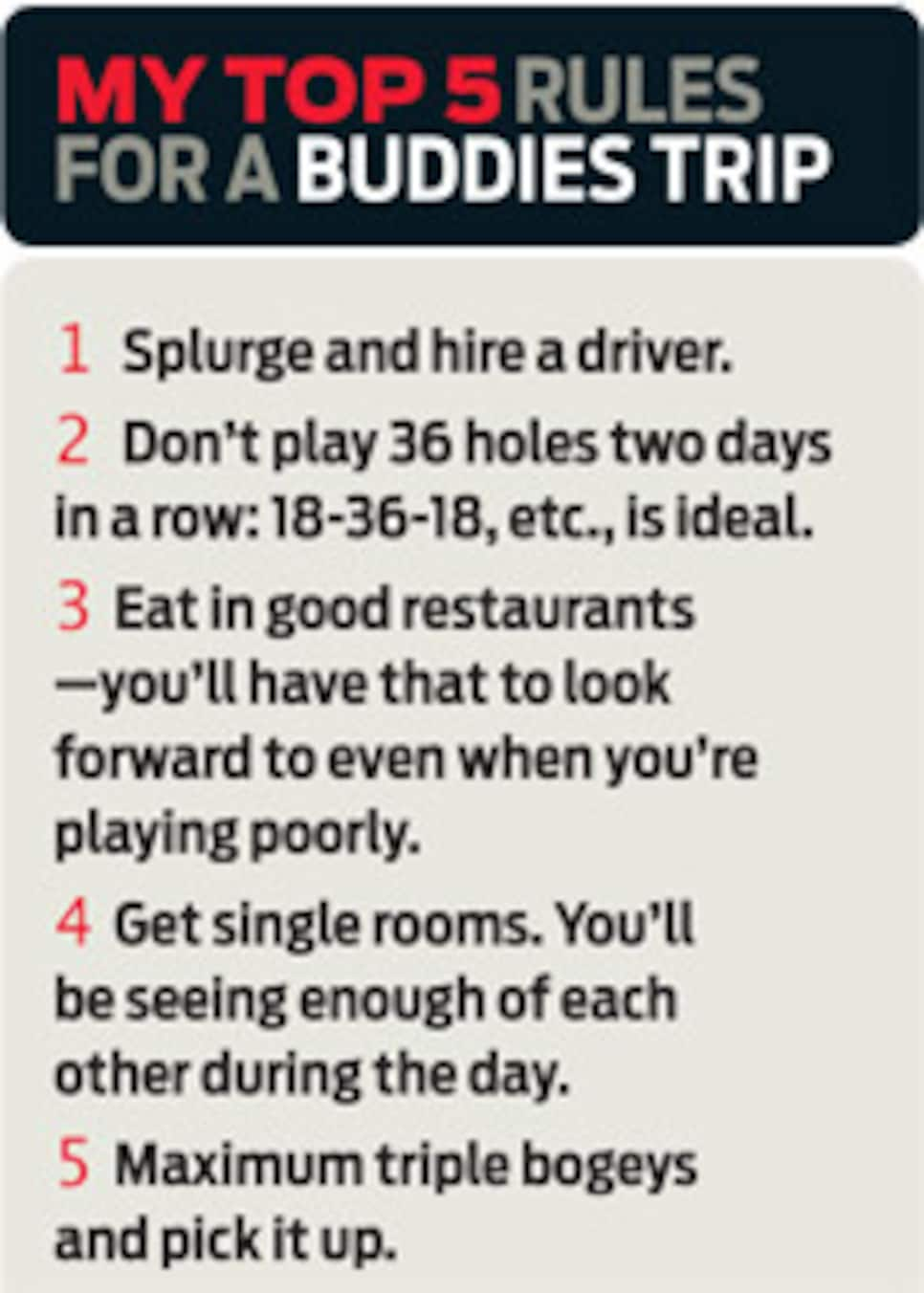 Not exactly a Ryder Cup moment, but immediately I could sense this was one of those turning points you encounter in life and in golf that is like a knife piercing all of your tires. It seemed to affect me more than Braid. (Others I've shared the above anecdote with said it might go a long way toward explaining the international banking crisis.)
On the next tee, I walked over to one of our opponents, Seattle Slice, so named because of an earlier buddies trip to Washington state, when his fades were so exaggerated he had to start the ball toward Seattle to land it in Tacoma.
"Seattle," I said more colorfully, "I just know we're going to lose this match to you!" And, of course, we lost the next two holes and the 18th to get beaten, 1 down.
Seattle is known for two other proclivities on these trips: He is the best putter under pressure I've ever seen (note to self: I've attended 33 Masters), and he invented the Four Categories of Knowledge. Seattle says everything with underscored finality as if he really knows what he's talking about. Example: "The perfect day of golf is 27 holes, not 18 or 36--27!" If challenged, he identifies his source as
(1) having read it somewhere,
(2) saw it on television,
(3) witnessed it in person, or
(4) simply made it up. On these buddies trips, when he states a fact of outlandish proportion, the group shouts in unison: "Category Four!"
The last member of our traveling foursome is our best player, longest hitter, chief organizer and grape connoisseur whom we call Bacchus, God of Wine. His greatest contribution to our summer trip, besides researching and making all the bookings, was insisting that we hire a driver, who turned out to be indefatigably cheery, always sober and a genius at knowing where he was going--none of which applied to the rest of us.
We had a pretty idyllic itinerary playing Nairn, Dornoch (twice), Castle Stuart, Brora, Trump, Cruden Bay, the Old Course (twice), Kingsbarns and Crail. You can consult the section on page 92 for other recommendations.
Oh, yes, the best shot of our trip was also hit by Braid on St. Andrews' famous Road Hole, where the tee ball must be aimed over the dark-green "railway sheds" of Herb Kohler's Old Course Hotel. Braid took careful aim, swung mightily and hit a powerful knee-high fizzer that rose just barely enough to strike the iconic Scottish lion painted on the hotel squarely in the ass. There was a sharp report off the wooden shed either from the lion or the ball, which then skittered into the high rough, followed by raucous laughter and hardy insults. Now that's what a buddies trip is all about.