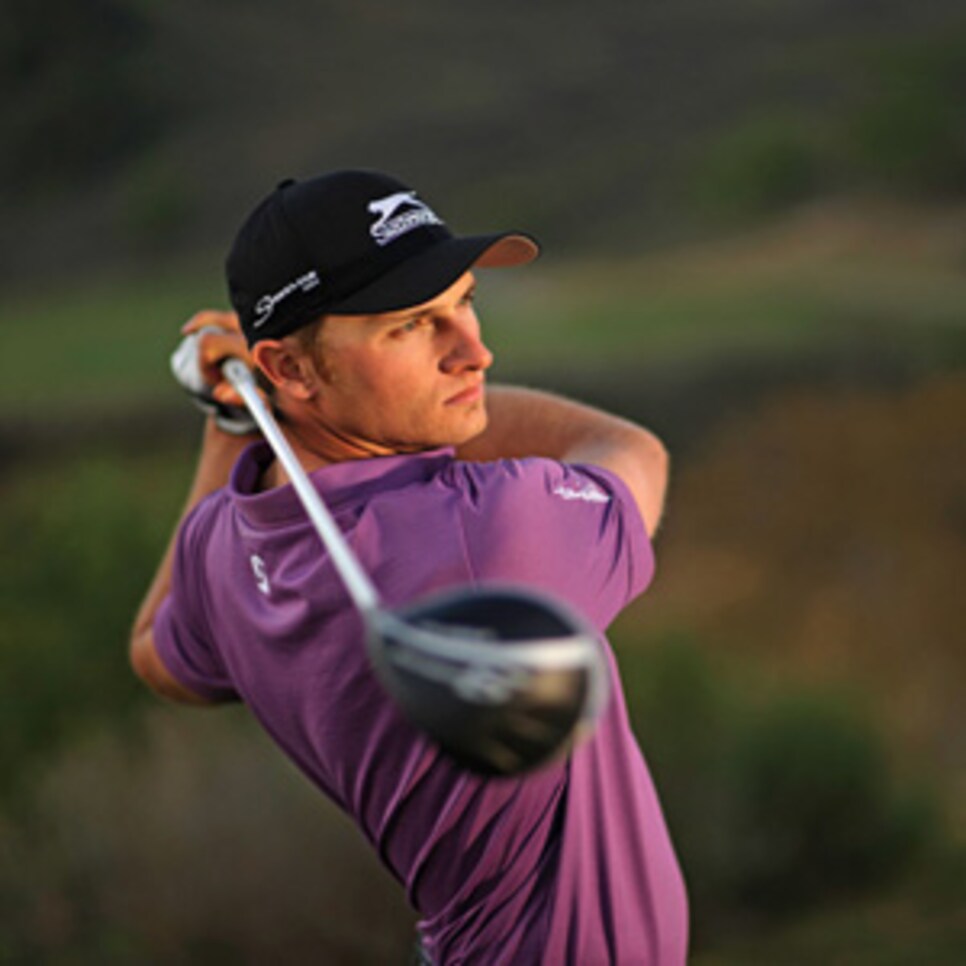 Another example of Golf Digest's new mantra--THINK YOUNG, PLAY HARD--is Jamie Sadlowski, a 23-year-old ex-hockey player from St. Paul, Alberta, who has already won two world long-drive championships. He lost in the quarterfinals this year with a drive of 443 yards. Not a typo.
I first heard about Jamie from Max Puglielli, the club designer for Adams Golf who raved about this kid with a classic swing and 150-mile-per-hour clubhead speed (the average tour player is about 113). Jamie can hit a putter 300 yards but drives it with one of the Hot List clubs in this issue, the Adams Speedline Fast 12LS with a reinforced face to sustain his 218-mph ball speed. He typically would cave in a normal clubface within 15 to 20 shots. In long-drive competition, Sadlowski uses a 48-inch, XXX-stiff shaft and 6 degrees of loft. When he plays real golf, he throttles back to a 45-inch shaft and 7 degrees.
What else is in his bag? No fairway woods, an 18-degree hybrid, a 3-iron through pitching wedge, 52-degree gap wedge, 56-degree sand wedge and a 60- or 62-degree lob wedge.
but we've shot him at 2,300 frames per second in High Definition with Phantom HD Gold camera technology for a series that will be available only in our digital editions. Print subscribers of Golf Digest may download a digital subscription for free on the iPad, Kindle Fire, Galaxy Tab, the Nook Color/Tablet and other Android devices through NextIssue.com/golfdigest.
"The striking thing about Jamie--aside from the fact that a 5-10, 170-pound guy can carry it 400 yards--is that he has a beautiful swing," says Senior Writer Matt Rudy. "Long-drivers like Jason Zuback and Sean Fister make big, awkward, muscular lunges at the ball. Sadlowski makes a real golf swing with a huge shoulder turn and super-fast wrist action. He actually made the cut in a Nationwide Tour event this past September, shooting 66 on Friday to get through by a shot. The other thing you notice about him is, his shoes are untied. He apparently won his first regional title with untied shoes, so he kept it up for good luck."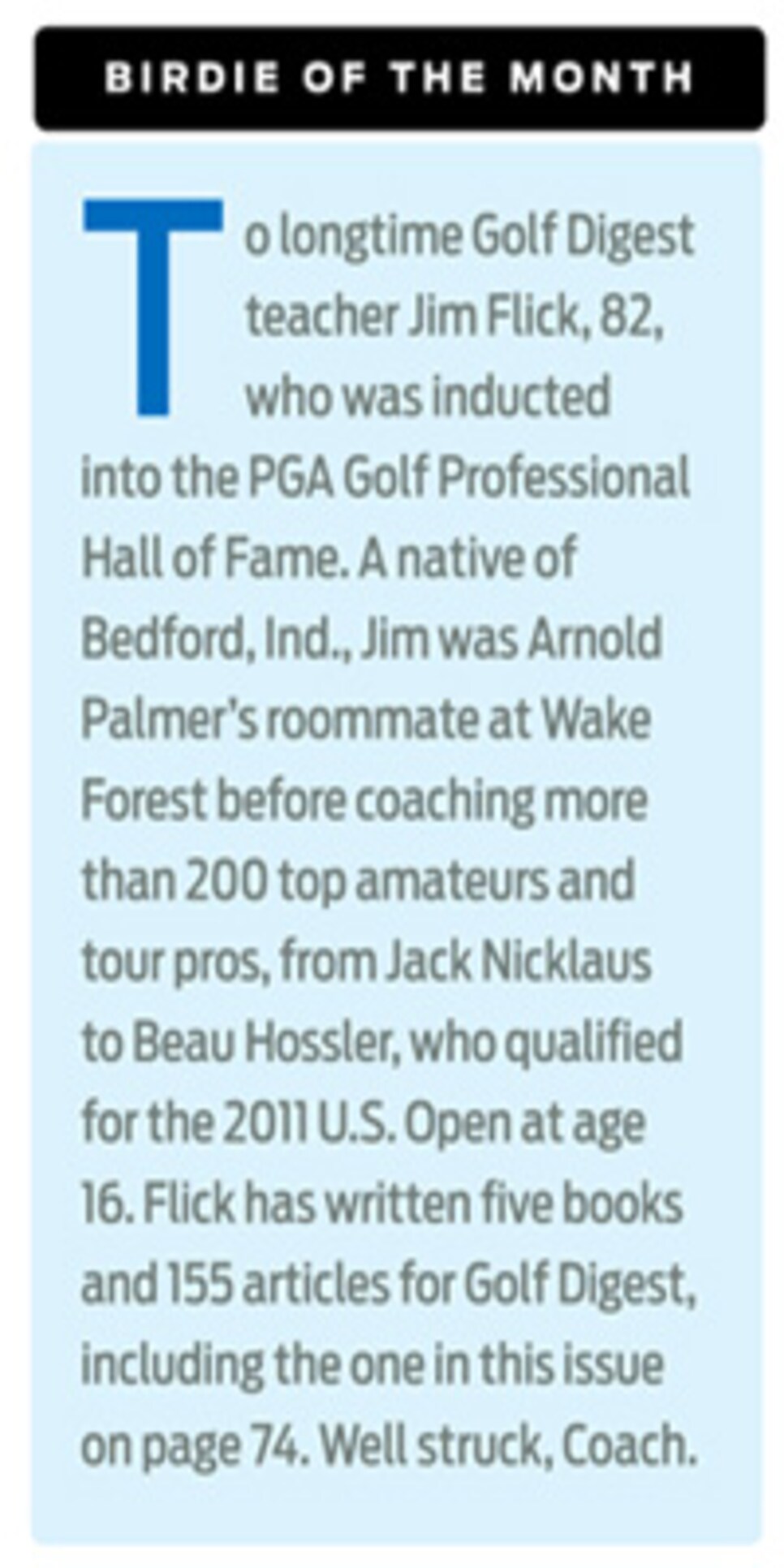 I asked Sadlowski when it was that he realized he hit it a little longer than the rest of us. He alternated seasons between golf and hockey since he was about 2 years old. He says he could drive the ball the same distance as his father's buddies when he was 9 or 10, but it wasn't until turning 14 that he averaged 300 yards consistently. "It's the same kind of motion as hockey," he says. "I create lag left-handed with a hockey stick and right-handed with a golf club. The hand-eye coordination is the same. The only difference between me and a PGA Tour player is that I take it back a lot farther--I can see the clubhead out of my left eye at the top of the backswing--but I pretty much swing in balance and on plane. And yeah, that part about thinking young--I'm the kind of guy who doesn't overthink it. When I get under the gun, I just play hard."
Hot List companies routinely test their equipment with high-speed players like Sadlowski to simulate extreme conditions for developing products. "The good news is that average golfers with a proper fitting can get a Smash Factor [the relationship between ball speed and swing speed] that's higher than Sadlowski's 218/150, or 1.45," says Equipment Senior Editor Mike Stachura. "We sub-100-mph swingers can get to a Smash Factor of almost 1.5 thanks to modern club and ball technology."
In other words, there's a lot of technology in this issue--from the HD cameras shooting pictures to the tablets serving up our digital content--but none is more impressive than the science behind the Hot List clubs of the year.